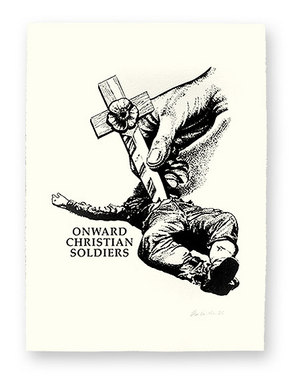 I just got an email about two new Gee Vaucher prints that Hard Pressed Studios have put out. For those that haven't heard of her, Gee Vaucher was the visual arts/design member of the UK anarcho-punk band Crass, and her collage style and stencil lettering deeply influenced both punk and anarchist aesthetics. For more info, Erik Reuland interviewed her in our book Realizing the Impossible that came out last year.
According to Hard Pressed: Each print is a one color screenprint, on natural Stonehenge paper. Both notable works are an edition of 50 and each measure 22"x30". They are numbered, signed by the artist and are $50 each. They were hand printed by Karen Fiorito at Hard Pressed Studios in Los Angeles. You can buy them here.
The "Peace" image maybe new, I'm not sure, but I believe "Onward Christian Soldiers" is from an old issue of Gee's political art newspaper called International Anthem. To be 100% honest, neither of these are my favorite Gee images, but I am really glad her work is circulating again, and hope a lot more people get exposed to her ideas, the politics of Crass, and the history of art, anarchism and social movements.

ABOUT THE ARTIST:
Gee Vaucher was born in Dagnham, East London in 1945.
In the late 80's, she became well known for creating some of the most disturbing and outspoken images as record covers and newsletters for the punk band, Crass. Before that, in 1979, she started International Anthem: a nihilist newspaper for the living – three issues were published featuring her political collages.
Throughout her career she has sought to break down and expose the most vile crimes of civilized society. When Crass disbanded in 1984, she felt the need to explore other areas of work, abandoning the tightness of her more "overt" political statements in favor of a more loosely expressed personal politic. A that time, the majority of her work became connected with the human form, intimately exploring the psychological diversity of social inter-relationships.
Gee Vaucher's work has been exhibited extensively throughout the world in both group and solo shows and her work has been included in many magazines and books.
ABOUT HPS:
Hard Pressed Studios is located in Downtown Los Angeles and was founded in 2004 by artists John Carr and Karen Fiorito. The HPS mission is that of creating high quality fine art screen prints and posters from a progressive perspective. They have worked with a variety of artists including Shepard Fairey, Robbie Conal, Mear One, Robert Del Naja, Gee Vaucher, Favianna Rodriguez, Chaz Bojorquez, Kofie One, Winston Smith and many others.