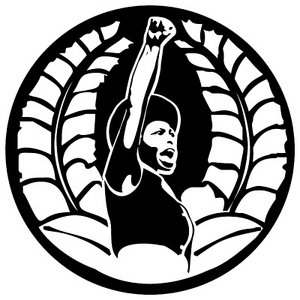 Justseeds member Favianna Rodriguez recently did a long, in-depth interview with on the OakBook Blog. Read an excerpt below, and the whole thing here. Check it out:
The stories of immigrants, of working class folks of color, of single mothers, of young black and brown men being locked up day after day at alarming rates – those stories are left out of the "art world," and yet, these are the majority of the stories in the country, in the world. This demonstrates to me that the art world continues to be an elitist body and that it caters mostly to the needs of white men. When I make work, I talk about the things I see in my own community, in the lives of the people around me. My work addresses themes of globalization, war, immigration, women, sexuality, and prisons. When I talk about those themes, my work gets labeled as political. It actually also gets labeled as women's art, Latino art, Chicano art, propaganda art, and a host of other terms.
Those terms don't really bother me.. My intention is to change the conditions of the communities I represent. I have been given a tool to do that and it's through art. I view art as a tool for education, agitation, and social critique. Through an artistic practice, it is possible to confront the multitude of images of disempowerment fed to us by mainstream media.