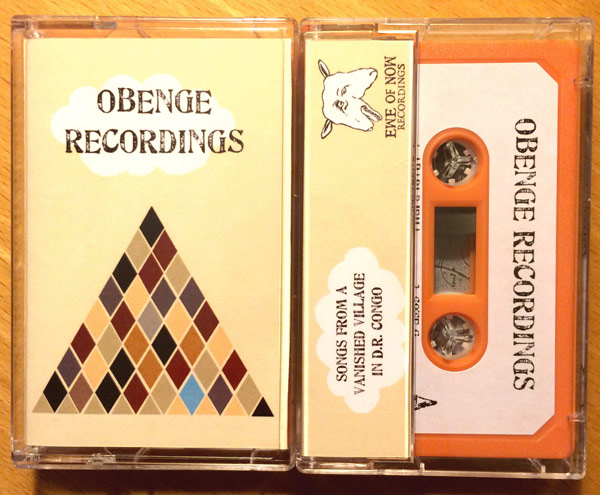 I'm pleased to announce the release of Obenge Recordings- a compilation of music I recorded in the now-vanished village of Obenge in Democratic Republic of Congo in the fall of 2012. This is a collaboration with Portland's Ewe of Now label. It's available as a cassette and as a digital download on Bandcamp- you can
get it here
. You can read more of the story of Obenge and the projects I'm involved in in Congo
here
, or click through- the text included in the cassette is reproduced after the jump.
Obenge was a village on the Lomami river in eastern DR Congo where I spent two months as a volunteer in 2012, working on a project to establish a new national park in the region. The village had long been subject to the depredations of a murderous warlord named Colonel Thoms, who had been sentenced to life in prison for his multitudinous crimes only to escape after three years. I made a lot of friends there, including the former chief Guillaume "Kapere" Molangi. Kapere had been deposed by Thoms for his attempts to limit poaching, and had been publicly whipped by Thoms' henchmen in the center of Obenge over a period of a week. I encountered Thoms during my time in Obenge when he stopped by to negotiate a truce with the park team. He requested to be left alone to poach elephants, and promised to not disturb whatever scientific work was going on.
Soon after I left the village, the national army turned up. Forewarned of their arrival, Thoms sped to Obenge from his downstream camp, out for blood. He briefly kidnapped some park workers and machine-gunned several of their canoes before fleeing into the forest. The army had arrived to capture him, and it remains uncertain why they came. Nobody knows who tipped them off, or nobody is talking. The army occupied the village, which had a reputation as a place outside of the law, whose residents had fled society for some reason or other. The villagers' lives, not normally filed with ease and comfort, became substantially more unpleasant in the company of 120 heavily armed men who thought they were all criminals and thieves.
During a community work-day several weeks after the army arrived, Thoms and several armed men stepped out of thick brush next to the field where Kapere was tending his crops and seized him. A week later, someone smelling a stench of rot found his body. He'd been whipped to death.
The park project evacuated its workers. With Kapere dead, the village began to break up. He had been a glue that had held so much together for so long. He was chief during the long and bitter war that convulsed Congo during the 90's. In 2003, after an excursion to the city of Opala where he had been turning in a pile of siezed assault weapons, he returned to find the village empty and the bones of twelve people lying lined up on the rough soccer pitch, victims of an unhinged military leader nicknamed Dracula who had passed through Obenge on a rampage. He wandered the forest with a drum, beating it and calling out to the trees that everything was safe. It took him a month to get everyone to emerge from hiding and come back to the village.
Without that unifying presence, people began to load their belongings onto bamboo rafts, built thatch roofs over them, and punted away downstream, hoping to find somewhere to recreate their lives. It took about two months for most everyone to leave. The chief that Thoms had installed, Marie Longembengembe, was arrested for colluding with Thoms and transported to Kisangani to face a trial. She is the daughter of the first chief, from whose name Obenge is drawn.
Members of the park project passed through Obenge in late 2013 to assess the situation. The village is now empty except for the army, who have burned almost all structures to deny hiding places to enemies. Thoms remains on the loose.
It's a strange feeling to refer to a place in the past tense. How can somewhere not be there anymore? This tape project is part of an effort to commemorate the people of Obenge and the lives they lived. I shared many wonderful moments with its residents. I wonder how long it will take before the forest returns to cover it, and if anyone will remember where it was. Somewhere there will still be a tomb that I helped to build.