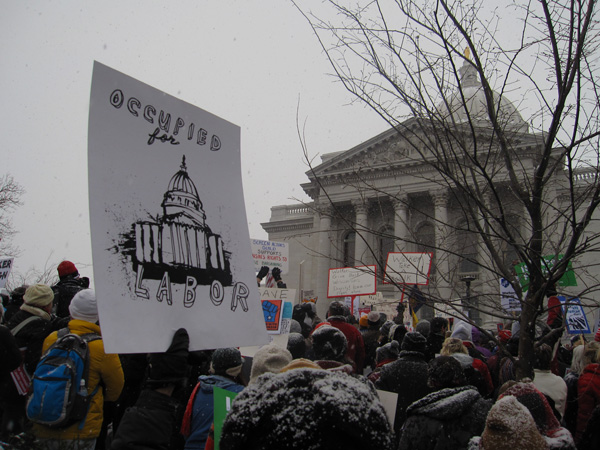 On Saturday, Feb. 26th, 100,000 people demonstrated at the State Capital in Madison – the largest demonstration in Madison's history. Massive demonstrations are called for Tuesday and beyond. The Capital Building still remains occupied despite Gov. Walker's attempt to have demonstrators removed on Sunday night by State Troopers.
A few days back, Jim Palmer, the Executive Director of Wisconsin's Professional Police Association, called on the police to join the demonstrators and sleep in the Capitol. Palmer noted, "Law enforcement officers know the difference between right and wrong, and Governor Walker's attempt to eliminate the collective voice of Wisconsin's devoted public employees is wrong. That is why we have stood with our fellow employees each day and why we will be sleeping among them tonight."
Elsewhere, the Madison-based South Central Federation of Labor took the unprecedented step of endorsing a general strike among its 45,000 members if Gov. Walker's "budget repair bill" is made law.
On Sunday night, Rep. Dale Scultz announced that he would oppose the bill. Two more Republicans are needed to stand up on the side of working people and the bill will not pass. Expect this struggle to last for months. A people's movement is arising in Wisconsin. Solidarity knows no borders. Come to Madison and join the protests.
Below are some photos I took at Saturdays demo.