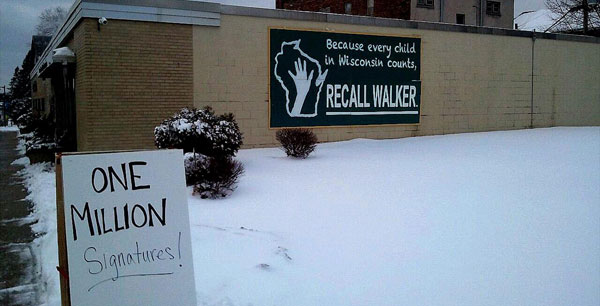 For the past two months Wisconsin has been swept by recall fever. The recall movement was given 60 days to gather 540,208 valid signatures needed for an election to take place that will pit Walker against a Democratic challenger. This was a huge task and some doubts were cast if that many signatures could be obtained in that short of time.

This past Tuesday organizers far exceed the goal and turned in 1.9 million signatures! (*) This number alone signifies just how disliked Walker is in so many parts of the state ( 1 out of every 4 eligible voters in Wisconsin signed a petition) and suggests that Walker's political future in Wisconsin is in serious jeopardy.
Yet, before one gets too excited, a word of caution is needed. Walker and the Republicans play dirty. They will no doubt stall the date before an election can take place. Already they are scheming to take over two months to validate each signature.
Worse, there is no guarantee that the Democratic challenger will be strong. A Democratic primary will be held first and the ideal candidate – Russ Feingold – has long stated that he will not run. So if the Democratic nominee is your typical uninspiring, middle-of-the-road Democrat, Walker will have a chance of winning. One would think that the Democrats could run a deer carcass against Walker and win by a landslide, but that is not the case. A recall election will be close, yet if I was a betting man, I would say that Walker will lose and Wisconsin will follow Ohio in celebrating a huge people's victory.
Stay tuned.
-The large black-and-white banner was painted by Sue Brown with the assistance of other Milwaukee Public School (MPS) teachers. The banner hangs on the exterior of the MTEA building in Milwaukee – the union building for MPS workers.
(*) The 1.9 million signatures turned in included 845,000 signatures to recall Lt. Gov. Rebecca Kleefisch, plus more than 21,000 apiece for Republican Senators Pam Galloway of Wausau, Van Wanggaard of Racine and Terry Moulton of Chippewa Falls. 20,600 signatures were also turned in to recall Senate Majority Leader Scott Fitzgerald (R-Juneau.) Thus, the number of signatures gathered specifically to recall Walker was just over 1 million.