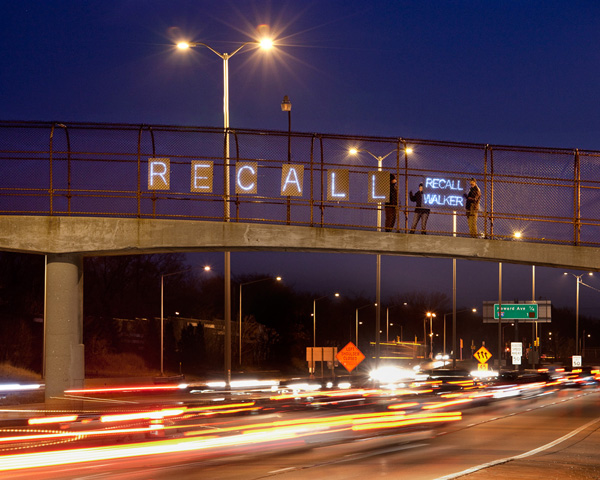 Signs of visual resistance matter. Wisconsin is a battle-ground state, a battle between anti-Walker and pro-Walker supporters. Over the past week the Recall Walker movement received a huge boost when nearly double the expected number of signatures were gathered during the first week of the signature drive, demonstrating just how disliked Walker is in the Badger state. Not surprisingly, Walker is countering with a host of threats and "rules" to make gathering signatures and mass protests more difficult. Things are tense but that should be expected. Bullies become more repressive when they realize that their grasp on power is crumbling.

Friday night witnessed a LED sign display over a main highway overpass in Milwaukee during rush hour. The creative action was significant because it visualized discontent and solidarity. Supporters honked and were encouraged to see their convictions broadcast in public space. Detractors waved the finger, yet had to deal with the fact that the opposition is mobilized and their message can be seen everywhere -even at night on a cold December evening above a freeway.
photo by Kevin Miyazake
work to Hall/Moline
bite by Moline.