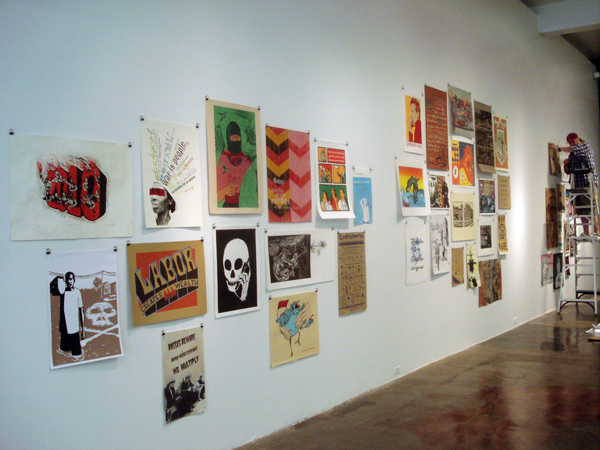 Paper Politics: An International Exhibition of Socially Engaged Printmaking, curated by Josh MacPhee, opens tomorrow in Pittsburgh!
This exhibition has toured to over a dozen cities in North America, and I saw its initial form in Chicago in 2004, then Brooklyn in 2005 and helped hang it in Milwaukee in 2006, so it is dear to my radical print-lovin heart…in Pittsburgh, I have added a component of prints by local artists, including many rad teen prints from over the years…also Justseeds will be in effect with prints and books for sale…come peep it!
Exhibition Opening: August 13 6:00-9:00
with rad print & book sale from Justseeds
more books & zines from The Big Idea
90's Nite DJ's & more
Afterparty at Mexico City Wood St
full menu til 10, tacos late-nite, full bar & 80's jamz
FREE
SPACE
812 Liberty Ave

Paper Politics is a major collection of contemporary politically and socially engaged printmaking. The exhibition showcases print art that uses themes of social justice and global equity to engage community members in political conversation. Paper Politics has traveled to a dozen cities in North America and features artwork by over 200 international artists; an eclectic collection of work by both activist and non-activist printmakers who have felt the need to respond to the monumental trends and events of our times.
Paper Politics presents a breathtaking tour of the many modalities of printing by hand: relief, intaglio, lithography, serigraph, collagraph, monotype, and photography. In addition to these techniques, included are more traditional media used to convey political thought, finely crafted stencils and silkscreens intended for wheat pasting in the street. Artists range from the well established (Sue Coe, Swoon, Carlos Cortez) to the up-and-coming (Favianna Rodriguez, Chris Stain, Nicole Schulman), from street artists (BORF, You Are Beautiful) to rock poster makers (EMEK, Bughouse). In 2009, PM Press published Paper Politics: Socially Engaged Printmaking Today, a full-color book to document the exhibition, edited by Paper Politics curator Josh MacPhee.
In Pittsburgh, Paper Politics expands to feature a component of prints from Pittsburgh artists, including Kim Beck, Black Sheep Productions, Mahsa Borhani, Morgan Cahn, Isaac Osher, Stewart Williams, Mike Q Roth, and work from RUST, Power Up, Schenley, CAPA, and more. Throughout the duration of the exhibition, SPACE and other venues around Pittsburgh will host guest speakers and events exploring the intersection of art and activism, print and social engagement.