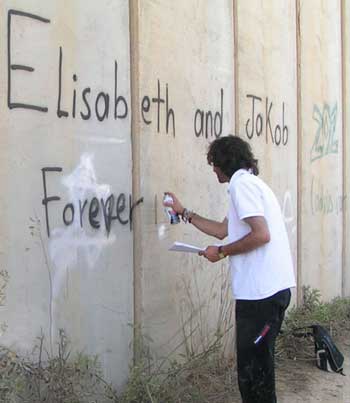 I had some serious questions about Banksy's
Santa's Ghetto
project in Bethlehem (like the point of Faile's boxer piece, which flattens out the Palestine/Israel conflict to a simple equation of two brute's punching each other, rather than one massive military bully with billions of $$ in arms squeezing the life out of an out-gunned, out-financed and generally brutalized people), but this new project on the wall really makes my head spin. A Dutch group called
Send a Message
has set up a website where you can pay a Palestinian 30 Euros to graffiti a message of your choice on the Apartheid Wall?!?!?!? The group is a non-profit, and the Palestinian painters are artists and getting paid for the work. Supposedly the money is funneled into Palestinian NGOs working on local infrastructure projects.
Certainly capitalism isn't going to provide a solution to the conflict, but I'm afraid that's what these people think they are doing. They claim to want the wall to come down, yet their first example of why the wall is bad is that it "kills business"!! It's certainly a great to create some cash flow to beleaguered Palestinians, but does the cost have to be the crass commercialization of one of the largest symbols of oppression in the world?
What does it mean to turn the wall into a giant billboard, so that Jenny and Mike from San Francisco can express their undying love for each other on the historic (as the company calls it) wall?? The tag line is "It was meant to keep people apart, now it brings people together."
I don't want to attack people for trying to help solve serious problems, but something about this project feels wrong. It comes out of a workshop design pros held in Ramallah with young Palestinians, and smacks similar to a number of well-intentioned design projects where designers over-value the importance of their skill sets. Convinced by the integral relationship design and advertising has to the turning of the gears of global neo-liberal capitalism, designers believe they can advertise and photoshop a new world into existence. Rather than look at and address the historical relationships that the state of Israel has had to individual and organizations of Palestinians, or the real power differentials at play, there is the creation of a marketing device to raise awareness.
I'm really interested in what others think about this, because my guess is we'll be seeing more and more projects like this in the future. Soon we'll be able to pay Rwandan refugees draw caricature's of our loved ones in order to get enough food to eat. My fear is that we're on a very slippery slope, where soon (if we're not already there) solidarity with the Global South will look a lot like a minstrel show.