Here's an article from the NY Times City Room Blog, by Colin Moynihan, about yesterdays land occupation in NYC, by Picture the Homeless.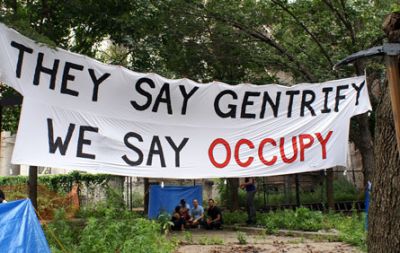 Its a good article about the action yet not much information about the reasons why an organization would be taking such measures, such as the lack of city housing for homeless, or the land grab that has resulted from the hyperactive economy and now its collapse. Check the
Indymedia
article for more, and read on!
At first glance on Thursday morning, it looked as if a fashion photo shoot was in progress on East 115th Street. Men and women with digital cameras and boom microphones assembled on the north side of the street, between Fifth and Madison Avenues. A green awning was set up on the sidewalk over a table holding bagels, cherries and lime seltzer. A few feet away was a portable metal clothing rack with hangers holding slinky dresses. And there was a model wearing black fishnet stockings, a shiny sequined skirt and three-inch heels as she walked back and forth in front of a large empty, grassy lot.
"Action," one woman shouted to the model. "Flip your jacket across your shoulder. Now cut."
The purported fashion shoot was actually a ploy, intended to provide cover for a political protest, which by early evening resulted in at least 9 arrests.
As the model walked back and forth, trailed by a camera, two people holding a large green screen were shielding others who sliced through an eight-foot-tall, chain-link fence that separated the lot from the sidewalk. Then, at about 10:30 a.m., about 20 people entered the lot — which they said was owned by JPMorgan Chase & Company — and began transforming it. They constructed simple tents out of bright blue tarps. They assembled a wooden gazebo with a roof and a sign that read "A place to call home!" Soon, they were joined by others.
By 11, about 100 people were inside the lot, some playing musical instruments including bongos and guitars, others strolling through the lot picking up trash and placing it into plastic bags. More than two dozen police officers, in uniforms and in plainclothes, watched from 115th Street, some of them standing behind blue wooden sawhorses. By noontime, they had not made any attempt to eject the protesters
Asked for a response to the protest and an explanation of how JPMorgan Chase came to own the lot, Jennifer R. Zuccarelli, a spokeswoman for the bank, declined to comment.
The action was organized by an advocacy group, Picture the Homeless, which occupied the lot as a protest, activists said, against the shortage of affordable housing. They said they were inspired partly by the "Hoovervilles," the shanty towns and tent cities that emerged during the Depression, and partly by the Lower East Side squatters who occupied abandoned buildings in the 1980s.
A spokesman for Picture the Homeless, Tej Nagaraja, 28, from Prospect Heights, Brooklyn, said the organization wanted to show that unused properties and vacant lots could be used to house the homeless and destitute.
"There's a long history of homeless people and displaced people throwing together dwelling in public space," he said. "Poor people can build a community and houses for themselves if they are given the opportunity."
Also present was Jean Rice, 70, who said he was born in South Carolina and now lived in Harlem. Mr. Rich, a member of Picture the Homeless, said the lot takeover was directed at "some of the same banking interest that are asking now for citizens to bail them out of their financial crisis, some of the same banking entities that redlined and ghettoized this neighborhood."
In the early afternoon, the occupants of the lot strung up banners, including one that read "they say gentrify, we say occupy." Rob Robinson, 52, a board member of Picture the Homeless, said that he had received a message of encouragement from Max Rameau, a leader of a Miami-based group called Take Back the Land, which recently became known for installing homeless families in foreclosed homes without the permission of financial institutions.
Shortly before 2 p.m., police officers parked a white panel truck, of the sort used to transport prisoners, in front of the lot. Mr. Robinson consulted with police officials and just addressed the crowd inside the garden, saying the police had told him that they had an affidavit from the owner of the lot authorizing them to order the group to leave the property. Mr. Robinson said that he had asked to see the affidavit, but that the police had not yet shown it to him. "We're waiting for our legal representative," said Mr. Robinson. "There are a number of us who are willing to defend the space. Let's leave it at that."
Just after 3 p.m., a police sergeant with a megaphone approached the lot and announced to those inside, "You are on private property. You have no permission or authority to be on property. We are asking you to leave this peacefully. Anyone who remains on property is subject to arrest."
Most inside the lot moved onto the sidewalk or street but about 10 people remained inside, huddled beneath the gazebo roof. Police officers formed a line in front of the lot as workers unrolled a 50-foot length of chain-linked fence that had earlier been dismantled by the occupants of the lot. As about 50 people behind blue police barricades shouted their disapproval, the workers replaced the chain-link fence.
At 5:10 p.m., officers entered the lot and began handcuffing those inside with plastic ties. Then, as a few dozen supporters stood behind police barricades on East 115th Street, holding a plastic tarp over their heads to ward off rain, the police began leading people, one by one, from the lot and into a police panel truck parked nearby. At least 9 were arrested.
Look at Picture the Homeless' Flickr for pics of their actions and protest ephemera