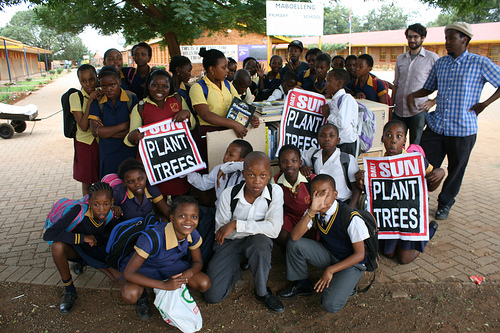 In lieu of Rad Teen Print of the Week, here is Rad Post-Teen Project of the Week!
From Johannesburg, South Africa: check out this rad portable project organized by Kevin Clancy, who I worked with in a class I taught at the
Mattress Factory
several years ago.
From his website:
Portable Utopia is a mobile resource library and expandable social space initiated by Kevin Clancy in partnership with Keleketla!Library in Johannesburg, South Africa. The mobile unit will circulate through the city and surrounding townships in January and February of 2011, providing a transient platform for learning, sharing, making and discussion.
The mobile unit will contain a library of books, a computer, flat files for prints and works on paper, a micromuseum, a collapsible stage for lectures and performances, and an inflatable geodesic dome gathering space.
Portable Utopia is an open platform that will adapt to the energy and desires of the community.
The photo is from
Good News!
, an interventionist silkscreening project with young people:
Good News! subverts the omnipresent headlines that line the roads of Johannesburg to provide moments of hope and optimism in the urban landscape. Expired headlines are collected each day, recycled into new handmade paper, printed with wishful headlines, and reinserted back into headline frames.
We lead Good News! workshops with primary school students in Sebokeng, teaching them about paper making, silkscreen printing, artistic interventions, and environmental issues. The students generated the headline "PLANT TREES", in conjunction with a tree planting ceremony and lesson about environmentalism.
more info, please check out
www.portableutopia.org