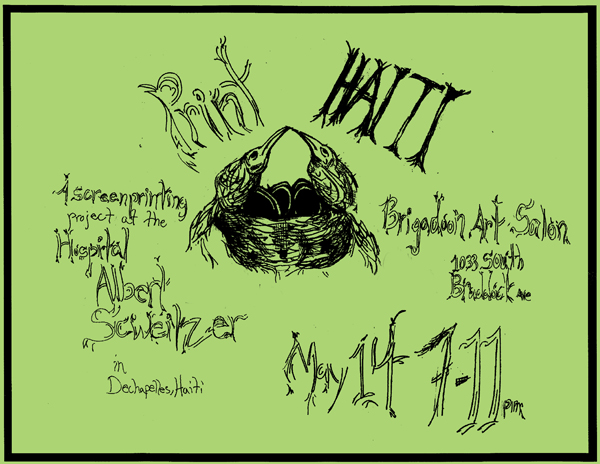 a project of Miller Schulman, one of the rad teens I have the pleasure to work with…
Print Haiti: Fine Artibonite Prints from the Hangar Prosthetics Clinic, Hopital Albert Schweitzer, Deschapelles, Haiti
OPENING:May 14th, 7:00-11:00pm
Brigadoon Art Salon
1033 S. Braddock Ave., Pittsburgh PA 15221 in Regent Square
On display will be original screen prints made by patients and their families at the Prosthetics Clinic at the Albert Schweitzer Hospital, located in Deschapelles. Many of the artists are amputees as a result of the earthquake of February, 2010. Subjects include reflections on Haitian life and culture, responses to the earthquake and to the ongoing problems of AIDS and cholera, but the exhibit is ultimately upbeat, joyous and colorful; you'll even find a mango or two in the prints.
Screen printing is a relatively new art medium for Haitians, but luckily Miller Schulman and Erin West, trained at CAPA and at Ellis, with some help from AIR (Artist Image Resources) and with backing from local arts stores and organizations, were able to bring supplies down to Deschapelles and instruct both youths and adults in the fine art of screen printing.
There will also be a representative selection of vintage Haitian prints and paintings in the show.
Most prints will be available for purchase, with all proceeds to benefit Hospital Albert Schweitzer.