Alec Icky Dunn
Commerce
$45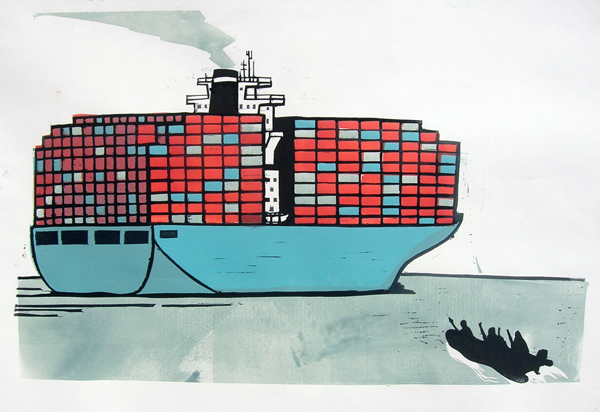 This print was inspired by sitting on someone's back porch in Astoria, Oregon and watching these impossibly large and colorful container ships entering the mouth of the Columbia River from the Pacific.
Then when I was in Amsterdam this year I noticed a couple buildings in the city that have been made by shipping containers (due to heavy imports from China and the East we have a surplus of containers in the West, which is why they are so cheap). The buildings were ironically (to me at least) used for housing students, immigrants and the unemployed. They were touted as green and creative.
I don't think I could invent a more potent symbol of modern global capital.
So this is the first  in a series of prints about container ships and capitalism. This particular one is in reaction to recent pirating off the coast of Africa, and about the massive disparity of wealth in the world.
4 color blockprint
20″ X 15″
drawing paper