Here's a new print from a slogan that's been kicking around in my head since 2015, when I made this very different risograph print with the same words.
I was first captivated by this phrase in an article about the radical history of fighting for public memorials to challenge nationalist agendas in Berlin: "What America Can Learn from Berlin's Struggle to Face It's Violent Past" (Hunter Oatman-Stanford, Collector's Weekly). In the piece, the author discusses Berliner Geschichtswerkstatt/Berlin History Workshop, one group at the forefront of a 1980's push for public works that would address the Holocaust as part of Germany's history. Those variant and deeply moving memorials are now comfortably a part of the landscape of Berlin, but the paradigm shift which made that a reality took years of work (some of it extralegal) to realize. Tactically, I could relate.
Grabe wo du stehst!
Towards re-imagining a People's History on the everyday streets of the United States!
---
Made form mis-matched antique wood type, so this is the only edition I will be able to print of this design.
Available in two color variations: Dark Blue ink on Sandstone/Tan Paper, or Dark Blue ink on Limestone/Gray Paper.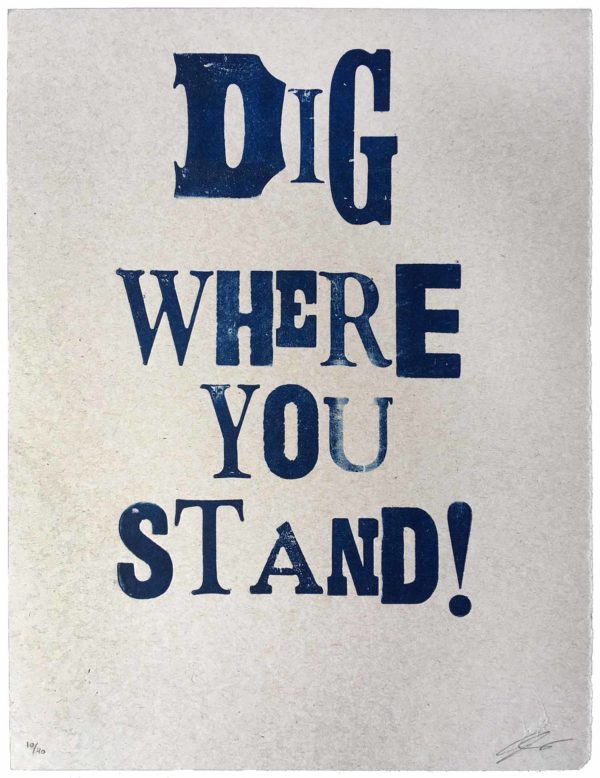 ---
Printed from vintage mis-matched wood type at Artist Image Resource (AIR) in Pittsburgh, Pennsylvania on a Morgan Sign Machine Co. "Line-O-Scribe" printing press, which originally belonged to Justseeds member Mary Tremonte, and is affectionately known around the shop as "the credit card machine".
This process creates slight variations in each individual print!