On September 26, 2014, in Iguala, Guerrero, Mexican police kidnapped and forcibly disappeared 43 students from the Ayotzinapa teachers college. Two years later they still have not been found.
ALIVE YOU TOOK THEM: SEARCHING FOR THE AYOTZINAPA 43 is a graphic novel about a group of parents' tireless search to find their sons. It is an illustrated story of human resilience and a graphic bet against impunity. The case of Ayotzinapa has come to represent the failed "war on drugs", the battle for public education and a struggle of those from below to construct a country where they matter.
Through the stories of the survivors of the attacks, the parents who search for their disappeared sons and the journalists who report on the case, this book recounts the attack in Iguala, where the reality surpasses fiction, as well as the lies of the Mexican government to cover up the case and the national and global support that civil society has manifested towards the parents and their dignified struggle for justice.
---
El 26 de Septiembre de 26, 2014 en Iguala, Guerrero, la policía mexicana secuestró y desapareció a 43 estudiantes de la Escuela Normal de Ayotzinapa. Dos años han pasado y aún no se sabe su paradero.
VIVOS SE LOS LLEVARON: BUSCANDO A LOS 43 DE AYOTZINAPA, es una novela gráfica sobre la incansable búsqueda de un grupo de padres para encontrar a sus hijos. Es tanto una historia de fortaleza humana como una apuesta ilustrada contra la impunidad. El caso Ayotzinapa representa la fallida "guerra contra el narco," la batalla por la educación publica, y la lucha de l@s de abajo por construir un país en donde ell@s cuenten.
A través de los sobrevivientes de los ataques, los padres que buscan a sus hijos y los periodistas que reportan sobre el caso, el libro relata el ataque en Iguala, en donde la realidad supera la ficción, así como las mentiras del gobierno Mexicano para encubrir el caso y el apoyo nacional e internacional que la sociedad ha brindado a los padres en su digna lucha por justicia.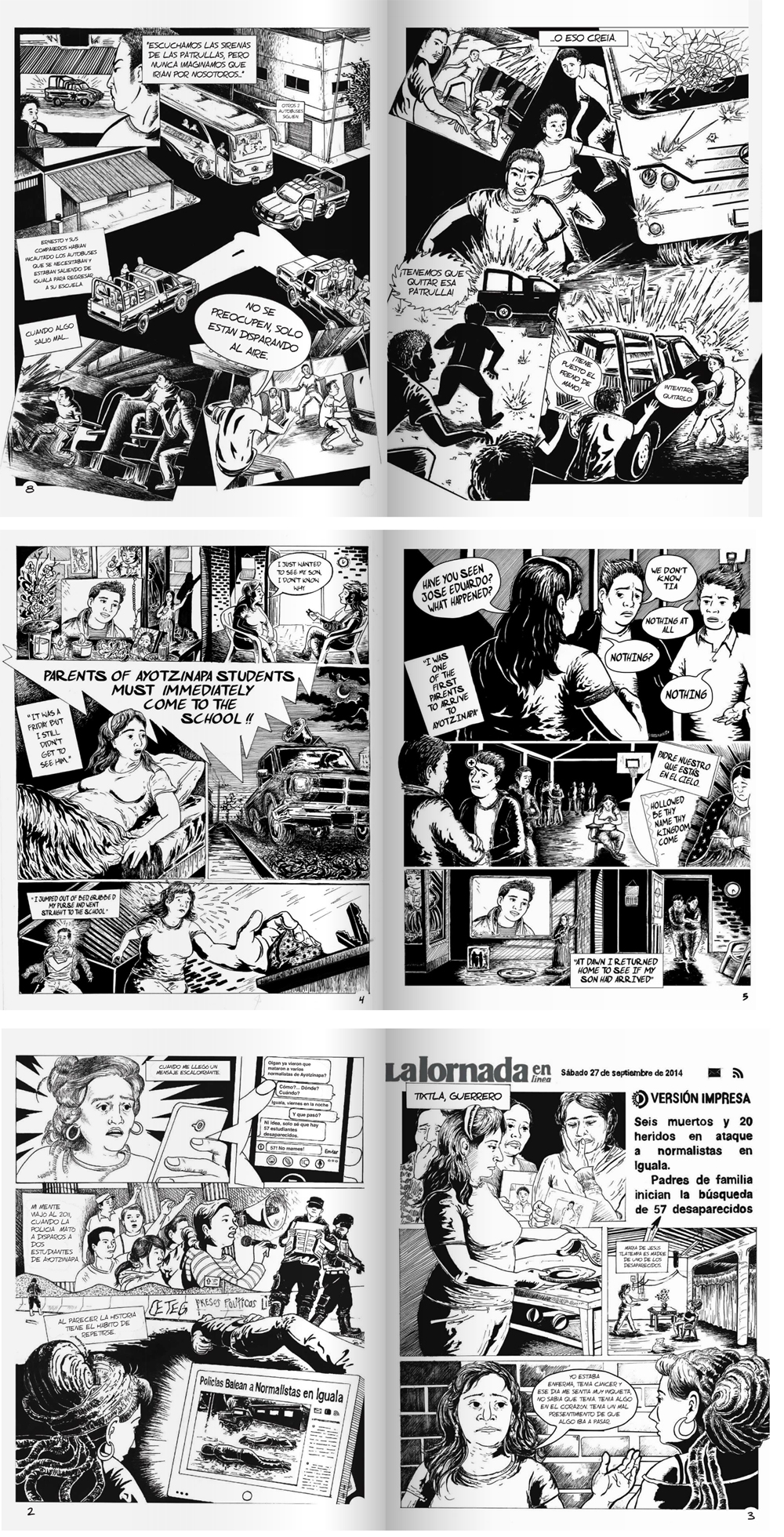 Available in Spanish or English language editions, options for language will be available during checkout.