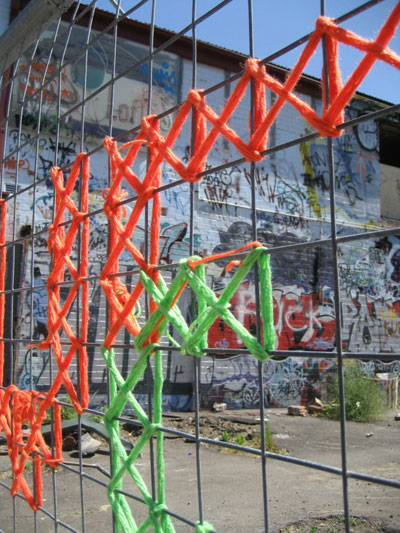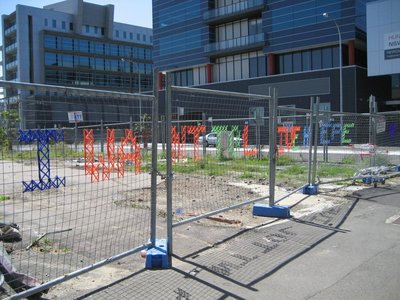 So, I've been trying to learn to sew for the past month, and it has been a both frustrating and very rewarding endeavor. My friend Kat got me started and showed me the basics of the sewing machine, and I've been trying to get the hang of it ever since. Chris Stain, Billy Mode and I just did this large scale installation in Brooklyn (
Threat of Chance
, see below), and I really think the hardest part for me was the sewing!
There has been a lot of focus on "craft" lately in the punk, political, art and DIY scenes, and to be honest, I find most of it annoying. That said, I'm finding a new appreciation, and am getting more interested in what one can do with fabric than ever before.
There are likely a ton of political craft sites out there, but we recently got an email from Kakariki in Australia who upkeeps the
Radical Cross Stitch Blog
. She sent us to a project she did
stitching words into fences
, and the whole blog is filled with a nice mix of politics and craft, with connections to many other projects. So if this is your thing, definitely check out what the folks down under are up to with their yarn.