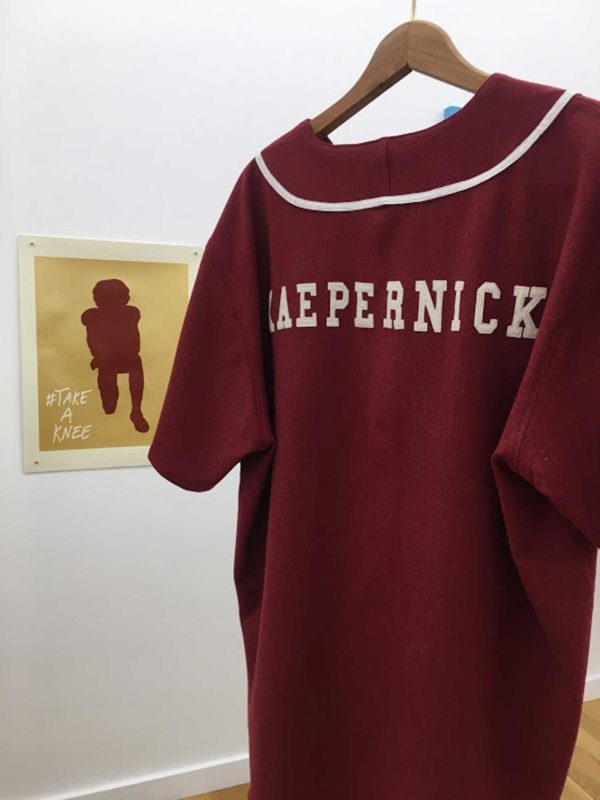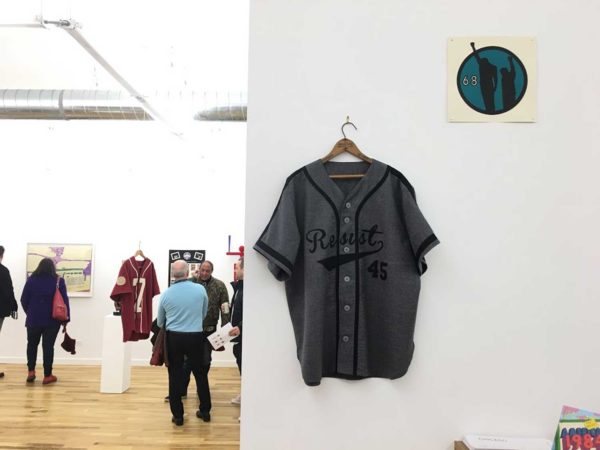 In 2012, I created an exhibition of prints and baseball jerseys in collaboration with Paul Kjelland that honored the Milwaukee Commandos, who among many things, helped protect the Civil Rights marchers in Milwaukee in the 1960s. The Commandos marched for 200 consecutive nights to Milwaukee's then all-white South Side demanding an end to housing segregation. The baseball jerseys were a chosen tactic to make this past history more visible and for the person wearing the shirt to act as a walking historian who could share information on the history when asked about the meaning of the shirt or the name. The shirts were also meant to raise larger questions about popular culture, sports culture, and for us to collectively evaluate who and what we celebrate.
This past month the radical baseball jerseys idea was rekindled. I designed two new shirts: one that celebrates Colin Kaepernick. The other one celebrates dissent and simply reads: Resist 45.
These new jerseys are hand sewn and made from wool. They look and feel like old-time baseball jerseys. For the production of these wool jerseys and the patches I am collaborating with Ben Sherwyn – a California transplant and multi-talented person who now lives in Milwaukee.
We started with the Kaepernick jersey for he is the athlete of our time: a courageous individual who speaks truth to power. The arm patches for the Kaepernick jersey includes an image of him taking a knee. The other patch is a quote by him where he explained that his action was to speak out against police brutality and systemic racism. Somehow that message got conveniently ignored by the masses over time, so his original quote from August, 2016 remains all essential.
We produced these shirts for a group art show at Western Exhibitions in Chicago called "Hand-Eye Coordination: Sports and Art" that was curated by Abraham Ritchie. The show runs from January 6-February 17, 2018. In the months to come Ben and I plan on creating a series of new jerseys, patches, and hats. You can find more information via social media: Instagram/FB/and the web under: Community Supported Apparel. instagram@CommunitySupportedApparel