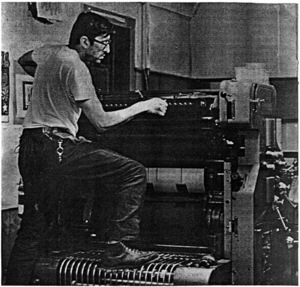 Lincoln Cushing has just put online a new essay about U.S. New Left printshops that accompanies the new exhibition Peace Press Graphics 1967-1987: Art in the Pursuit of Social Change. His essay starts out with an Associated Press quote below, and then you can and should read the rest of it HERE.
"Red in black and white: The New Left printing renaissance of the 1960s – and beyond"
by Lincoln Cushing
"The information officers of the New American Left have rediscovered an ancient political ally: print power. All over the country, radical and "movement" organizations have spawned their own print shops run by their own pressmen to churn out an increasing number of posters, pamphlets, handbills, and flyers. Whether it's to mobilize a march on Washington, explain the advantages of "Free Speech" for GIs, or advertise courses at "Omega U. – an alternate university," the rebel presses are rolling. By the thousands, their folded-and-stapled brochures, decorated with crude graphics, are being given away at hastily set up campus tables or sold in the standard subculture outlets: Barbara's Bookshop in Chicago, the Granma in Berkeley, the Militant Labor Forum in New York, and scores of others."
image: "Glad Day's biggest press, a Chief 126." Photo from "Left Profile: Glad Day Press" in Liberation Support Movement News, Winter 1978.