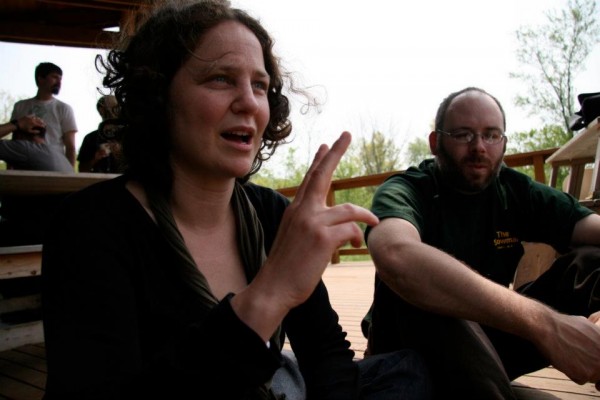 Abigail Satinsky wrote a beautiful eulogy for Dara Greenwald for the Bad at Sports blog that speaks volumes about the impact that Dara's work had on so many of us – especially in the cities that she called home – Chicago, Troy, and Brooklyn. Satinsky points us towards reflection and the need to carefully understand Dara's practice and what collective work, group projects, and radical culture meant to her and what it means to us – her friends, co-collaborators, and admirers…

Satinsky writes:
"We lost one of the good ones this week. Actually, one of the best ones. Dara Greenwald, artist, activist, thinker, organizer, and all-around inspirational person passed away this week from cancer at the age of 40. She lived in Chicago between 1995-2005, worked at the Video Data Bank from 1998-2005 and was part of all the best Chicago organizing projects of that time, including Ladyfest Midwest, Department of Space and Land Reclamation, co-founding Pink Bloque, and many others.
Dara was the kind of person that all of us cultural organizers should aspire to be. My first experience with Dara's work was at the Signs of Change exhibition that she co-organized with her partner Josh MacPhee about the history of social movement culture that started at Exit Art in 2008 and toured until 2010. That show just simply blew my mind and remains a model for me of exhibition-making and cultural research; the respect and attention to the act of making images, the breadth and depth of international politics at work, and the devil-may-care attitude about art with a capital A.
Oh I was so intimidated at first to talk to her, what a badass she was. And when I would see her over the years intermittently at different art/social organizing efforts, she was secretly my barometer of whether what we were all sitting around a circle talking about had any merit. At the same time that she was so no-bullshit, she was warm, funny and just whip-smart. Her work got me excited about so many radical projects like Videofreex, Pilot TV, Justseeds, the Interference Archive she was working on with Josh MacPhee, many other things, and just in general the possibilities of art and activism coming together to create transformative experience.
I'm thankful that I got to know her the little I did and admire her from afar. I want to take this time to revisit all the work that she put out into the world and simply marvel at what she accomplished. She was a fierce and brilliant person and will be missed."
View her work here
A presentation of her work from the Creative Time Summit in 2010 here
And an in-depth interview from the Never the Same interview project here