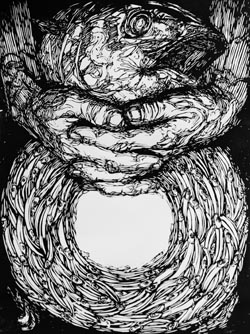 Justseeds
RESOURCED
Portfolio Launch Reception
Pittsburgh, PA
Friday, July 30th – 6-10pm
Free and Open to the Public
3410 Penn Ave 2nd Floor
(entrance and bike parking around back via Spring Way)
EVENT DETAILS:
Justseeds Artists' Cooperative is launching our newest collective portfolio project,
RESOURCED
, at our new space in Lawrenceville (Pittsburgh) on Friday, July 30. Prints from the portfolio will be on display and portfolios will be for sale. Artwork by Justseeds artists will also be available for sale, as well as books, zines, and Celebrate People's History posters. The event is free and open to the public from 6 to 10pm.

RESOURCED is a portfolio of hand-produced prints which focuses on resource extraction and climate issues, environmental justice. It includes 26 original artist prints. This is an "exhibition in a book," a teaching tool, a collection of reproducible graphics for activists and organizers, and a dialogue starter for community spaces, schools, conferences, and galleries. It can be used to help ask important questions about our environment:
– Who benefits from the extraction of natural resources and who pays the costs?
– Are there viable possibilities for alternative energy sources?
– Is it possible to distribute energy more equitably?
– What does resistance to Western and corporate climate policies look like?
– What role can workers in resource and energy sectors play in this resistance?
– How does environmental devastation effect different communities along race, gender, and class lines?
For centuries now, industries have been mining the globe in search of raw materials that can be converted into profitable commodities, displacing innumerable communities and leaving in their wake toxic, hazardous, and ecologically devastated environments. While consumers experiment with greener lifestyles, the majority of the globe's population is left to deal with the ecological fallout of industrial and technological "progress." These are inequalities that only stand to increase as climate change and the unending capitalist pursuit of natural resources produce even more precarious ecologies. Already, thousands upon thousands of species are extinct or endangered, and millions upon millions of people have been thrust off of their land and into ecologically, politically, and economically hazardous conditions.