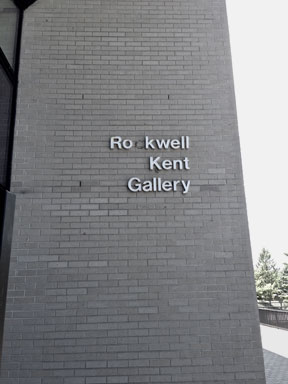 Rockwell Kent has been a big influence on more than a few of us here at Justseeds. He was a prolific draftsman whose illustrations dominated book design and advertising in the first half of the 20th century (see Josh's posts about this,
here
). He was also a master printer, a socialist, an explorer, a raconteur, a cad, and (by my aunt's account) a bit of an egomaniac.
In the 1920s, Kent bought land in the Adirondack Mountains in upstate New York and built a farm and a studio there. My family is from this area, and I am from nearby Plattsburgh, where Kent was something of a local celebrity and personality. Consequently, I grew up looking at his art without knowing anything about him- and two pieces of his are seared into my brain from early childhood. One was a reproduction of a beautiful painting that my aunt has in her kitchen, of a
deer
running through a mountainous landscape.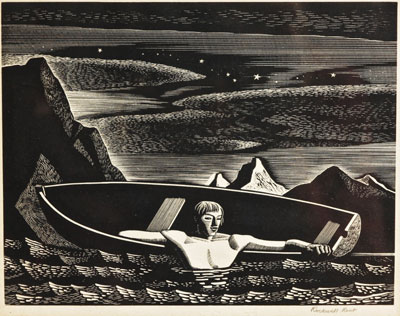 The other was a print in my grandmother's house, of a naked man hanging off the side of a boat in a lake at night. As a child, bored on Sunday visits, I would stare at this image. There was something creepy and ominous about the position of the man and his boat, and my childhood self could not figure out why was he in a lake at night.
This image is typical of a lot of Kent's work, he was a masterful wood engraver, with an elegant execution of line work and a strong balance of black and white. He was committed landscape artist, with a strong affinity to cold environs and maritime themes. He drew on both classical and religious imagery to produce modern work that was often explicitly political. And there is often something ominous and dark about his artwork.
Stuck in the middle of the bleak and brutalist SUNY Plattsburgh is a
museum of Kent's artwork
. Even though my dad worked in a television station in the same building and my elementary school was on the SUNY Plattsburgh campus, I have no memory of this place at all- which seems strange as there was not a lot else going on in Plattsburgh in the 1970s! I did visit the Kent Museum for the first time (that I know of at least) this last summer with my aunt and my dad, and was delighted to have a very condensed and deep collection of Kent's work in one place. If you are nearby I would highly recommend stopping by and spending some time here.
Below are some pictures from my visit: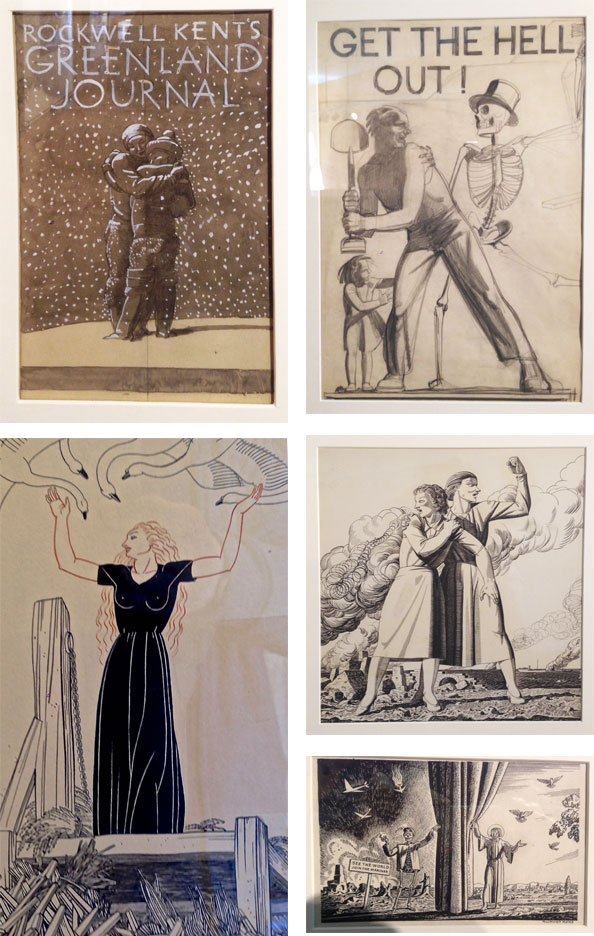 (The upper right image, 'get the hell out', is about US involvement in Latin America; the image on the bottom right says 'see the world, join the marines')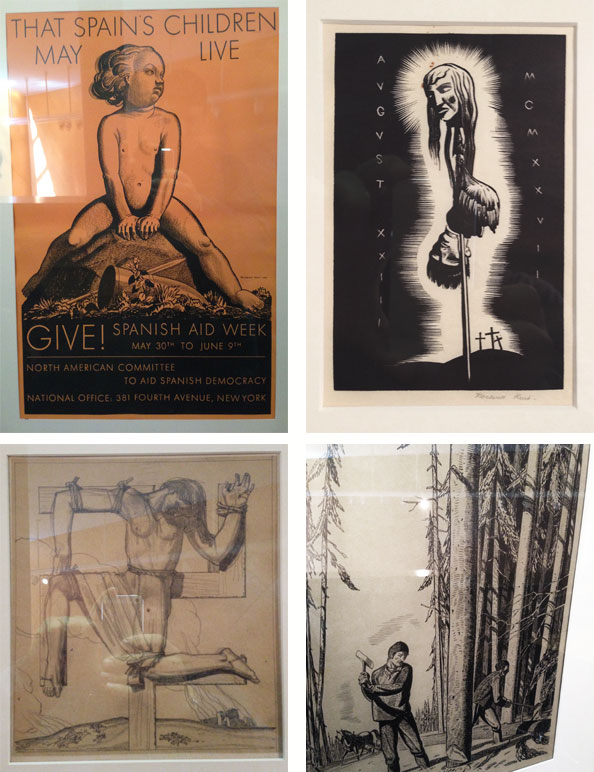 (the date in the upper right image (in latin numerals) is the date of execution of Sacco and Venzetti)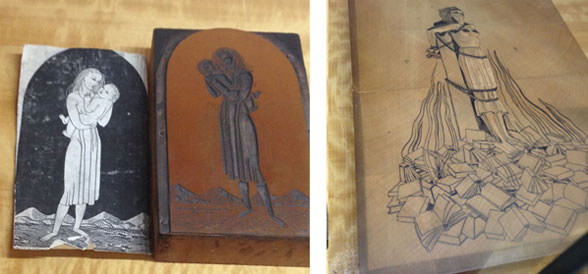 (the burning books, woman at the stake image must have been an early version. this one has obviously never been printed, though I have seen this image before)

Also I would like to note that SUNY Plattsburgh has done a very nice job of putting artwork all around its campus. Taking inspiration from Andre Malraux's concept of a 'museum without walls', there are sculptures, paintings, and prints from the school's vast collection nestled into every nook and cranny of this desolate 1960s concrete campus. It all feels very open and democratic. I also recommend visiting the Nina Winkel sculpture court, which features her smooth, modernist (and often religious themed) sculptures.