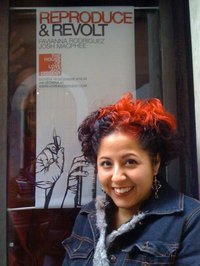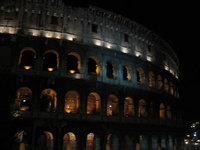 I've been meaning to write down some thoughts on my trip to Rome since I got back over a month ago, but time has been crunched and re-crunched with other commitments. So, the basic story is that Favianna and I (and Dara) got to head off to Rome for a week back in mid-December to have a Reproduce & Revolt book release and a print show at the House of Love & Dissent in Rome. And it was awesome. Marco, Domizia, Luca, Pado and everyone at the gallery were awesome. Love & Dissent is in the neighborhood of Monti, which is pretty tourist-y because it is literally down the street from the Coliseum.
There's not too much to say about the show itself, we hung it, it opened, and people seemed really into it! Upstairs we put a mix of our prints, images from Reproduce & Revolt, and in the basement I installed a ton of Celebrate People's History posters. I'm just going to let the photos speak for themselves (all show install photos by Favi):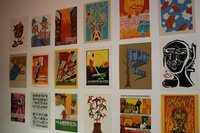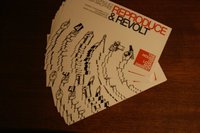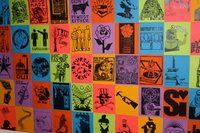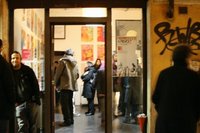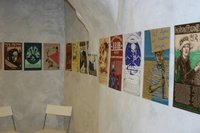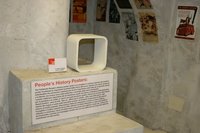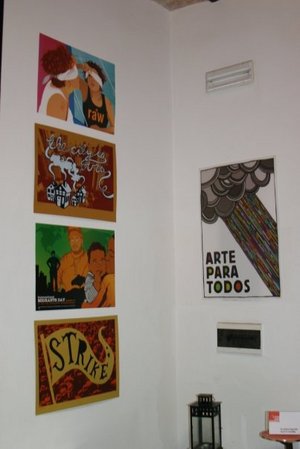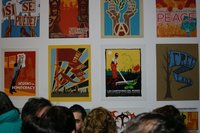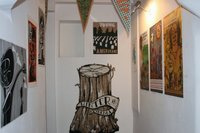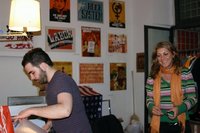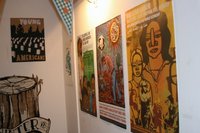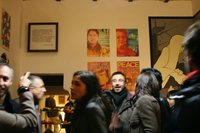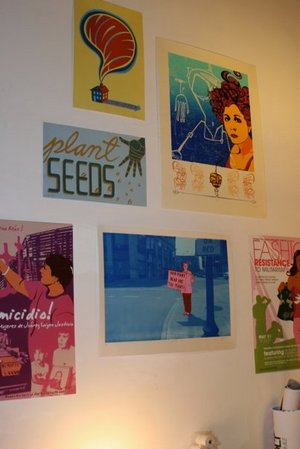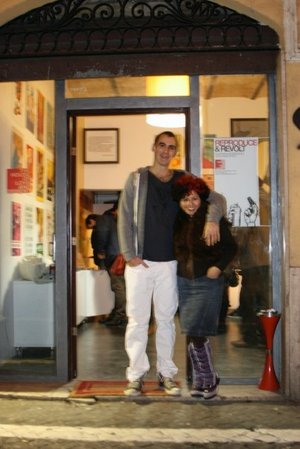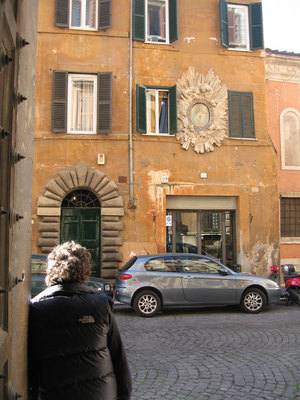 Marco put us all up in his apartment, which was amazing. Right in the center of old Rome, by Campo dei Fiori. We were able to walk to the gallery, as well as almost all the historical monuments, like the Pantheon, Coliseum, Vatican….Rarely does a street go more than a block without twisting and turning, so your field of vision is always blocked by the walls of buildings at crazy angles. It was amazing wandering through this maze of buildings, most of them older than any of the built infrastructure in the US.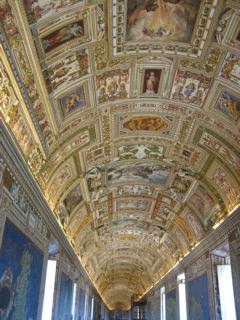 We also got to check out the Vatican, and the Sistine Chapel. What a weird scene that place is! In order to get to the Chapel, you have to walk through 45 minutes (and seemingly miles) of religious artifacts, hundreds of years old wall tapestries, and thousands of marble statues of various dudes. Pretty soon it all started to look alike, there is just so much stuff I couldn't possibly absorb it all, and without a really strong background in the Bible, I had no idea what most of it was referencing. The sheer volume of stuff was much more impressive than any one object, and how the stuff was literally piled on top of more stuff. Most of this was pre-museum days, so there is no conception of the white box, with each piece of art autonomous from the next. I mean PaperRad has nothing on the Vatican for insane eyeball overload! There's also a ton of contemporary art, including a bunch of great US paintings from the 1920s and 30s, Ben Shaun, Jacob Lawrence, and other social realists. The Jacob Lawrence painting was "The Carpenters," which is literally what it is, a painting of a couple Black men working with wood, and I couldn't help but think that this was some sort of Vatican inside-joke. The art buyer talking to the Pope: "They're carpenters, like Jesus, get it?" "HaHaHa!!" Around the cool stuff are hundreds of other religious themed paintings and sculptures, some of the artists I recognized, others I didn't. 99% percent of the people visiting just breezed by all this work, impatient to get to the money shot, the Chapel itself. I wonder how many twentieth century Catholic artists felt like they had finally "arrived" by having their work in the Vatican, only to have it ignored by the crowds rushing to crane their necks at the most famous ceiling in the world?
The Sistine Chapel itself is insane, taking "Baroque" to the next level. I've always seen the old God-Adam finger pointing in isolation, I never realized that's just one 5 foot by 5 foot square in a 80 foot by 60 foot ceiling! Next to Adam and God are 30 other little scenes, surrounded by dozens of Bible figures, with a thousand angels on top for good measure. It's like one of those terrible fantasy movies where Hell breaks out on Earth, but instead it's a giant explosion of Renaissance Heaven. I mean really, how many angels riding on naked guy's shoulders can you actually look at?