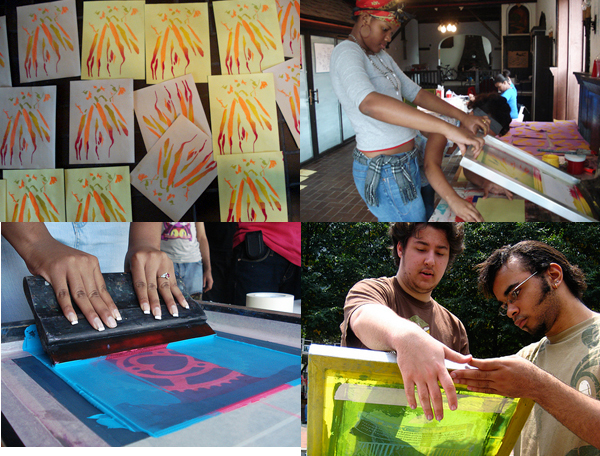 RUST (Radical Urban Silkscreen Team) 2009, a project of Artists Image Resource and The Andy Warhol Museum, is coming to a close. During the month of July, we cooled down a storefront on East Ohio Street in the North Side with lots of radical teen printmaking. Don't miss our closing party tonight! July 29th.Visiting Justseeds member Bec Young even made an awesome red cabbage-beet-fennel salad for us! You can also catch us at the opening of Transformazium's Community Silkscreen Studio in Braddock, Pa on Thursday, July 30th.
Silkscreen Power!
PARTY OVER HERE!
RUST 2009 CLOSING PARTY
WED JULY 29th
5:00-8:00PM
632 East Ohio Street (old Liberty Tax building, last one on your left before 279)
SNACKS!
DRINKS!
MUSIC!
LIVE SILKSCREEN PRINTING!
SEE & BUY TEEN-CREATED PRINTS!
OPEN TO ALL! FREE!