This is an interesting post to follow Roger's on the Jaguar. The word for jaguar is one of the 10 or so words in Portugese that I've learned so far (it's ónça, in case you were wondering…).
So it's been about a week since I arrived in Vitoria, Espirito Santo, and I wanted to share some experiences with the Justseeds blog world. I am here on behalf of the Warhol Museum with my cohort Heather White to organize museum and community silkscreen projects as representatives of RUST (Radial Urban Silkscreen Team), a Warhol youth project that we organized in Summer 2008. I had never been to South or Central America before, and my mind has been blown! We are in the tropics! The flora and fauna and weather and style are totally amazing…
We visited a community center in La Piedage, the neighborhood up-a-very-steep-hill where some young artists will be working on RUST-style projects with young folks after we leave…two lil ladies, maybe six years old, arrived early and enthusiastically joined in printing backgrounds with us…when their friends arrived they explained to them how the silkscreen process works. So sweet and stoked.
We gave an artist talk and advanced silkscreen workshop at an artist space in downtown Vitoria, that is closing ita doors at the end of April. Folks were experimenting with silkscreening and all manner of other things when we rolled in…all the artists we have met so far are full of ideas and energy and street art seems big…especially wheatpasting.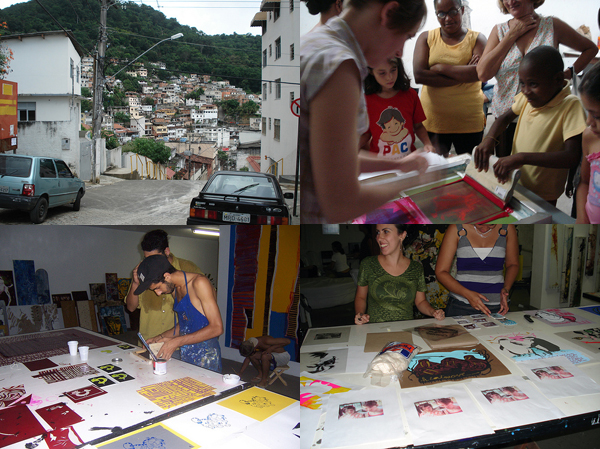 Clockwise from top left: the view from La Piedage; printing with small folks at the community center in La Piedage; silkscreen workshop for interns and community artists at downtown space; shirtless printing at downtown space

This week we are doing a series of extended workshops at a middle school near La Piedage. This experience is reminding me of how magical and powerful silkscreening can be…we´ve experimented with a bunch of techniques with the kids, printing a 2-layer photo silkscreen of a crab (caranguejo), a symbol of Vitoria, cutting paper to make silkscreen stencils, and taking a photo of the class and running through the process of turning it into a screen and printing it…we brought our lightbox with us to the school and had to do a notebook drive to get enough weight to make a clean burn…DIY! Tomorrow we are making t-shirts and stickers!
Speaking of which, I brought a slew of Justseeds stickers with me, and have given out a bunch already…the museum interns, and middle school kids were especially stoked today.
On a side and lighter note, we've been staying at an art collective living space called 'Commando,' with a bunch of sweet dudes who all play music and do various other creative things…there is a silkscreen setup here as well as a music practice space. And the middle of the house is an open air courtyard! Nice for the five Tibetans in the morning…I also got to DJ a bit this weekend at a 'Fantasy Party'…a phenomenon I still haven't quite figured out…but maybe I will bring it to Pittsburgh? This marks my first time DJ-ing completely from a computer and cd deck…let the music play.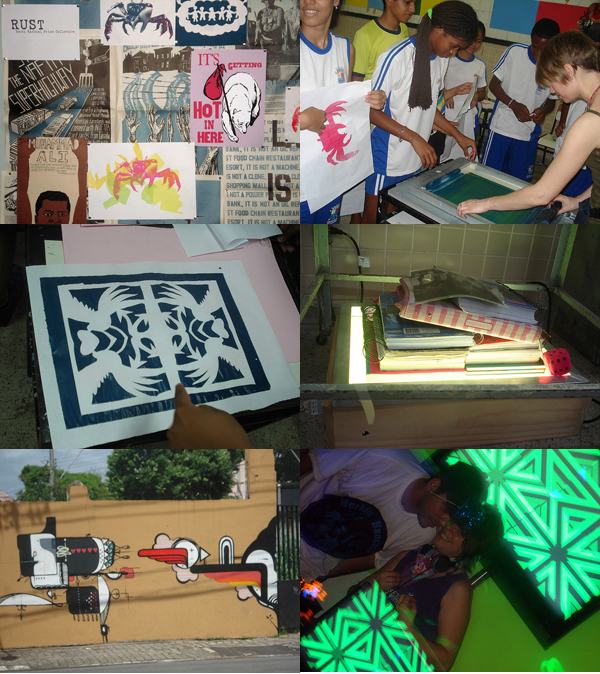 Clockwise from upper left: RUST/Justseeds/SAW represent at the Museu de Artes do Espirito Santo; printin´crabs; diy light table burnin´; Mary Mack's Brazilian DJ debut; beautiful graffiti in Vitoria; Mary's papercut for silkscreen workshop