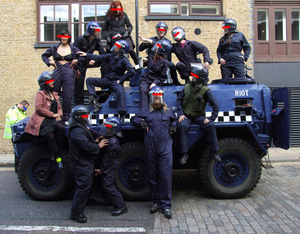 So while we've been dealing with G20 fallout here, there's been a bit of stir over in the UK related to the G20 as well. British art crew the Space Hijackers were arrested for impersonating the cops at the G20 protests in London back in April, and now their going to court. Below is part of a letter from the Hijackers, and a story from the Times UK can be found HERE.
Hello, Robin from Space Hijackers here, I'm not sure if you're aware but the hijackers are currently in a bit of bother.
As you may have seen in the news, we've recently been arrested for the spurious charge of impersonating police officers at the G20 demonstrations. It seems the police didn't quite find it as funny as we did to discover us rolling around in our tank, playing Ride of the Valkyries whilst ridiculing the oppressive police tactics on the day of the protests.


It's since been called "one of the most bizarre prosecutions mounted in a British court in recent years" by the Sunday Times UK and is hopefully one that will get thrown out of court.
However, on the outside chance that the CPS decide to go to trial with this, we are currently working on our defence. One thing that would really really help us is a series of letters from recognised Arts Institutions backing us up that we form part of a cannon of radical/subversive/social artists as opposed to simply being a bunch of troublemakers with a tank.
So, if you think you've got the institutional juice to help the Hijackers, drop them a line on their website and offer to vouch for them!