Seattle teachers went on strike this week to win for their students, their profession, and their communities.
On Wednesday, September 7, 2022 the Seattle Education Association issued a call for the community to support the strike on their social media sites, including their Instagram site at @seattleea. SEA called on community members to support Seattle students and educators by texting SUPPORT to 48744. In the caption of their post they wrote:
"We are educators because we care about our students. Today we are taking a stand for the schools and investments they deserve. Join us in asking the Seattle School Board for a contract that includes supports for students in Special Education and Multilingual Education, more staffing so that we have manageable workloads and class sizes, and respectful, competitive pay so that educators can live in the community where we work."
On September 8, 2022 the Seattle Education Association posted to their email listserv:
"Our second day of picketing brought even more community and labor support, growing the power we bring to the bargaining table to get the supports our students need. All across the district, our picket lines are staying strong and we're committed to staying on the line to get student supports, workload relief, and respectful pay…Many of the issues we are facing are not unique to Seattle – educators across the nation have similar struggles and are inspired by our solidarity. Our strength is growing and our activism both on the lines and on the web are moving SPS to do what our students need. The SEA Bargaining Team continues to bring our voices to the bargaining table, holding the line on the issues most important to educators…We are making progress and call on the district to match our urgency – we need them to meet our students' needs and support educators NOW. We want to be back with our students!"
On September 8th, following the school districts announcement of the third day of cancelled classes for a school district of approximately 50,000 students, Seattle Education Association president Jennifer Matter was quoted on Kiro Seattle saying:
"We had a really difficult decision to make, and believe me, that decision was not taken lightly on whether or not we would authorize a strike, because no one wants to strike. But SPS has given us no choice … We cannot go back to the way things have been, we need to fight for something better." (source: No classes Friday as Seattle teachers' strike continues to delay start of school year (msn.com)
The Kent Education Association (representing the Kent School District that neighbors Seattle) was able to reach an agreement on September 7th after starting their strike on August 25th to coincide with the start of their school year. Kent educators were able to ratify a new contract which enables classes to start on September 8th. According to a K5 article some highlights in their agreement include (source:https://www.king5.com/article/news/education/kent-school-district-teacher-tentative-agreement/281-72f6bc22-28cc-4069-a807-f7ed7d0937ef)
Additional training and collaboration time
Improved incentives to encourage the district to: fill paraeducator positions, keep class sizes smaller, keep caseloads manageable for occupational therapists, physical therapists and speech language pathologists
New wage ranges: 7% increase in the 2022-2023 school year and 1% inflationary increase funded by the state
On the morning of Sunday, September 11th, The Seattle Education Association issued a statement of disappointment to their listserv as an agreement has not yet been met when Seattle Public Schools (SPS) presented their counter agreement. They shared,
"For example, we are asking for mental health supports, particularly in buildings with the highest need. In their response to us, SPS is applying their either/or, scarcity-based thinking, proposing to give our students just 0.5 FTE social workers in high schools and rejecting our proposal for supports for elementary, middle, and K-8."
They encourage the community to keep up the pressure on the school board. So far, community has made hundreds of phone calls and over 5,000 email messages to the Seattle school board. Seattle Education Association said, "if the board still fails to get to agreement by Wednesday, we will rally outside the JSCEE during the school board meeting."
Many of the banners, picket signs, and offset posters that have been held at the rallies and on the picket line came out of the April 2022 community art build that brought together three unions – the Seattle Education Association, the Federal Way Education Association, and the Highline Education Association. The three-day community art build was sponsored by the National Education Association and was organized by the Art Build Workers, (Jeanette Arellano, Claudio Martinez, Joe Brusky, Kim Cosier, Josie Osborne, Paul Kjelland and Nicolas Lampert) in tandem with the local union leadership – notably Federal Way union president Shannon McCann. The art build also had many connections to Justseeds. Paul Kjelland and Nicolas Lampert are collective members of both the Art Build Workers and Justseeds and Tacoma-based artist Saiyare Refaei of Justseeds became the key local art organizer for the art build reaching out to an incredible roster of artists from Tacoma and Seattle to create the designs for the movement culture. Killjoy from Justseeds also contributed a powerful design.
Here are some examples of the art that was created in solidarity and in collaboration with the teachers union movement.
Offset poster by Monyee Chau (Seattle)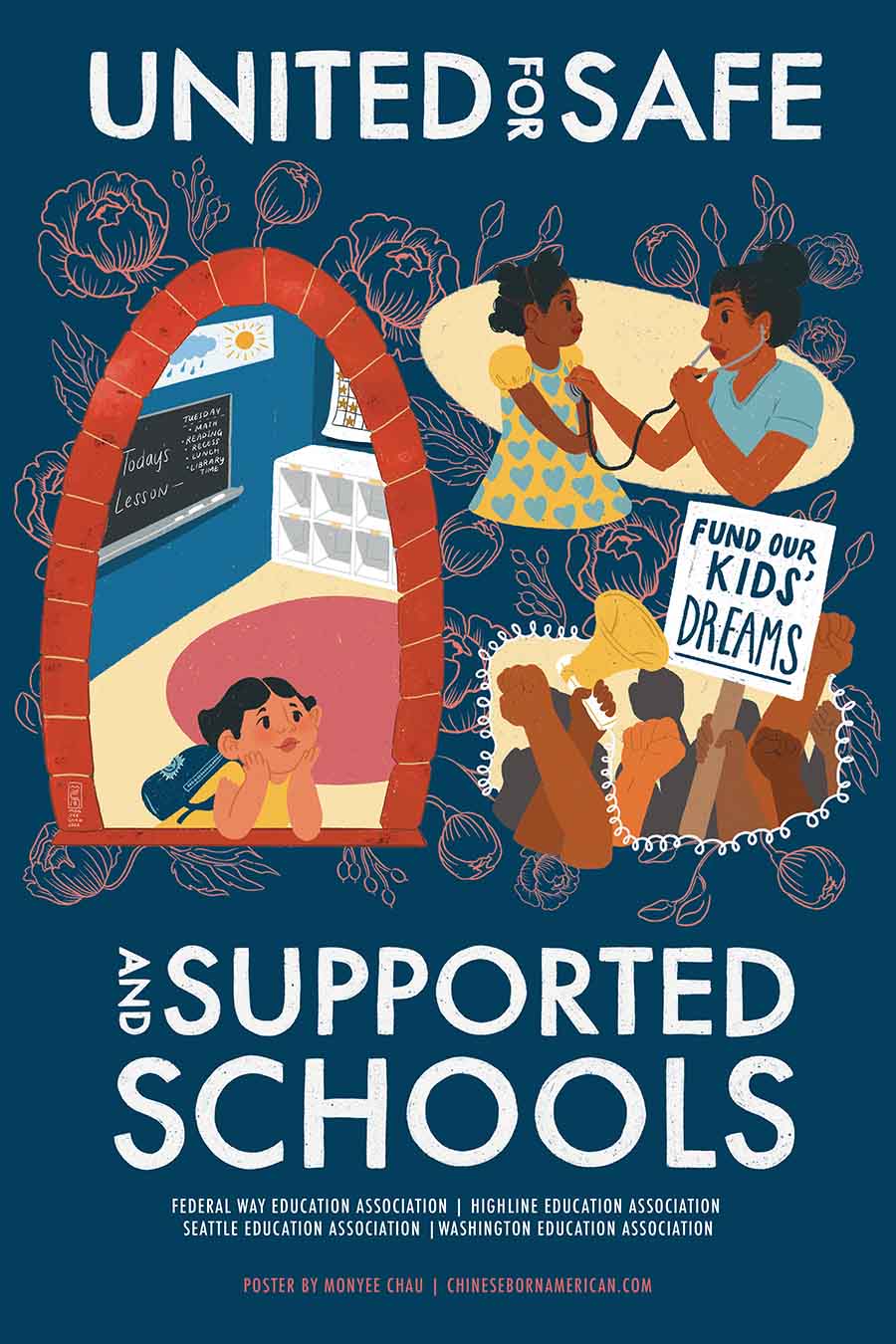 Offset poster by Kill Joy (Houston)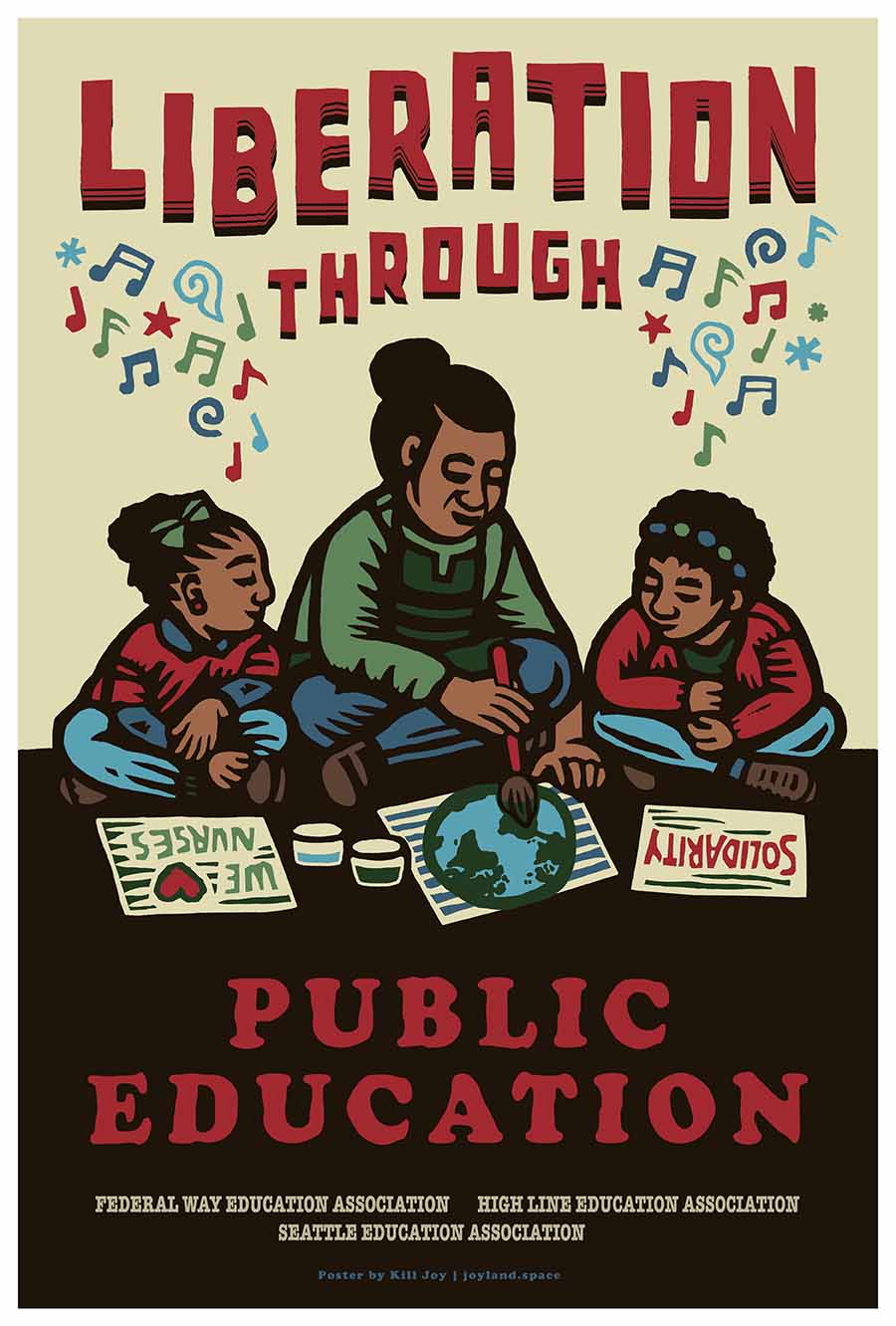 Screenprinted picket sign by Saiyare Refaei (Tacoma) / Typography design and background by Nicolas Lampert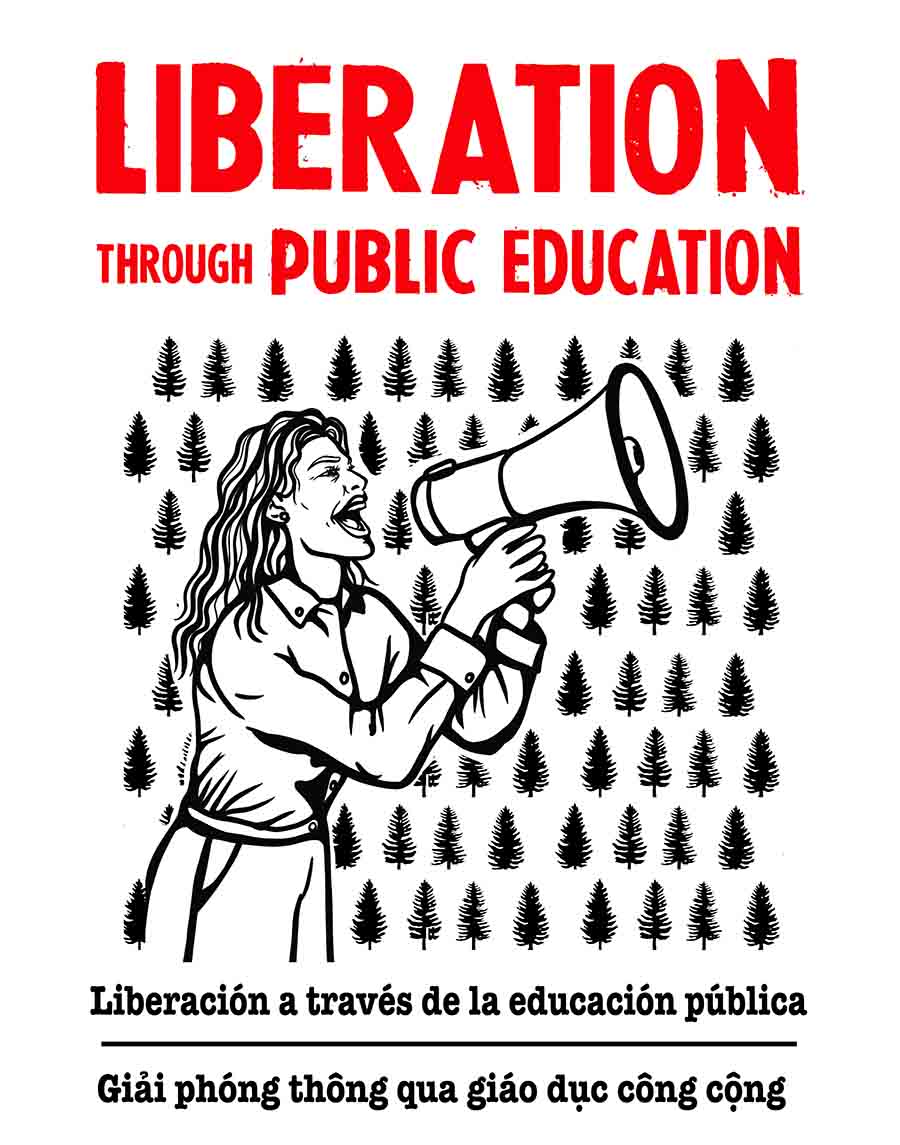 Picket sign by Saiyare Refaei (Tacoma) / Typography by Claudio Martinez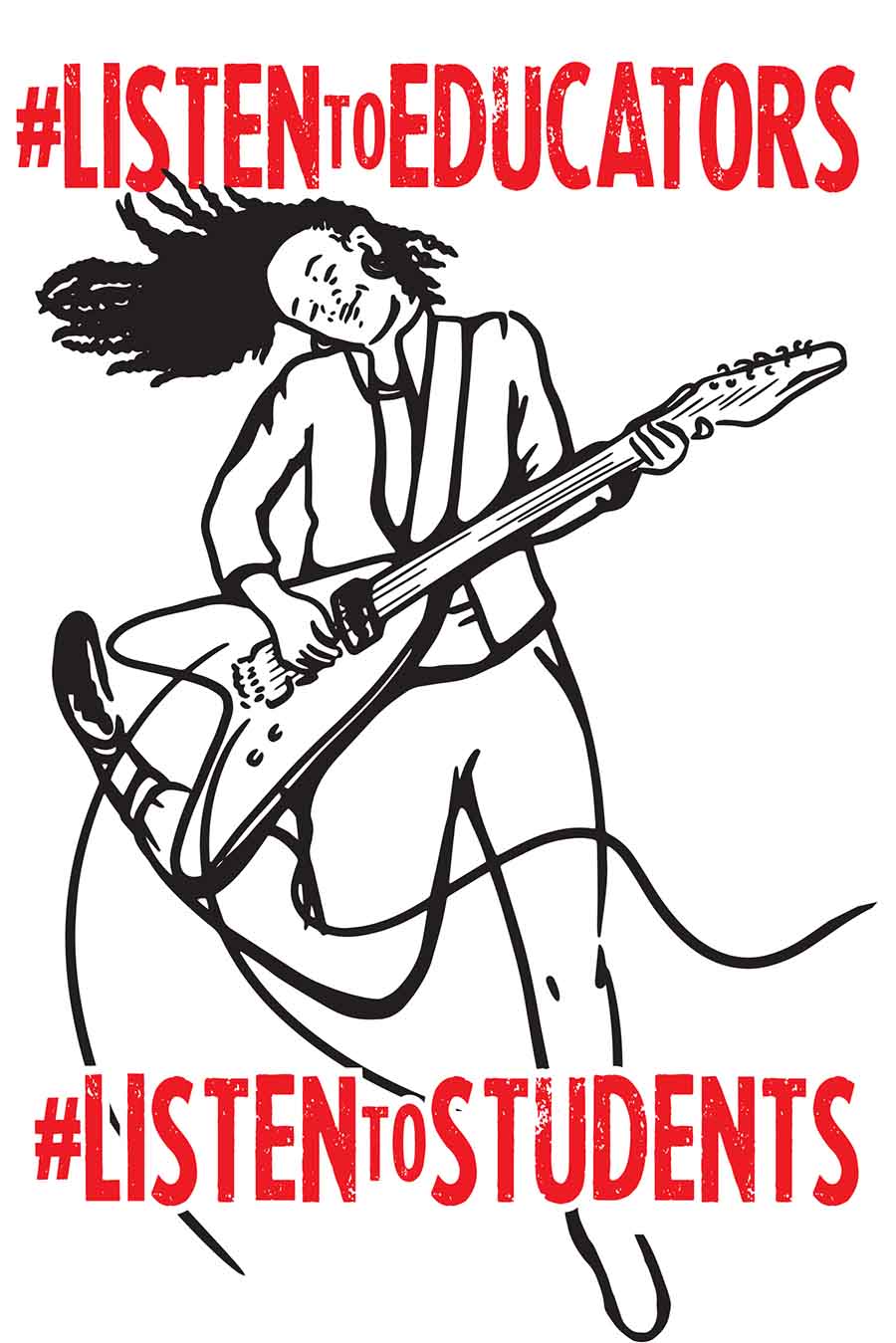 Picket sign by Glynn Rosenberg (Seattle)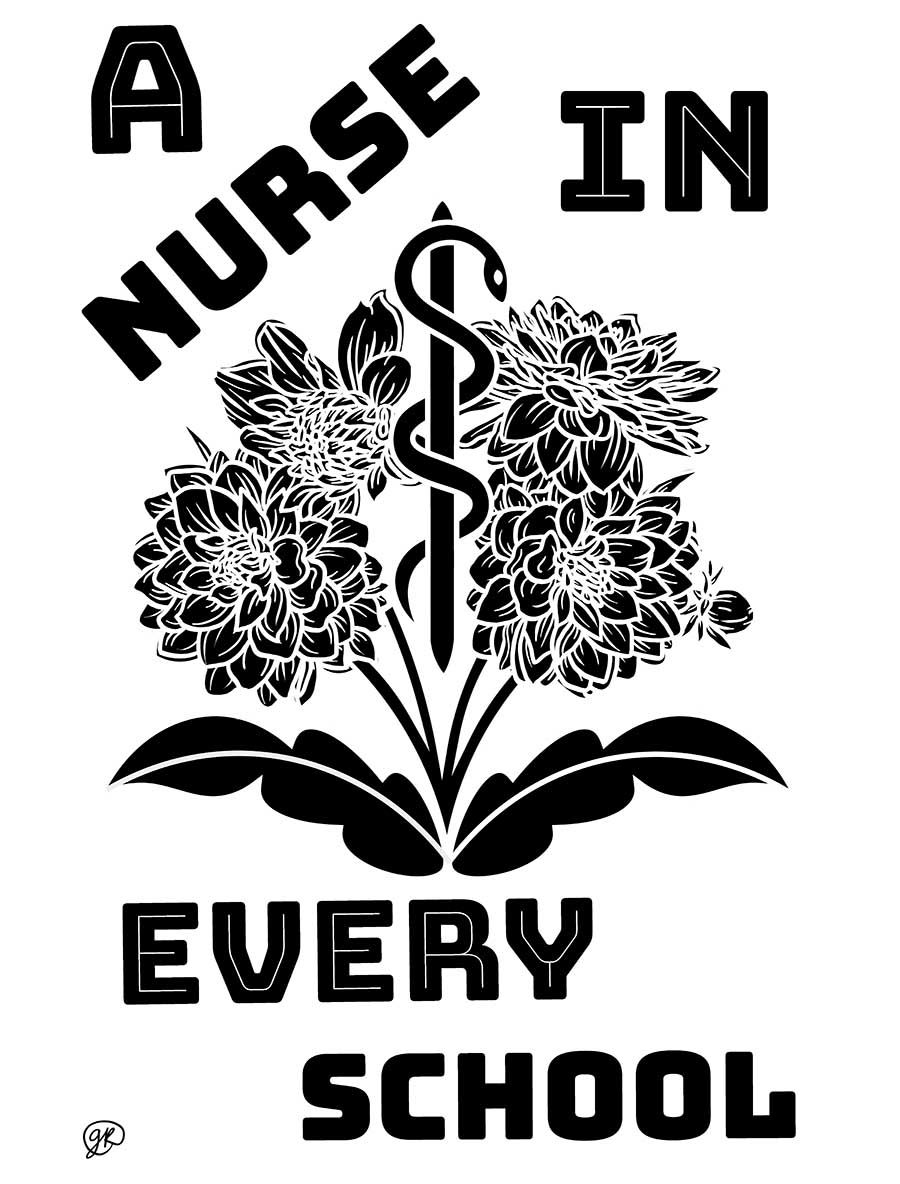 Picket sign by Saiyare Refaei / Typography by Claudio Martinez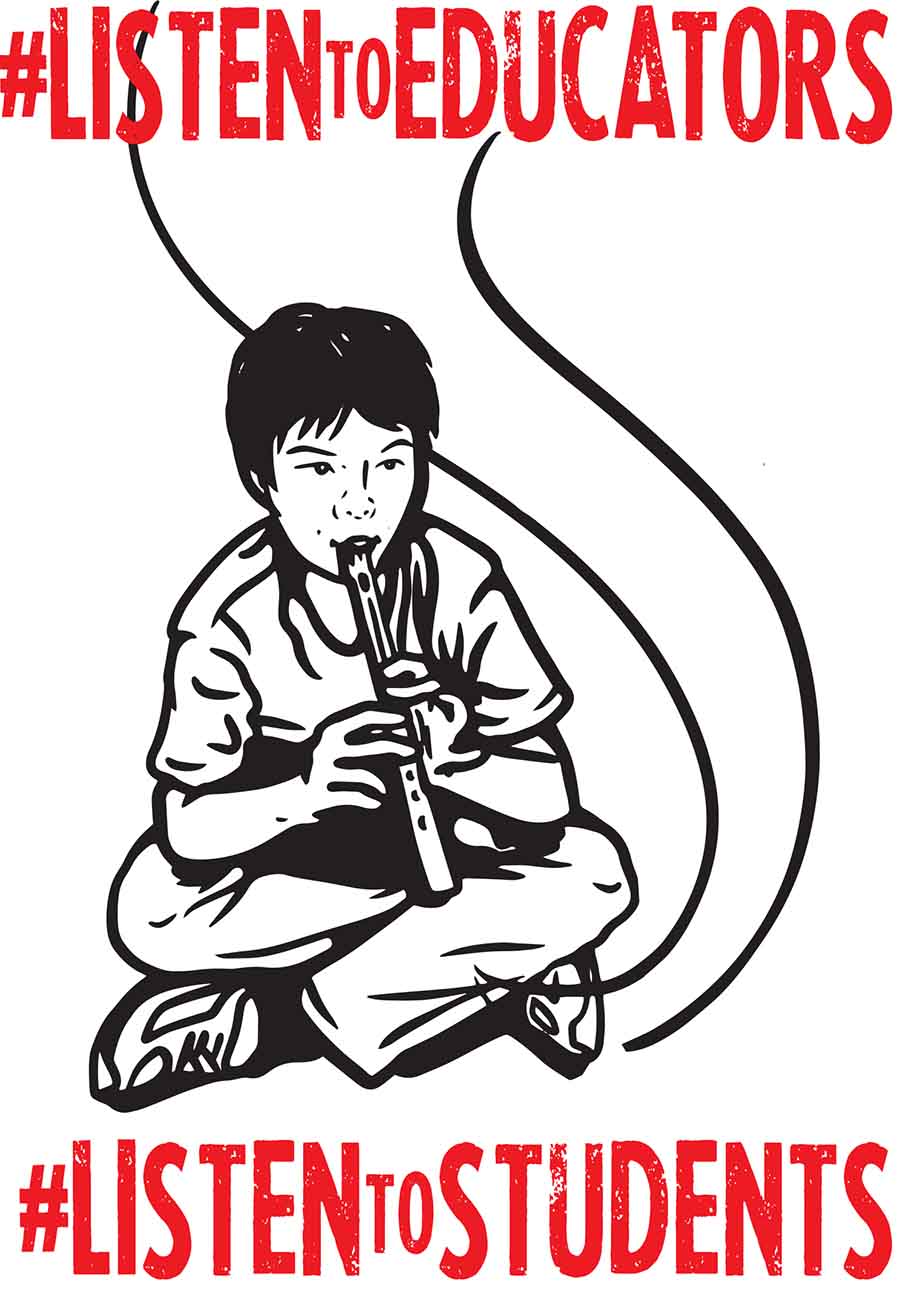 Picket sign by Megan Thorberg (Federal Way)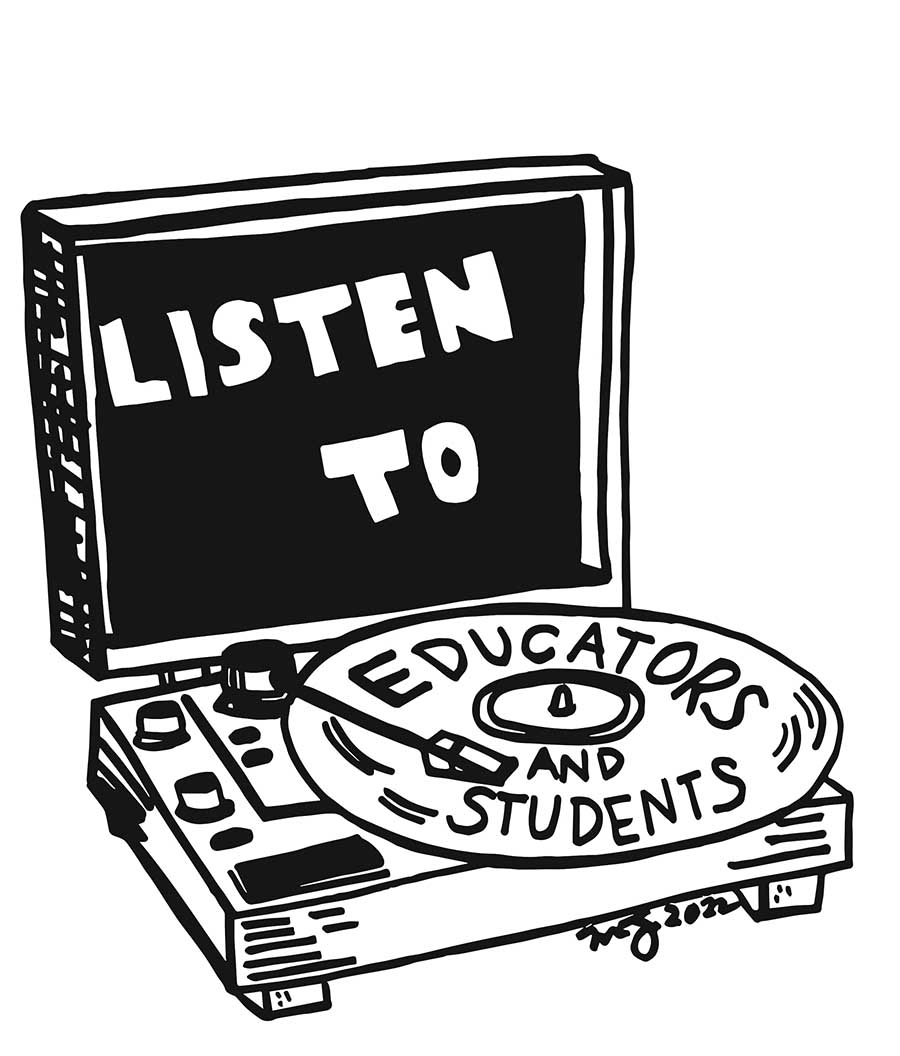 Offset poster by Nicolas Lampert (Milwaukee)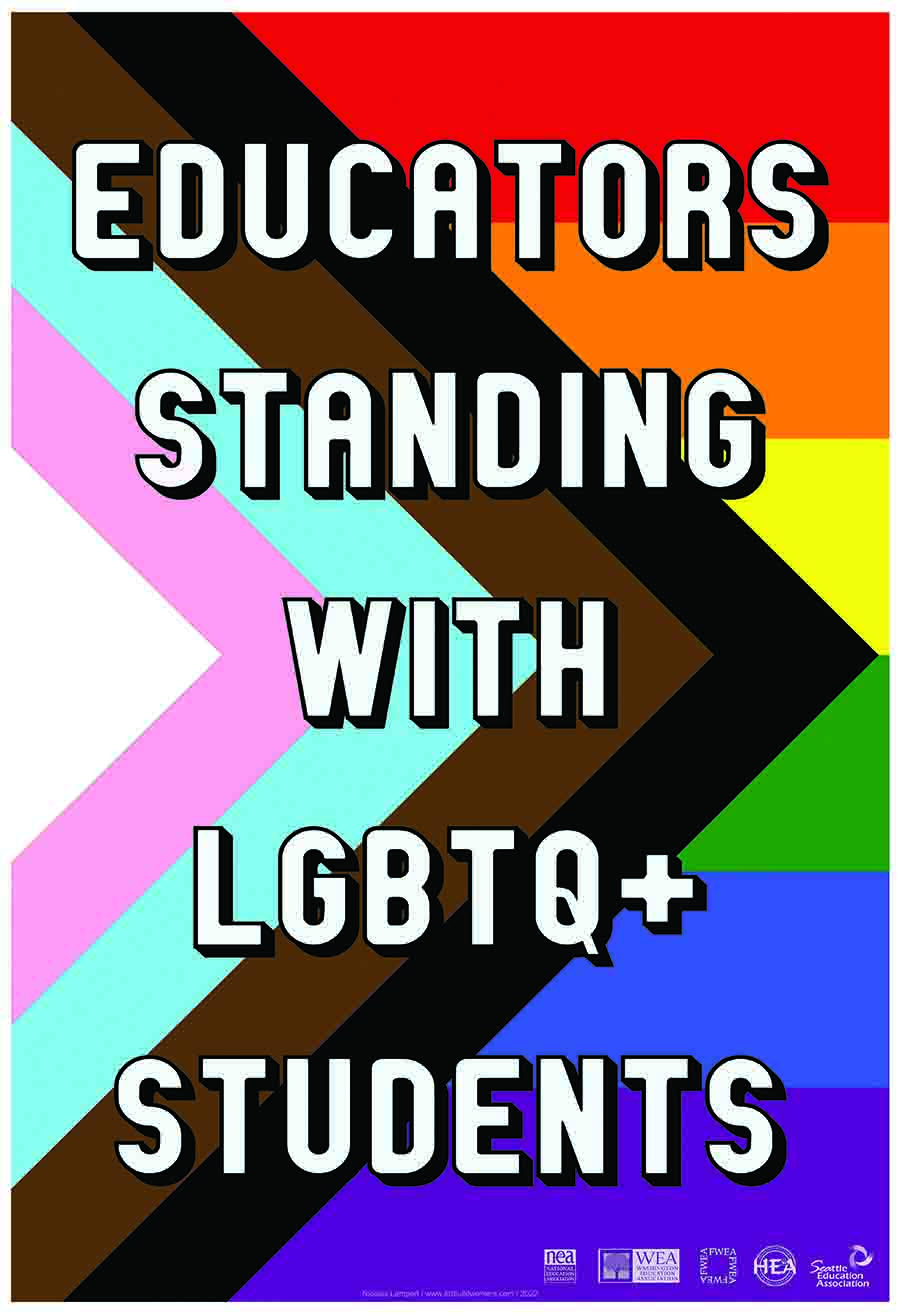 24′ wide parachute design by Jeanette Arellano and Paul Kjelland (Milwaukee)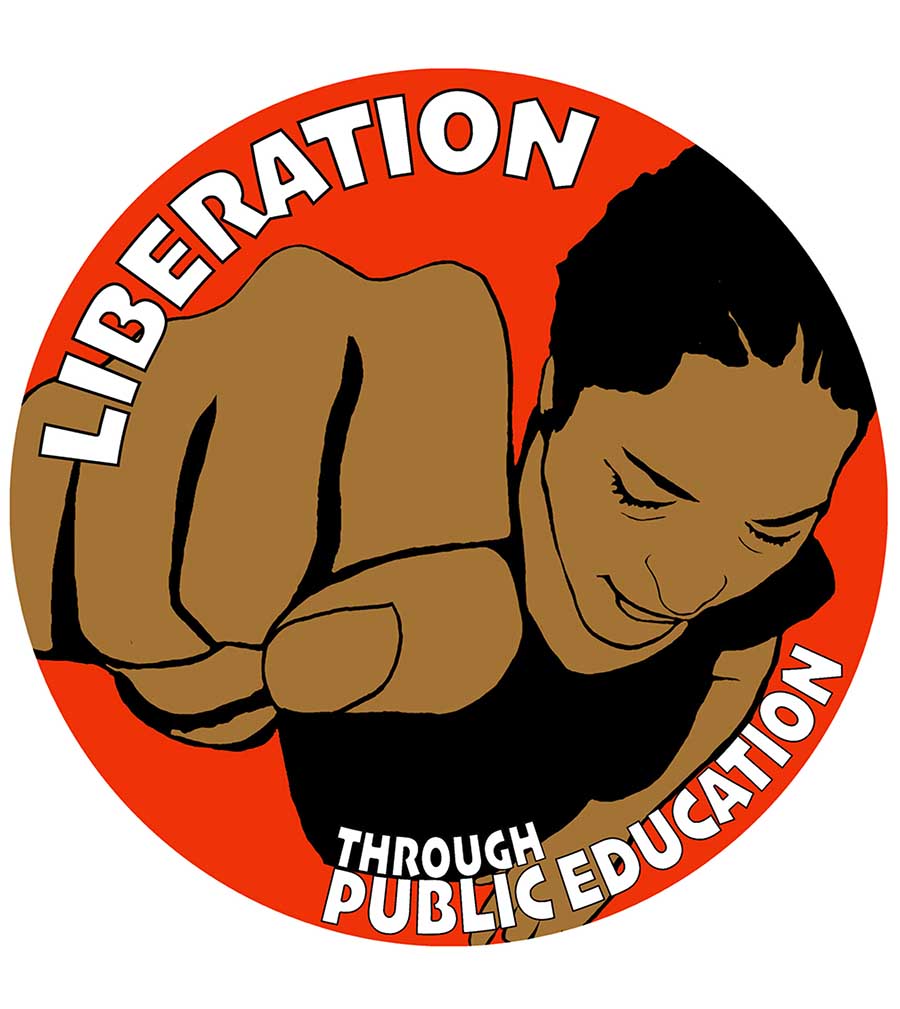 24′ wide parachute design by Claudio Martinez (Milwaukee)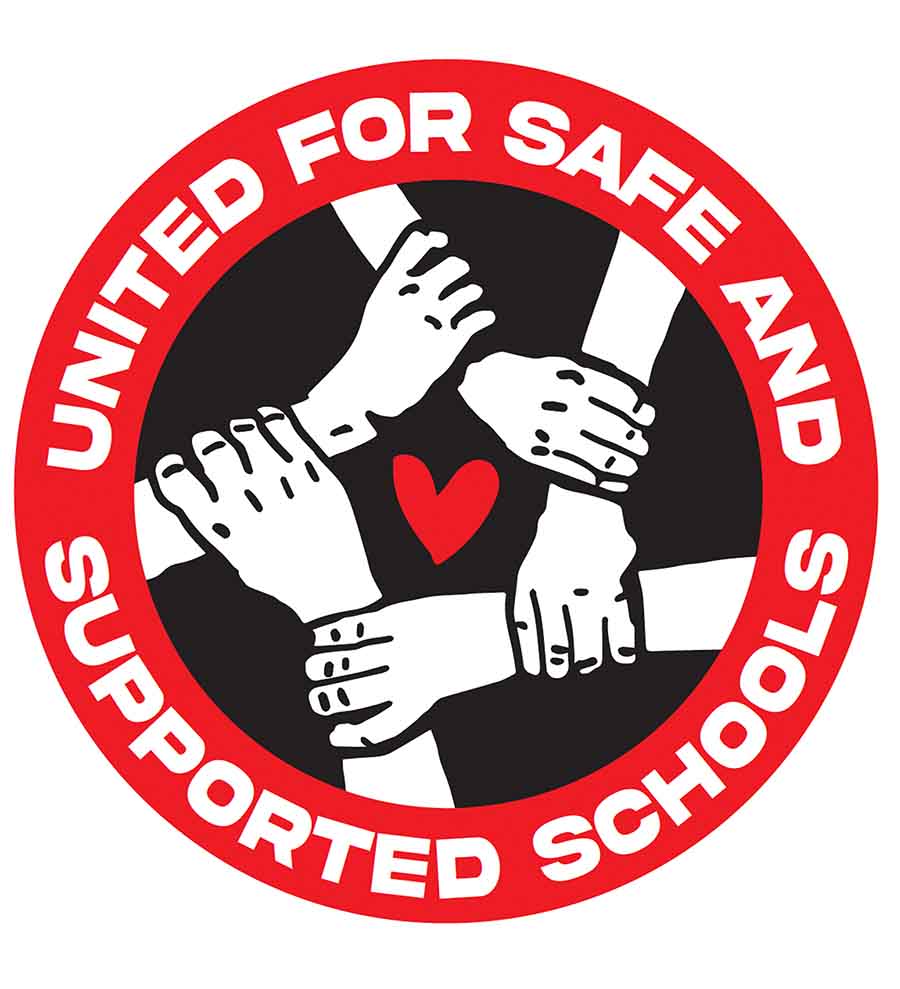 24′ wide parachute design by Nicolas Lampert (Milwaukee) / heart-fist image by Kyle McKinley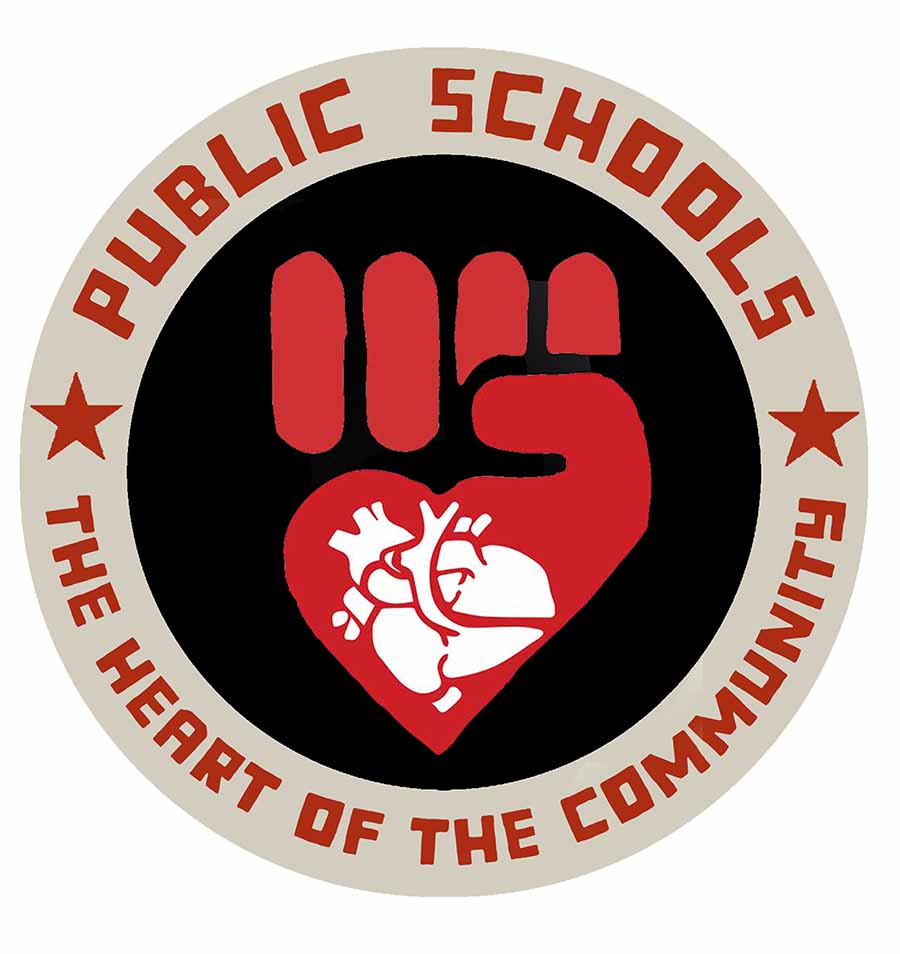 Time Lapse video by Joe Brusky:
Public Schools The Heart of Our Community Parachute Timelapse from MTEA Union on Vimeo.
Banner designs / top design: Paige Pettibon (Tacoma), second and third designs: Nicolas Lampert (Milwaukee) / bottom design: Kill Joy (Houston)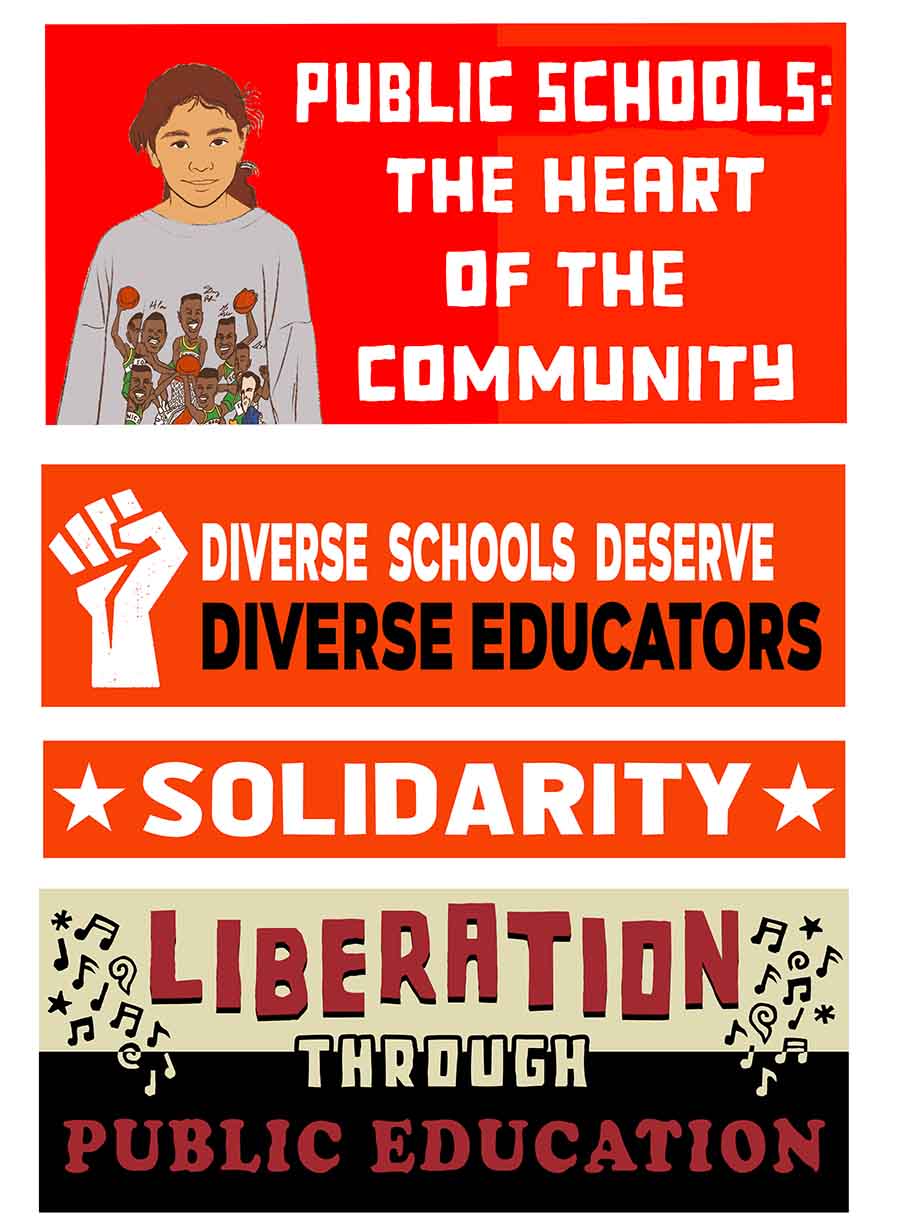 Fill in poster design by Kenji Stoll (Tacoma)
What Seattle Teachers Are Fighting For from MTEA Union on Vimeo.
All this art was made over a two-month collaborative process with union leaders from the Seattle Education Association, the Federal Way Education Association, and the Highline Education Association. You can view photo documentation by Joe Brusky (Art Build Workers and MTEA union) of the three-day art build here and also a video linked here.
More significantly you can support the Seattle Education Association by joining the picket lines if you are in the region. You can also share these images. Please always credit the artist, highlight the strike and please tag the Seattle Education Association @seattleea
The teachers fight is our fight. Stand with the Seattle Education Association. When we fight, we win!
More information / photos of the strike:
Sept. 7, 2022 Seattle times article on the strike.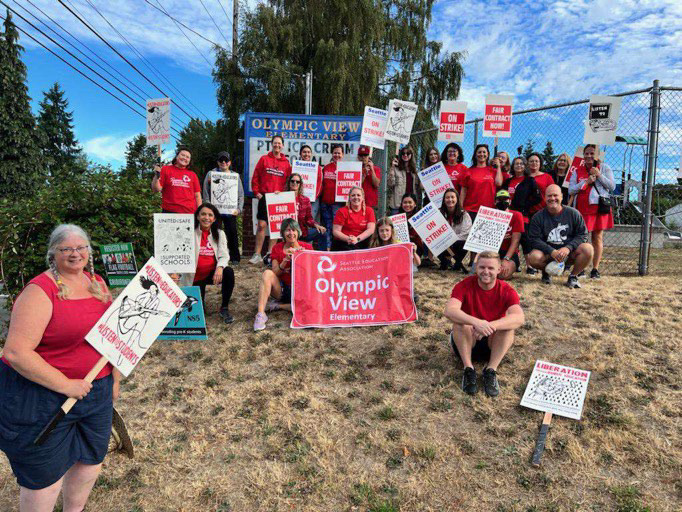 This blog was written together by Nicolas Lampert and Saiyare Refaei. Any spelling or grammatical errors are our own.