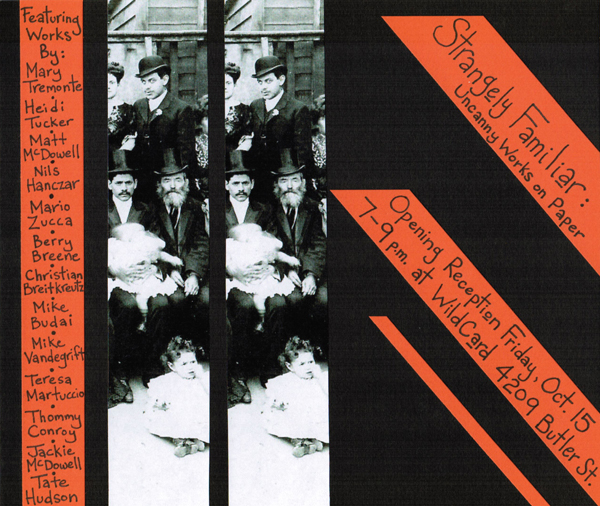 Strangely Familiar: Uncanny Works on Paper

is up for the month of October, with an opening reception this Friday.
Featuring the artwork of:
Mary Tremonte * Heidi Tucker * Berry Breene * Matt McDowell * Nils Hanczar * Mario Zucca * Mike Budai * Christian Breitkreuz * Michael Vandegrift * Teresa Martuccio * Jackie McDowell
This event also celebrates the one-year anniversary of Wildcard, a great handmade arts and crafts and cards store right in Lawrenceville. Justseeds' Bec Young and myself sell our prints there.
Matt McDowell and I will be DJ-ing the opening, which is part of Car-Free Fridays Gallerycycle. Come down the street to Justseeds to make a spokecard with Bec and see RESOURCED one more time. Lots to do in Lawrenceville this evening. Fun!
October 1st-31st
Opening reception on Friday October 15 from 7-9pm
at WildCard, 4209 Butler St. in Lawrenceville