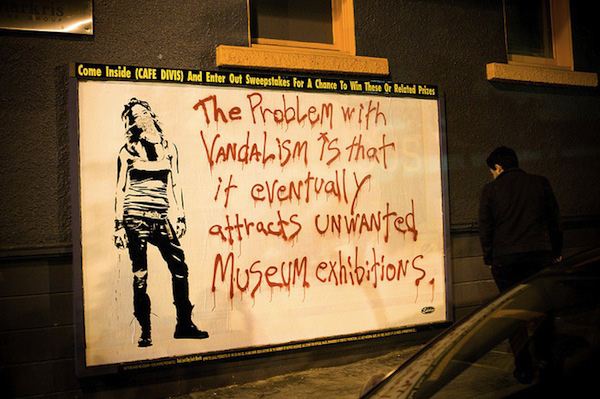 Image by LA-based artist Eddie Colla
Colla has provided one of the best reviews of MOCA's blockbuster show "
Art in the Streets
." So far critical writing and reviews on the show are few-and-far between. Most reviewers have gone ga-ga over the colors and imagery with little mention of context, the themes explored, or the artists and issues absent from the "survey" on modern graffiti history.
Max Benavidez, an important scholar on Chicano art, questions why the show left out the work of the Chicano art collective ASCO and writes in the
Huffington Post
, "You can't bring the raw energy and sheer free expression that is global street art into an institution and still label it street art. Maybe that's why it's called "Art in the Streets." Yes, this is the hottest thing going in the art world. Almost everything else is so boring. Well, now this can be boring, too. Sure there is some good art in the show but where in the world, for example, is the whole street art history of Asco, etc….This show is basically a show about validation by the self-appointed arbiters of high culture."
Recently the
New York Times
and the
Los Angeles Times
have turned their attention towards the police reaction to the graffiti that has turned up in the neighborhood since the show opened, creating some priceless quotes.

MOCA Director Jeffrey Deitch told Culture Monster (LA Times blog) that it was done by "some of the young taggers who are anarchic. … It's a language of youth culture, and we can't stop it. It goes with the territory." Deitch adds that the show can provide a new road map for taggers: "We want to put out an inspirational message: 'If you harness your talent you can be in a museum some day, make a contribution and a living from it.' "
Is this guy for real?
If LA-based readers of this blog or others who check out the show want to send in a review, please do. You can post in the comment section or write a longer review and email it to me. My email contact is under the "Artists" section of the Justseeds website.
Readers can also check out my essay on the Blu mural controversy at MOCA that I posted a few months back before the show opened. Check it out here.