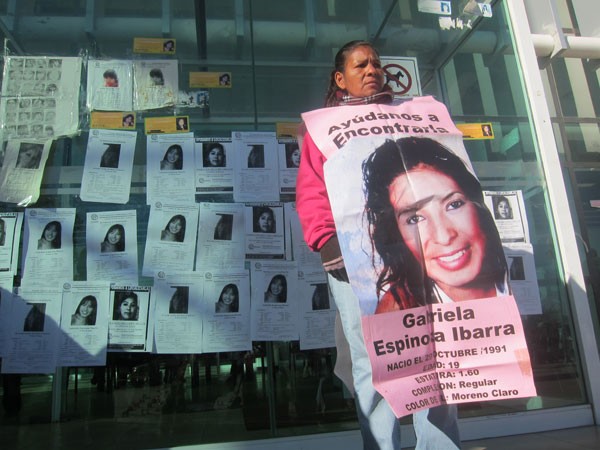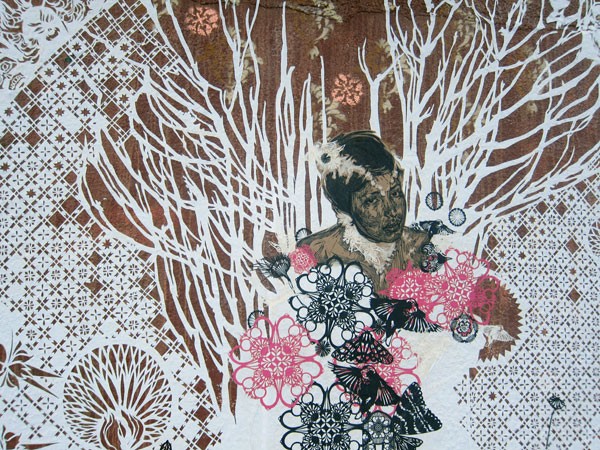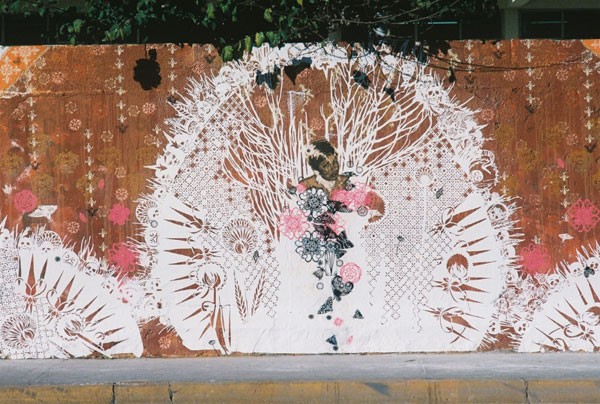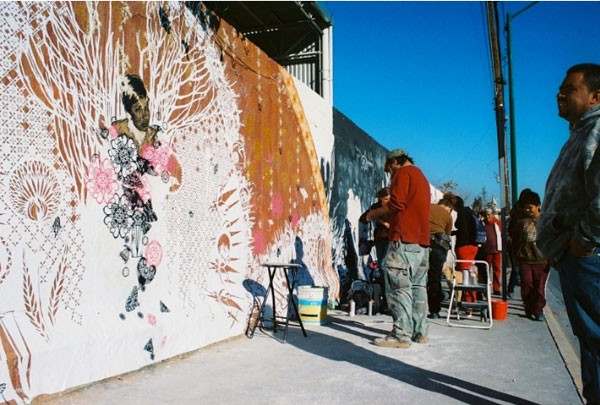 New Swoon print available here! From the artist:
"This past December I returned to Juarez, Mexico to publicly recreate the portrait of Sylvia Elena Morales, first created in 2008. The piece addresses the ongoing femicide; murders of thousands young women, that have been happening in the border town, and throughout Mexico and Central America since 1993…"

"In 2008 Tennessee Watson and I traveled to Juarez to learn more about this situation occurring just across the border from El Paso, and seemingly connected in some way to the border relations between the U.S. and Mexico. We met with mothers who had lost their daughters, and with local activists who were working tirelessly to bring the situation to public awareness and to push for justice. Out of our research came "Portrait of Sylvia Elena", a multimedia piece which took the form of a portrait of one young woman, combined with the audio recordings of our many interviews with mothers. The piece was shown in San Francisco and in New York, but with the escalation of violence to extreme levels on the streets of Juarez, Tennessee and I had not yet returned to recreate the piece in its place of origin.
This December with documentarian Andrea Dorfman, and Juarez muralist Juan Carlos Reyes, Tennessee and I spent a week attending local actions, meeting with artists and activists, and creating a street installation of the portrait of Sylvia Elena.
The atmosphere had changed significantly since our first visit. Marisela Ortiz, who had introduced us to the movement of mothers for justice in Juarez has since fled for her life as a result of death threats, and the murder of a member of her family. The escalation of violence in the proceeding years has left many of the businesses shut down and a relative quiet cast over street life. There is a strong narrative being put forward that the killings are over, but every day new missing posters are added to lampposts and to the walls of the courthouses. The murders continue, and according to Marisela Ortiz, despite the statistics being hidden, their numbers are higher than ever.
Juan Carlos Reyes and I spent two days painting and pasting a collaborative mural with the Sylvia Elena portrait at its center. The piece now stands at Benito Juarez Plaza, the place where Sylvia Elena is thought to have disappeared while changing buses, and where many other young women have gone missing.
Through conversations with artists in Juarez, it became ever more clear to me that it is not my intention to stigmatize Juarez as a place of violence — but to recognize that this kind of violence, while it may seem isolated to a town on the other side of the U.S. border, is a situation born of socioeconomic conditions that people in the United States and Europe share a role in creating. This piece is, instead, a gesture of solidarity with those most vulnerable to the effects of this violence in their daily lives.
I hope through this portrait to honor the life of one young woman, while speaking against the public will to isolate the situation. I hope that we can see the face of Sylvia Elena, and recognize our connectedness with each of the thousands of women who have gone missing, with each of the family members who mourn the loss of their brightest light, and with a town in the shadow of the U.S. border, caught in a strangle hold of incomprehensible violence.
Despite the 2010 murder of Marisela Escobedo outside of a government building as she demanded justice for the murder of her daughter, there are many many brave mothers, and fathers, and sisters, and brothers of disappeared women who put themselves in danger every day by continuing to push for justice, and recognition, and remembrance."
Inkjet print of the original linoleum block carving, available here.
Mothers putting themselves at risk by protesting outside of a government building