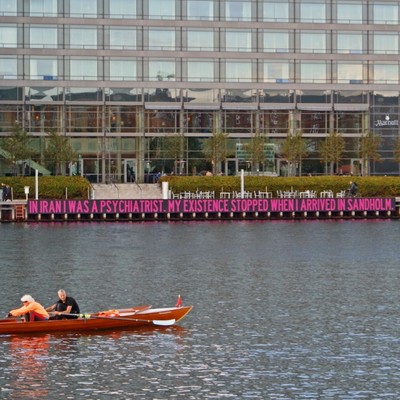 Shaun Slifer and I recently had the great pleasure of visiting Brett Bloom and Bonnie Fortune in Copenhagen. They organized an exhibit of the Justseeds Resourced Portfolio and related prints at YNKB, a really amazing collectively organized arts space that happens to be right next door to Brett & Bonnie's apartment. I hope to do some more posts about our time in Europe over the next few weeks, but for now I want to urge you to check out their blog: The Mythological Quarter.
Recent entries include an interview with Kerianne Quick, about her Source Matters series, the Resourced show at YNKB, and Brett's recent public signage project, Giving Harbor, about immigration in Denmark, installed in the harbor—all topics that we encountered during our week's stay. There are also heaps of downloadable pdf's and links to other sites of interest.This blog is rich with new content often, check it out!

From the site:
The Mythological Quarter is a blog about micro-local (i.e. in our living room) apartment-based experiments in ecology. The blog includes projects we have done and are working on. It also includes cultural projects and interviews with people that deal with the environment and work to promote ecological thinking. Sometimes we will look at various products that might be useful in creating a sustainable apartment.
Regular contributors are Bonnie Fortune and Brett Bloom. Right now we live in Copenhagen, Denmark but have lived in Chicago and Urbana, Illinois. We have collaborated together for several years under the name Let's Re-make. You can find examples of our work, like the Bat Houses project in the city of Urbana, here.
Bonnie is available to write about ecology, sustainability, design and art for you.