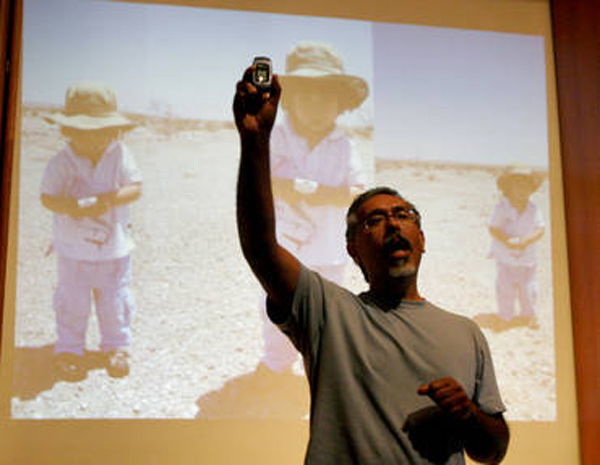 One of the highlights of this year's
Allied Media Conference
in Detroit was learning about the Transborder Immigration Project by Ricardo Dominguez, Brett Stalbaum, Micha Cárdenas and Jason Najarro.
In the true spirit of hactivist art and civil disobedience, this team of San Diego-based artists and scientists has ingeniously reconfigured a Motorola i455 phone into a lifesaving device for immigrants crossing the border between Mexico and US. In their own words, "The goal of the project is to help reduce the number of deaths along the border by developing a common cell phone device into a navigation tool that will help migrants locate life saving resources in the desert such as water catches and safety beacons."
The device, which is built upon the back of a basic $40 Motorola i455 phone, has a built-in compass, vibrates near water sources, and is gps enabled. In an interview by Corinne Ramey at
Mobile Active.org
, artist Ricardo Dominguez explains, "What we needed was a really inexpensive telephone, one that we could crack the GPS system, and one that would accept new algorithms."
So far, over 500 phones have been reconfigured that may someday -or perhaps already have helped people with their dangerous journey across the desert.
A facet of the project includes trainings, workshops and solidarity work with immigrant rights groups working on border issues. Yet, one should not lose sight of the "art" and the crucial role that artist's play in this process by providing the imagination, the practical tools and the skills. Dominguez concludes, "There's a long history of artists at the border creating gestures that question the very nature of the border….The reason they can't stop us is that we always frame all these gestures within the poetic frame."
More on the Transborder Immigration Project:
http://mobileactive.org/artivists-and-mobile-pho
http://va-grad.ucsd.edu/~drupal/node/374

Link to Ricardo Dominguez's blog:
http://bang.calit2.net/
Other Projects: (Electronic Civil Disobedience)
http://www.thing.net/%7Erdom/ecd/ecd.html