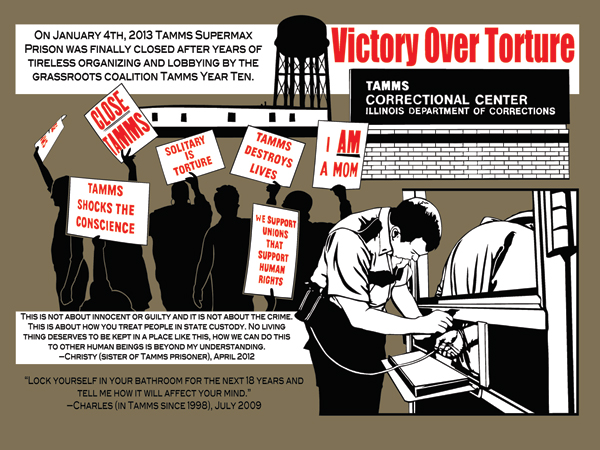 Justseeds friend and frequent collaborator Paul Kjelland recently created a print about the grassroots movement that closed the Tamms prison. Kjelland writes:
"This past week I collaborated with members of Tamms Year Ten on a print celebrating the closing of Tamms supermax prison in southern Illinois. Tamms was infamous for being a facility that utilized solitary confinement practices for extreme periods of time (many for over a decade). This isolation lead to a wide range of mental disorders and self inflicted physical traumas. I first worked with Tamms Year Ten through participating in and documenting a mud stencil campaign in Chicago in 2009 organized by Nicolas Lampert, Jesse Graves, and Laurie Jo Reynolds.
Clear victories can be all to rare, and this is one of them. It is important to recognize those who dedicated their time, energy, and resources to closing a place that so clearly violated the most basic of human rights through extended solitary confinement.

During this print collaboration, I created a version of the print that was sent to family members of Tamms prisoners and allies who were active in the years leading up to the prison closing. One response was from Rose Sifuentes whose son had been incarcerated at Tamms.
"Seeing this graphic just sent a chill down my spine, thank you for your creativity. I felt the emotions that we experienced when we went to downstate Illinois and saw all those red t-shirts of the union workers giving us those stares, hoping to scare us. But we were there on a mission and nothing or no one was going to keep us from sending our message to the state members. Tamms Correctional Center had no business to exist, no human being should ever have to endure such harsh living conditions. It pains me to my very core knowing that my son endured 8 years of such cruelty…for the rest of my life I am truly grateful for the existence of Tamms Year Ten. Thank you for making me part of your group and guiding us parents of all those inmates who finally were freed from such a horrible place! Thank you Jesus, Thank you Tamms Year Ten and Thank you Paul!"
I AM A MOM
Rose Sifuentes
Through dialog, changes were made to the text to more completely reflect the various campaigns and actions that led up to the transfer of the Tamms prisoners. This work was designed and printed during the Public Action art residency at OCADU in Toronto.