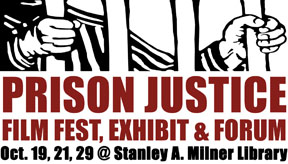 We're extremely pleased to have another showing of our 2009 portfolio, Voices From Outside: Artists Against the Prison Industrial Complex. This art show is part of 2009 North of Nowhere Expo: A Festival of Independent Media & Underground Art, that takes place annually in Edmonton, Alberta. They are theming this year's expo around Prison Justice issues, which is awesome!!
Voices From The Outside (with work from most of Justseeds and several friends) is showing at the Edmonton Room (ER) in the Stanley Milner Library.
They also have several movie showings, forums, and ongoing small press exposition at the Stanley Milner Library.
For more info, check out ESPA's website.