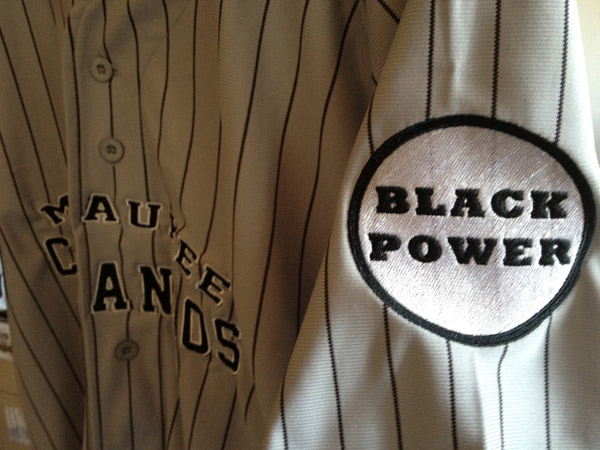 Dylan A.T. Miner recently wrote a short catalog essay for the work that I created in collaboration with Paul Kjelland for the 2011 Mary L. Nohl Fund Fellowship for Individual Artists Exhibition in Milwaukee. I asked Dylan to write the essay because of his talents as a writer and a critical thinker, and our shared interest in radical art and radical sports. Below is his writing.

Wisconsin Uprising(s)
In Milwaukee Commandos, Nicolas Lampert simultaneously excavates radical Milwaukee history and explores the visuality of sports vis-à-vis a body of large-scale screenprints and a series of embroidered baseball uniforms. Both facets of the project, evoke Wisconsin's urban history as a way to clarify the state's recent move against its people. In response to the neo-liberal and anti-union legislation of the last few years, multiracial coalitions have called for Governor Scott Walker's recall. Situated within the reality of Wisconsin's changing social dynamics, Lampert's project re-contextualizes Milwaukee's rich history of grassroots radicalism by asserting its importance in the present day.
As a member of the collective Justseeds, Lampert is no stranger to creating politically-charged work. He intentionally evokes the Milwaukee Commandos, a group of black activists who, alongside Father James Groppi, organized a series of Freedom Marches in the late 1960s to confront Milwaukee's institutionalized racist housing practices. These grassroots civil rights activities, which received less attention than their counterparts in the South, followed earlier African-American political action in the city, including school desegregation efforts. During his year as a Nohl fellow, Lampert engaged in both archival and secondary research; he also spoke directly with the Commandos themselves. By inviting the Commandos to participate in the reconstruction of their own narrative, Lampert visually performs what labor historian Staughton Lynd calls "guerrilla history." Recalling the Commandos, figures nearly forgotten in Wisconsin's historiography, Lampert challenges the state's move towards the right and instead narrates against antiseptic mainstream history. For Lampert, history is not simply a moment in the past: these stories have tangible effects on our day-to-day experience.
Moving beyond local activist history, Lampert utilizes the visual language of major league sports in his jerseys and hats. By referencing official baseball uniforms, Lampert subtly demonstrates that the logics of professional sports and the art market are one and the same: simultaneously globalized, capitalist, and hierarchical. But neither sports nor art should be reduced to the structures within which they operate, and both can be reclaimed as modes of resistance. Sportswriter Dave Zirin notes that "if we challenge sports to be as good as they can be¬–a force to break down walls that divide us, a motor for inclusion–they can propel us toward a better world, a world worth playing in–and worth fighting for." By creatively investigating Milwaukee's radical history, Lampert inserts sports into his artistic practice as a metaphor to "propel us toward a better world."
In the age of art's technological reproducibility, to paraphrase Walter Benjamin, Lampert utilizes forms of "mechanical reproduction" to re-contextualize the corporate dominance of sports by linking both sports and art with the history of popular struggle in Wisconsin. Because neither sports nor art operate on level playing fields, Lampert's work critiques both institutions in a way—particularly in the shadow of the recent Wisconsin Uprising–that makes the history of the Milwaukee Commandos relevant to the day-to-day lives of all Wisconsonites. Through prints and sportswear, Lampert creates an authentic and socially just counter-history.
Dylan A.T. Miner is an assistant professor of transcultural studies in the Residential College in the Arts and Humanities at Michigan State University.