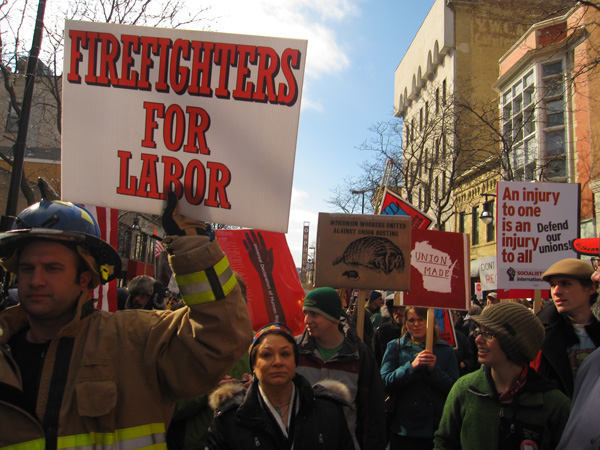 The labor battle in Wisconsin has become a never ending seesaw of good news followed by bad news. Yesterday a Madison judge ruled that the union-busting bill could not be implemented and the matter would be re-examined in court on Friday. Today, Walker basically said that they are above the law and will implement the law anyway. Matthew Rothschild offers some important critique and fighting words to the rogue governor and his administration. I especially appreciated his call for public employee's to consider forming a class action suit against the state of Wisconsin for tampering with their paychecks if our paychecks are indeed docked. As this situation continues to boil, one must ask: how far will these thieves go to break the law to crush public employee unions and the middle class? And, how long and how hard will people continue to fight back. From my optimistic vantage point, it looks like Wisconsin workers are showing absolutely no signs of quit. Some fatigue has set in, but anger remains at an all time high.

Walker and Cronies Are Lawless Bastards!
By Matthew Rothschild, March 30, 2011
"In Wisconsin, the governor is daring to defy the judiciary. On Tuesday, after Judge Maryann Sumi ordered Gov. Walker and his administration for the second time not to implement the anti-union bill they rammed through, they acted like they could still ignore her court order.
"We don't believe that the court can enjoin non-parties," Bill Cosh, a spokesman for the state's Department of Justice, said in a statement. Amazingly, he added that it's up to Walker's administrators themselves to decide whether they want to obey the judge or not. "Whether the Department of Administration or other state officers choose to comply with any direction issued by Judge Sumi is up to them," he said.
These guys would make Richard Nixon envious of their contempt for the judiciary.
As State Assembly Minority Leader Peter Barca told me, "We're approaching a constitutional crisis." And as he told the Milwaukee Journal-Sentinel:
"It's just startling that the attorney general believes you should not follow court orders anymore," he said.
This isn't the first judge's order the Walker administration has disregarded.
Read the rest of Rothchild's article
here