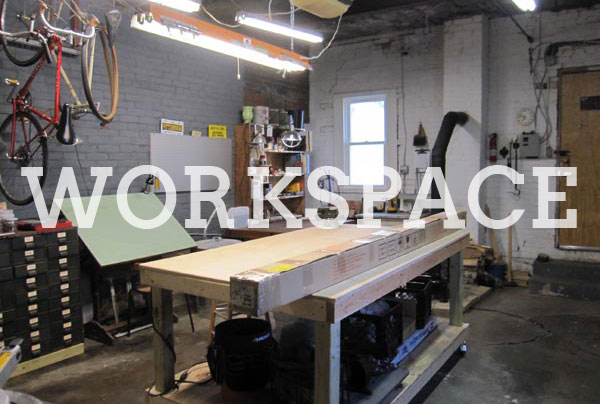 Here is another studio visit, in which I ask Justseeds members to describe their current studio and to talk about their ideal workspace. This time with Shaun Slifer from Pittsburgh: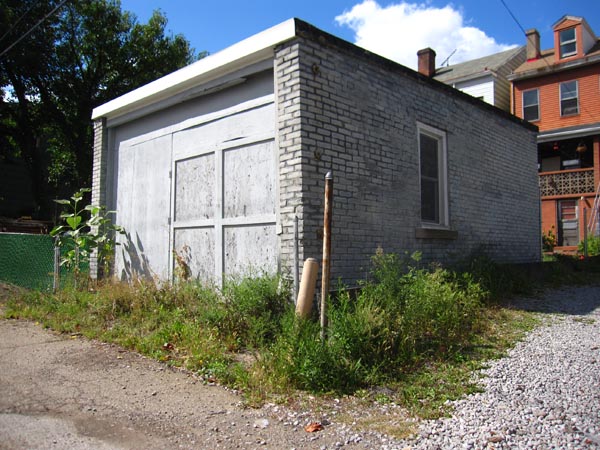 For about seven years I worked out of the basement of my house in the Bloomfield neighborhood of Pittsburgh. The space was functional enough, but not ideal – I couldn't stand up straight in most spots without banging my head on the floor joists, but I still managed to make it useful. Two years ago, my partner bought a house in the same neighborhood, and we dove right into some serious renovation work. I moved in about six months later. One of the biggest details that drew us to this house was the exterior brick garage which we were hoping to turn into a workspace. It has a concrete roof, a couple windows, and even a masonry chimney! But the house itself needed so much work that this future studio was always a back-burner project, something I could only devote random weekends to working on. For the better half of a year this garage housed piles of trash, tools, and whatever else had no place in the house itself.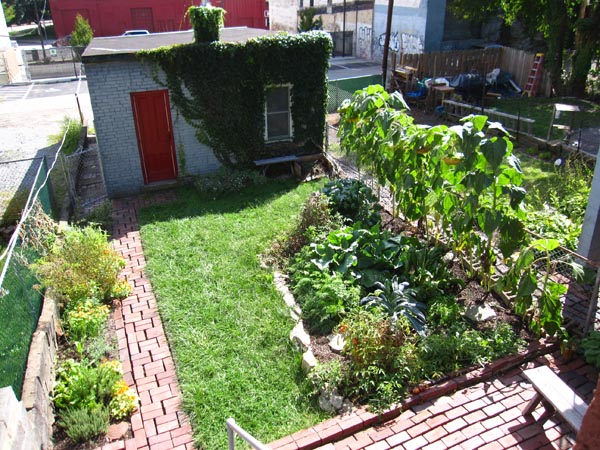 Slowly, I put the pieces together. Friends installed the new windows early on (precipitating a break-in). I reinforced the door and framed out/insulated the back wall where an old garage door had been. Found a beautiful old soapstone wood stove on Craigslist and installed it. Chased leaks in the concrete roof with asphalt patch. Organized, organized some more, threw a lot of stuff out, saved things I wasn't sure about, then organized all of those things…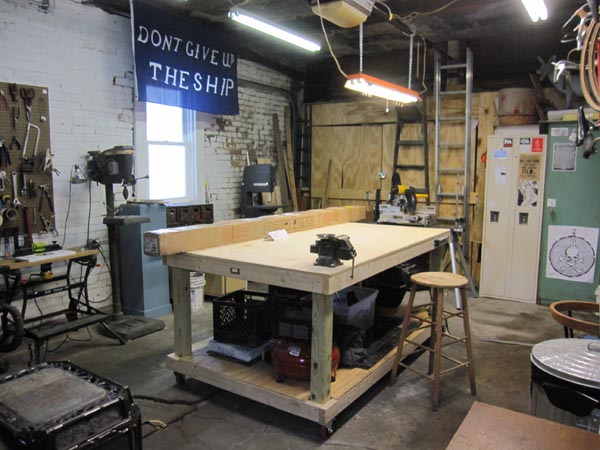 These are shots of the studio as it is right now, fall of 2014. It's finished, it's ready for anything. But, as you can see, there isn't much creative going on in there at the moment, mainly because both of the big projects eating up all of my time for the next while are coming together largely off-site. When people get excited about seeing inside an artist's studio, it's usually because they want to see some in-process work! Sketches, molds, false-starts, well-worn esoteric tools, yet-unseen gems in production! So this might be a bit of a let down, eh?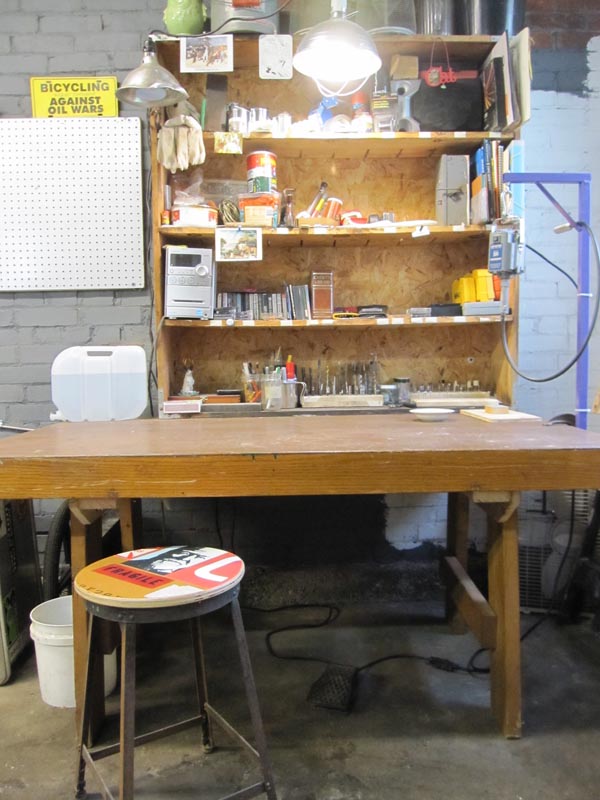 Regardless of the fact that I don't have anything big coming together in there at the moment, it felt solid to finish this space over the summer. To put everything in order, make a "happy place" (as Etta calls it) that I can go to at any time to start tinkering away at something new – maybe a new sculpture, maybe just a boring sheet-metal block plate for the chimney in the living room – but somewhere that all the tools and materials are in order, and we can just sit down and begin. I'm one of those people for whom the organization of a physical space brings mental clarity that allows creativity to begin to bloom. See: pegboards.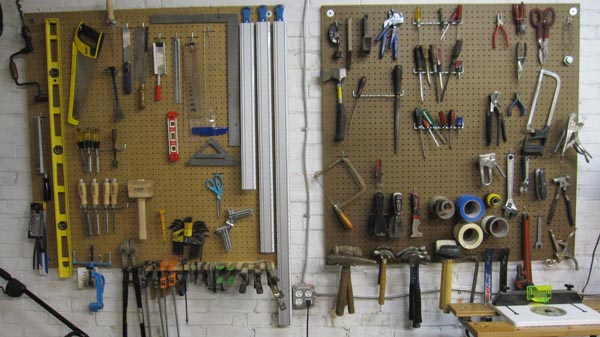 There's one thing left to work out: rigging up the necessary details to start screenprinting in there! We scored a pile of old screen frames and tools from a nearby signmaker's house last year, and we're hoping to sit down soon to stretch some new screens, build a simple lightbox, and rig a drying rack (or clotheslines). I hope that having this set-up in our home (instead of off-site) will push me to print more than I ever have…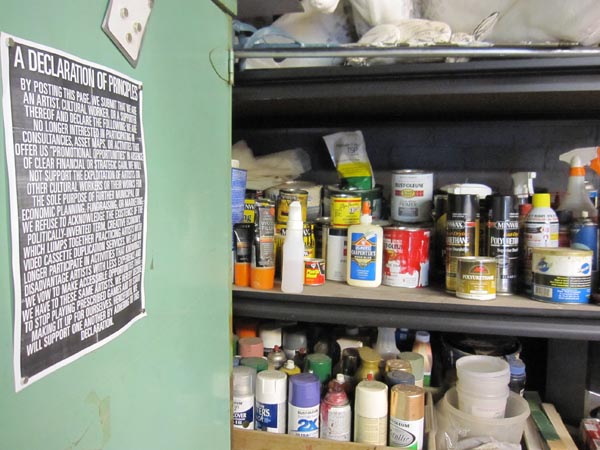 Of course, since I'm a huge history nerd, I did some digging around to try and find out something about why the garage was built (with a chimney?) and when. I haven't pinned it down exactly, but the structure was probably built between 1900 and 1924, which I can only assume based on it's appearance on a 1924 map where it wasn't previously. Behind our house is a major arterial road that's been there for decades – buttressing our residential neighborhood from this road during the time the studio was built were a long-running large-scale bakery and a livery stable (for horses!) where there's now a parking lot (for electric horses).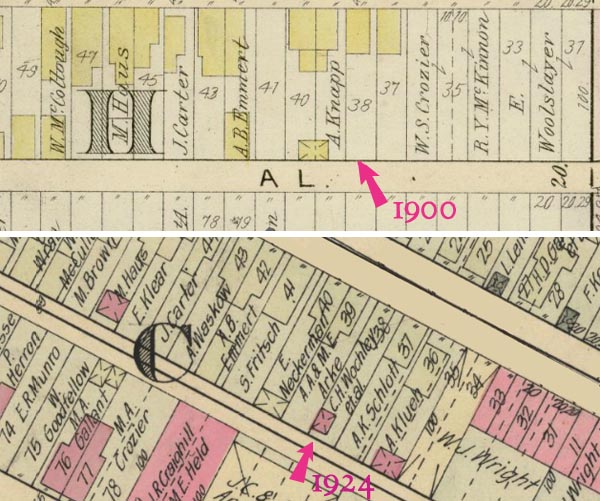 Thanks for reading and looking! I'll post some photos of the first run of prints when we get the screenprinting apparatus up and running, hopefully this winter!