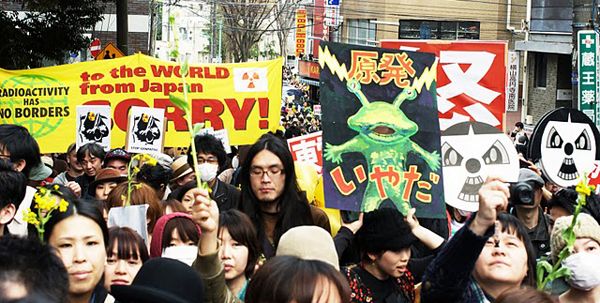 I wanted to do a quick blog post about the April 10th day of protest against nuclear power and weapons. Kei sent an email describing the action in Tokyo that I quote from here:
"Yeah, the protest in Koenji was amazing, we were surprised at the
numbers of participants, 15000! This was the biggest march in here Japan in decades.

It's important that most of participants are not organized by political parties or unions, they are just individuals. I felt the power of mass for the first time in Japan.
As you know in Japan, street control by police is too strong and our movement is not so big. So, we always had to march in one "line" on the street. But this time, people took whole one side street naturally for the first time in over 30 years!
Not only police but also we organizers couldn't control people's move and voice. It was a temporary anarchy (mutual aid) zone created by people. This is the 'demonstration'."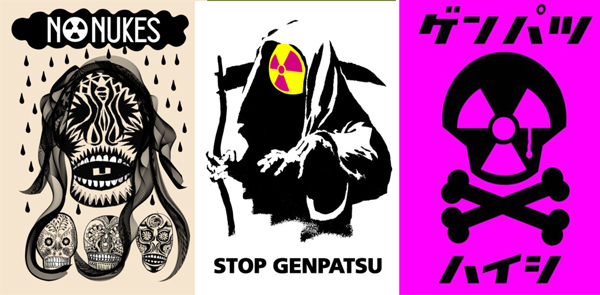 Also the graphics present at this demo were really nicely done and give the whole thing a strong visual presence, an inspiration to us all!

There's video of the Tokyo protest here:
http://youtu.be/rv99I3kaP_s

http://www.youtube.com/user/410nonuke

And photosets here:
https://picasaweb.google.com/117565154512211766326/20110410?feat=flashalbum#
http://www.flickr.com/photos/workshop/sets/72157626348937185/
And a graphics repository here:
http://410nonuke.tumblr.com/tagged/|%20graphic