Chicago, IL – "Operation Exposure: War is Trauma" hit the streets of Chicago on Monday November 15th. This collaboration between the Justseeds Artists' Cooperative and veterans and supporters from Iraq Veterans Against the War (IVAW) is a direct response to the suicide epidemic and violation of GI's right to heal within the GI and veteran community. Veterans, artists, and supporters met in Rogers Park in Chicago and split into teams. They divided up posters that Justseeds had designed for IVAW and then wheatpasted the city. Teams hit advertising spaces and boarded up buildings with messages of GI resistance and "Operation Recovery" – a new IVAW campaign aimed to stop the redeployment of traumatized troops and focus public attention towards Post Traumatic Stress Disorder (PTSD), military sexual trauma (MST), and Traumatic Brain Injury (TBI).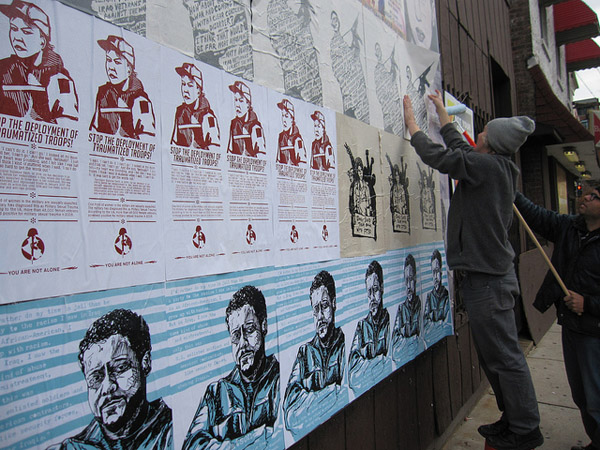 "We recognize that we must stop the deployment of all soldiers in order to end these occupations," writes IVAW. "We see the deployment of soldiers with traumatic brain injuries, post-traumatic stress disorder, and military sexual trauma as particularly cruel, dangerous, and inhumane. Military commanders across all branches are pushing service members far past human limits for the sake of combat readiness. We cannot allow those commanders to ignore the welfare of their troops. From multiple deployments despite PTSD, TBI, and other injuries, to rampant sexual assault within the military, soldiers are consistently being denied their right to heal. This basic right is being denied and we must organize to get it back."
The action was part of the "Chicago in War" series that was organized by Aaron Hughes of IVAW. Metaphorically, the prints covered up corporate ads and the corporate culture that pollutes the city and perpetuates systems of inequality and oppression — systems that create public apathy to war. Twenty different posters were designed along with three large stencils portraits that honored soldiers who have resisted the US military.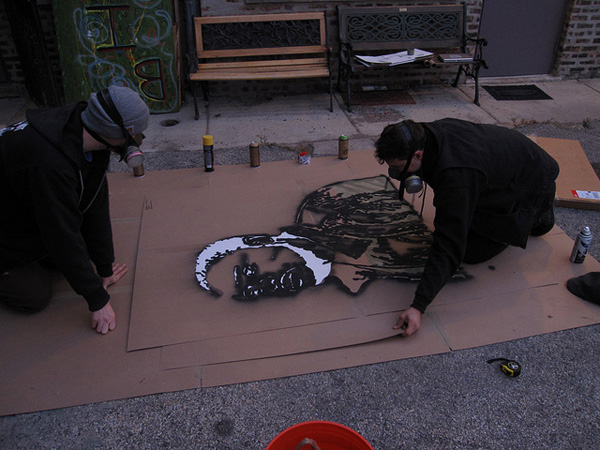 One stencil honored Camilo Mejia, a Florida National Guard Sergeant who became the first US combat veteran to publicly refuse to redeploy back to Iraq. Mejia had witnessed detainees being tortured and abused by US troops in Iraq. He served nine months in prison for desertion and in August 2007 he was elected Chair of IVAW. Another stencil honored Suzanne Swift, a 23-year-old Army SPC who was continually sexually harassed and assaulted by three men in her command while she served in Iraq. She suffered from PTSD and went AWOL in January 2006 to resist redeploying with the same unit. She was apprehended and imprisoned briefly in January 2007 and is now active in anti-war and anti-rape campaigns. The last stencil honored Rodney Watson, a 29-year-old Army Specialist who served 12-months in Iraq. Watson refused redeployment and is currently seeking refuge near Vancouver, Canada.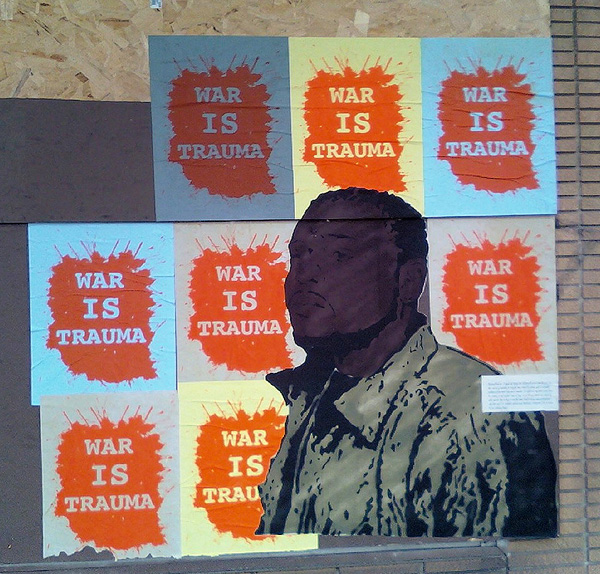 The stencils, prints, and street art action are meant to increase awareness about the impact of war on soldiers and civilians alike in order to get the public talking about GI resistance, GI rights, and stopping the wars in Iraq and Afghanistan.
Photos of the action:
http://www.flickr.com/photos/visualresistance/sets/72157625415031372/
Exhibits:
A month-long window exhibit of the prints is on display at Co-Prosperity Sphere in
Bridgeport (3219 S. Morgan Ave, Chicago) and a print mural is installed at the In These
Times building (2040 N. Milwaukee Ave, Chicago). The In These Times exhibit opens
on Thursday, December 9th at 5:00pm.
Museum show:
Intrusive Thoughts at the
National Veterans At Museum
.
Intrusive thoughts are unwelcome involuntary thoughts, images, or unpleasant ideas that may become obsessions are upsetting or distressing, and can be difficult to manage or eliminate. Although they are commonly unseen, there are silent signs of our current occupations in our local communities, households, and memories. This show features work by veterans of Iraq, Afghanistan, and the Global War on Terror that brings these signs from the shadows to the forefront and gives these traumas a voice in the political and cultural discussion of today.
National Veterans Art Museum
1801 S. Indiana Ave, Chicago IL
Nov 2010- May 2011
More information / contact:
Aaron Hughes
Iraq Veterans Against the War
http://www.ivaw.org
aarhughes@ivaw.org