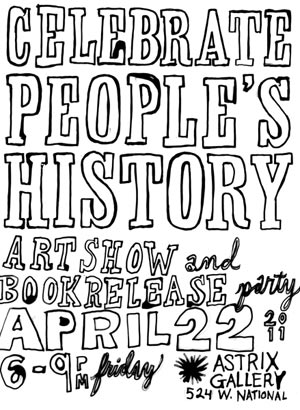 If you are in Milwaukee this Friday (April 22) stop by Astrix Gallery (524 W National) from 6-9 pm.
Come see an exhibition of posters from Josh MacPhee's Celebrate People's History Poster Project. Over 40 posters celebrating a range of topics including Act Up, Womens Resistance in Oaxaca, Judi Bari, Crass, Malcolm X, The Occupation of Alcatraz, and the EZLN will be on view in the gallery.
Artist's include Cristy C Road, Chris Stain, Courtney Dailey, Swoon, and Pete Yahnke, as well as local artists Kate Luscher, Nicolas Lampert, Brandon Bauer, and Julio Cordova.
Get there early, posters will be for sale under $5. A limited number of books about this project will be available as well.
Also, make sure to go down the block earlier and check out the Carlos Cortez show that is open until 5pm!