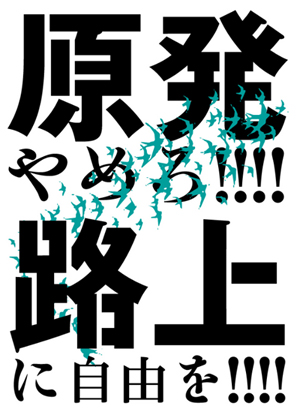 (I am tardy on posting this and my attempts to find out what happened yesterday (with the two prisoners potentially being released) has been, so far, fruitless. I am posting this because the situation in Japan is dire, and I think it's important for us to keep aware of what's happening there in regards to anti-nuclear organizing and resistance.)
Statement by the Rescue Committee for Crackdown on 5.7 Anti-Nukes Demo!!!!!
On 7th May 2011, more than 15,000 protesters joined "May 7th, No Nukes Demonstration!!!!!", which was held at Shibuya, Tokyo. The march was fabulous, as a diversity of participants gave their voices of "no nukes" to be heard. However, the police hindered the demonstration in deploying large amount of riot police which divided the demonstrators into smaller blocks. Due to riot police interference, it took three hours for all the demonstrators to start walking under the rain. Riot police often stopped the march by surrounding the marching blocks. A list of malicious acts committed by the police would be endless.
Many of participants reported on the internet how riot police were evil to the protesters. If there were no police interference, the protesters would have fully enjoyed freedom of demonstration.

*THE ARREST HAPPENED
In the midst of such situation, four of protesters were taken away by the police. Of these, two were released on the day but the other two are still in police custody. The police insisted that it was on-the-spot arrest for suspicion of obstructing executive officers. This is totally ridiculous. It was the police that were obstructing the demonstration in the first place. Instead, we would like to arrest the police for obstructing our protest.
*AIM OF THE RESCUE COMMITTEE
The rescue committee has been set up by people who determined not to tolerate such unlawful arrest. The rescue committee aims at saving and releasing the two arrestees. The committee is providing the two arrestees with legal support as well as moral support action.
The two were arrested just because they took part in the anti-nukes demonstration which is not in favor of the current government. Our freedom has been oppressed under the name of state-of-emergency while our society and the social value have been fundamentally questioned by the Fukushima nuclear power crisis. Freedom cannot be deprived because of one's belief and thought.

*CONDITION OF THE TWO ARRESTEES AND WHAT COMES NEXT
As of 9th May, the two arrestees were incarcerated separately at Harajiku Police Station and Yoyogi Police Station. Though they had minor injuries such as bruises and scratches at the arrest, they are in a good condition.
The two are being caged and questioned by the police for a crime they did not commit.
The police investigation in Japan is conducted without a sitting lawyer. In a closed room, the police force you to "confess" to a crime which you did not commit. Yet the two courageously keep their right to remain silent, which is the best way to protect yourself as well as your comrades.
The prosecutors can keep arrestees in custody up to 23 days without charging. The 23 days of incarceration is long enough to destroy your life and any job that you have.
*SAVE THE TWO ARRESTEES!
The arrest is completely groundless. We must save the two in custody as soon as possible. The rescue committee is working as much as we can. And we need more help. Thus, the rescue committee calls for your solidarity.
*WHAT YOU CAN DO:
1. SEND US YOUR SOLIDALITY MESSAGE
Our lawyers can show your message to the two arrestees. Send your message/drawing / picture via an A4 format attached file to the rescue committee at 57nonukyuen@gmail.com
We would like to put your solidarity massage on the Rescue Committee website. Please
send your message with your name and affiliation (if any) to our email.
2. SPREAD THIS CASE AROUND
This unlawful arrest was plotted to intimidate and damage anti-nukes movements. Please circulate the case through your network. Especially, those who have own media, spread the news to the broader public.
3. SEND DONATION TO THE RESCUE COMMITTEE
The rescue committee needs quite a large amount of funding for lawyers and other expenses. We ask your donation.
For the JP Bank uses;
Account: 00140-2-750198
Name: Minnanokyu (ミンナノキュー)
Branch:019
Touza Accoount: 0750198
Please note that it is for the two arrestees.
*CONTACT:
Ishida Bldg. 5th Floor, 2-8-16 Shinbashi, Minato-ward, Tokyo
Tel: +81-33591-1301 Fax: +81-33591-3583
Email: 57nonukyuen@gmail.com
Here's the latest update:
A Prompt Report on the Discovery Hearing
At 4pm on May 17th, the hearing for our two friends still under arrest took place at the Tokyo District Court. The seats for the public were filled with people who came to show their support – to the ones who couldn't get in: sorry!
We will be back later with a more detailed report, but in the meantime we're happy to say that the two arrestees smiled and looked calm, at least compared to the turmoil that broke out among the visitors! The hearing itself was a complete farce, and confirmed once again the complicity between the police, the prosecutor's office and the district court. Four excellent attorneys were relentlessly grilling Judge Seki Youta, who could not produce any tangible proof to support the accusations against our friends. With constant booing from the public seats, the courtroom was certainly a sight to behold.
Our two friends are scheduled to be released from detention tomorrow, on the 18th. Now that both the proof against our friends, and the grounds for keeping them locked up have been proved to be nonexistent, let's put an end to this farce! Release our friends immediately!
For More Up To Date Information:
http://57q.tumblr.com/
here's an english language site providing continuous updates as well:
http://east306.wordpress.com/