Graphic Turn: Like the Ivy on a Wall is the outcome of a long collective research process conducted by the Southern Conceptualisms Network, in collaboration with the Museo Reina Sofía. The exhibition puts forward a survey of graphic art initiatives which have, from the 1960s to the present day, confronted urgent, politically oppressive contexts in Latin America, articulating strategies of transformation and resistance that radically changed approaches and actions and the way in which they established intersubjective links, built communities, and even circulated graphic supports.
With the aim of exploring how these collective processes granted visibility to different social demands, the exhibition brings together a broad selection of these materials and slogans, quickly and efficiently circulated outside the field of art and from different origins and geographical coordinates, which share precarious components and mediums and the same graphic potential and distribution, activating them as revolutionary wake-up calls. Thus, indigenous rights movements, memory struggles for victims of dictatorships in Chile, Argentina, Peru and Uruguay, and queer activism and feminisms cross over and rise up as the producers of these posters and banners, T-shirts, interventions in urban space, and street performances and actions, comprising a complex set of experiences encompassing ties to solidarity, affinity and influence among the different countries under discussion. Consequently, the exhibition understands notions of graphic art in an expanded sense and the idea of "turn" as an uprising, a challenge to power, reverting that which is a given. From conversational, advisory and deliberative spaces, it explores the links between art and politics driven by collectives — AIDA, Alvorada, Cromoactivismo, Fugitivas del Desierto, Iconoclasistas, La Voz de la Mujer, among others — and artists, sometimes renowned, like Julio Le Parc and Luis Felipe Noé, and sometimes anonymous, in an unwavering demonstration of mass protest.
More HERE.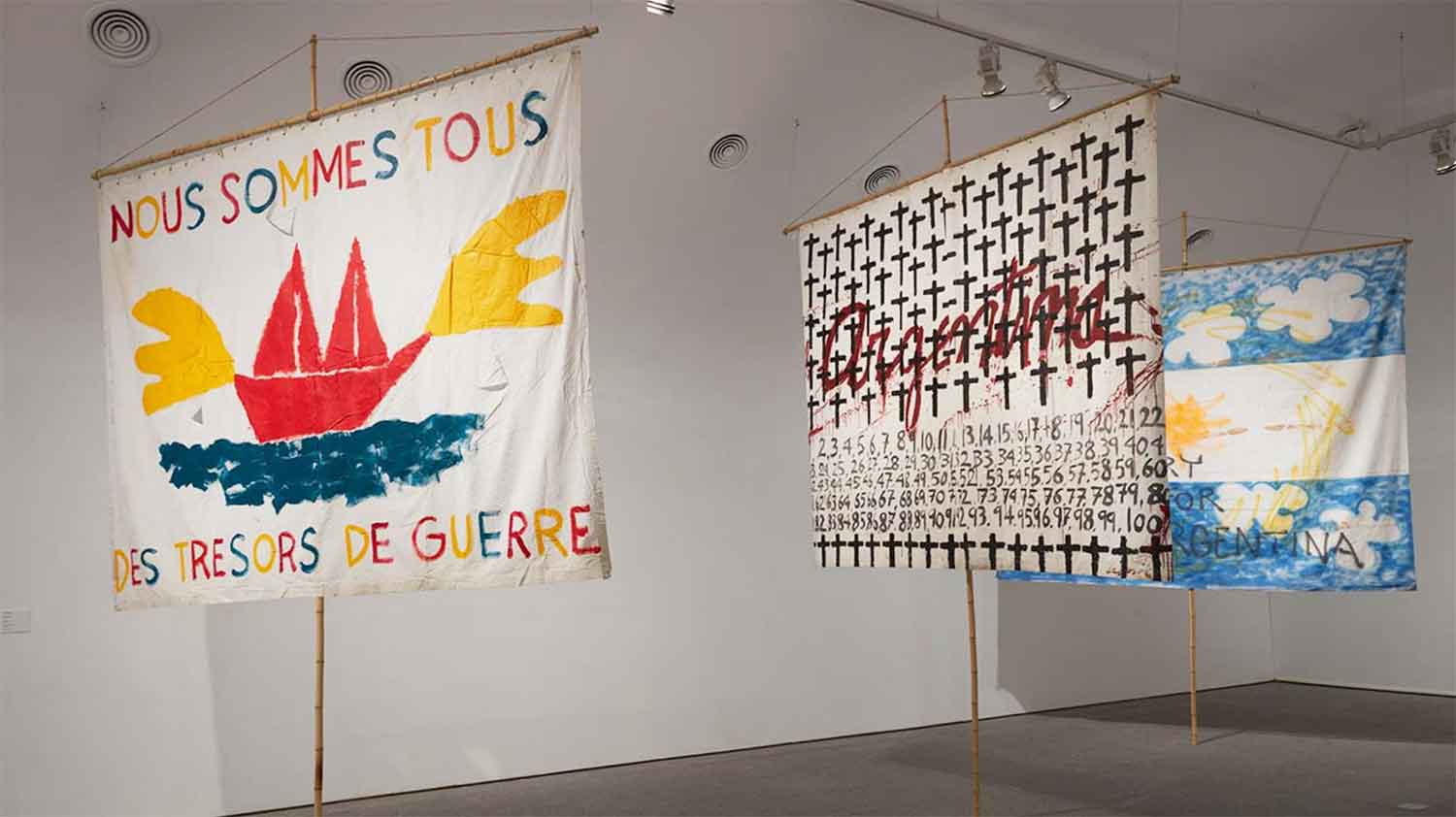 Justseeds members Jesus Barraza and Josh MacPhee contributed to the research for the North American content within the exhibition.
Coordinating team of the Southern Conceptualisms Network: Ana Longoni (Argentina), Tamara Díaz (Cuba), André Mesquita (Brazil), Guillermina Mongan (Argentina) and Sylvia Suárez (Colombia)
Researchers: Lucía Cañada, Fernanda Carvajal, Fernando Davis, Guillermina Mongan and Juan Pablo Pérez (Argentina); Clara Albinati, María Angélica Melendi and André Mesquita (Brazil); Nicole Cristi, Javiera Manzi and Paulina Varas (Chile); Tamara Díaz and Suset Sánchez (Cuba); Oscura Díaz and Sylvia Suárez (Colombia); Jesús Barraza and Josh MacPhee (USA); Carlos Henríquez Consalvi (El Salvador); Sol Henaro, Cristina Hijar, Elva Peniche and Annabela Tournon (Mexico); Damián Cabrera (Paraguay); Moira Cristiá (Paris); Rodrigo Quijano and Rosanna del Solar (Peru); Miguel Piccini (Dominican Republic), and Sebastián Alonso, Fernando Miranda, Gabriel Peluffo and Gonzalo Vicci (Uruguay).