SURVIVING THE LONG WARS
Virtual Scholarly Series
Kyle T. Mays – "Indigenous Sovereignty, Black Freedom: Blackness, Indigeneity, and Kinship as Solidarity"
Moderated by NEH Veteran Fellow and Artist Anthony Torres
Registration is now open here: http://bit.ly/mays-seminar-series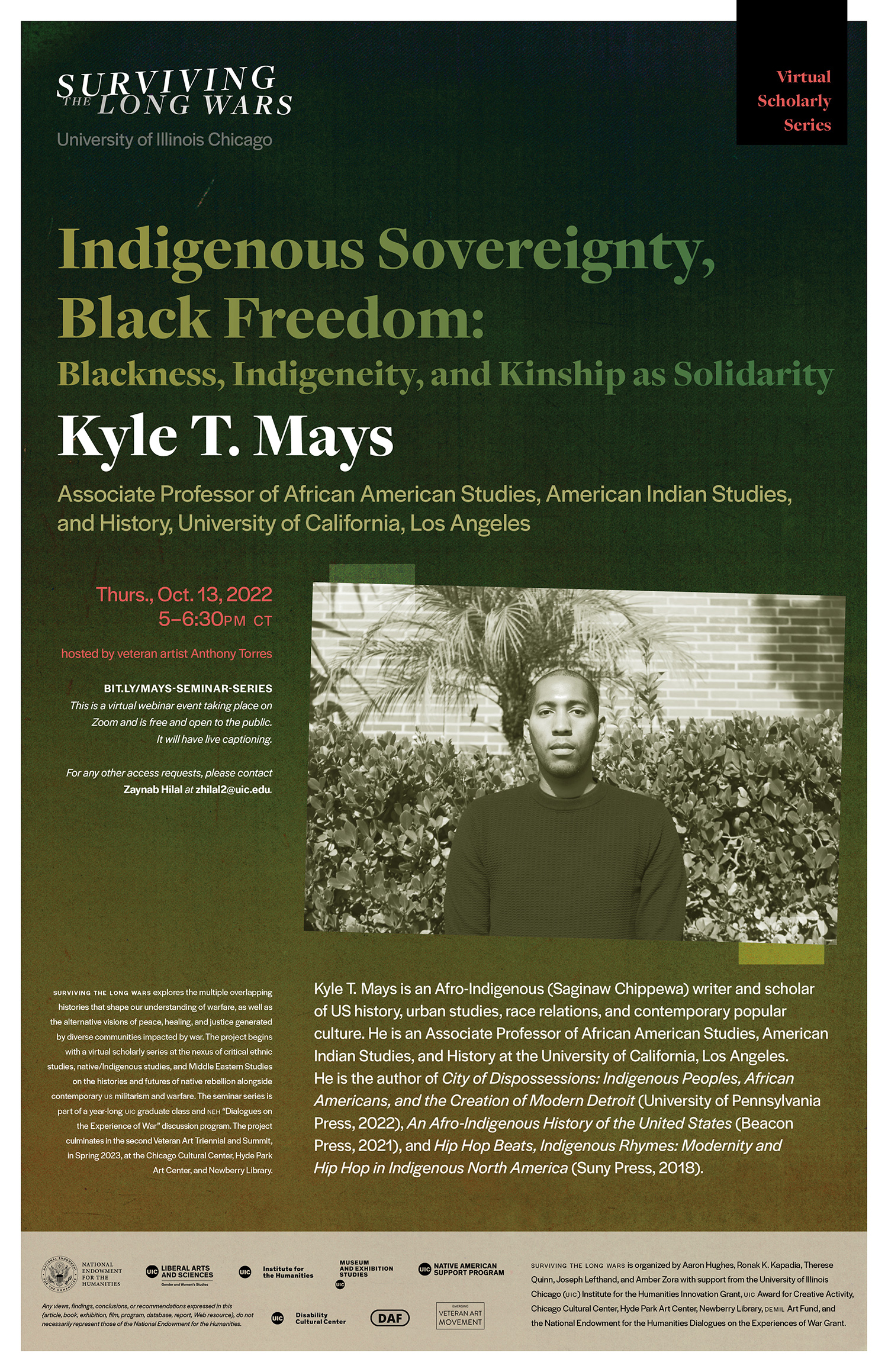 **All events in the Virtual Scholarly Series will be held as Zoom webinars with CART (live captions). For any other access requests, please contact Zaynab Hilal at zhilal2@uic.edu.**
Kyle T. Mays is an Afro-Indigenous (Saginaw Chippewa) writer and scholar of US history, urban studies, race relations, and contemporary popular culture. He is an Associate Professor of African American Studies, American Indian Studies, and History at the University of California, Los Angeles. He is the author of City of Dispossessions: Indigenous Peoples, African Americans, and the Creation of Modern Detroit (University of Pennsylvania Press, 2022), An Afro-Indigenous History of the United States (Beacon Press, 2021), and Hip Hop Beats, Indigenous Rhymes: Modernity and Hip Hop in Indigenous North America (Suny Press, 2018).
Surviving the Long Wars explores the multiple overlapping histories that shape our understanding of warfare, as well as the alternative visions of peace, healing, and justice generated by diverse communities impacted by war. The project begins with a virtual scholarly series hosted by the University of Illinois Chicago at the nexus of critical ethnic studies, native/Indigenous studies, and Middle Eastern Studies on the histories and futures of native rebellion alongside contemporary us militarism and warfare. The seminar series is part of a year-long UIC graduate class and NEH "Dialogues on the Experience of War" discussion program. The project culminates in the second Veteran Art Triennial and Summit, in Spring 2023, at the Chicago Cultural Center, Hyde Park Art Center, and Newberry Library.
Surviving the Long Wars is organized by Aaron Hughes, Ronak K. Kapadia, Therese Quinn, Joseph Lefthand, and Amber Zora with support from the University of Illinois Chicago (UIC) Institute for the Humanities Innovation Grant, UIC Award for Creative Activity, Chicago Cultural Center, Hyde Park Art Center, Newberry Library, Demil Art Fund, and the National Endowment for the Humanities Dialogues on the Experiences of War Grant. Special thanks to the UIC Disability Cultural Center, the Native American Support Program, the Women's Leadership and Resource Center, Zaynab Hilal, and Rachel Dukes.
Register for the program here: http://bit.ly/mays-seminar-series