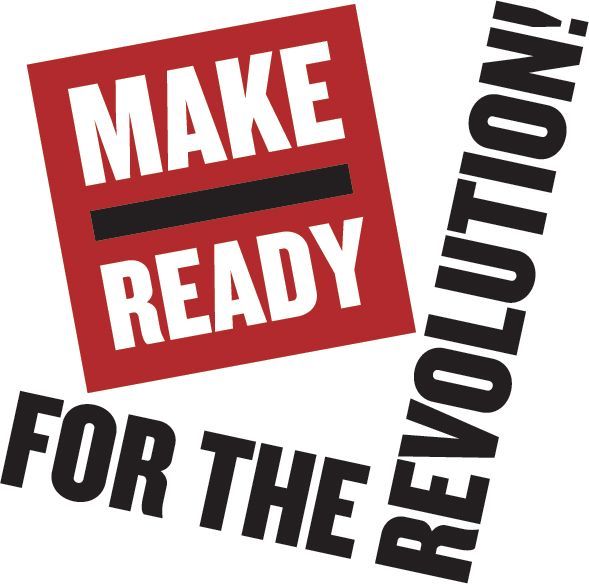 Virtual Exhibition: Make Ready for the Revolution!
Exhibition Curators and Letterpress Printers:
Wendy Partridge, Erin Adair, and Bob Kelemen
Make Ready for the Revolution! asks letterpress artists to ready their presses for revolutions, uprisings, and upheavals big and small—whether that means reaching back into history, engaging with the present, or imagining more just futures.
What does the idea of makeready offer us when we are preparing for change? How can we look at our preparations for transforming the world as collective, long processes undertaken by people across millennia? With the rise of fascism around the world and climate crises devastating communities, we all face an existential threat. Our hearts are broken daily. Artists build and rebuild our infrastructure for ways of seeing, thinking, and being, and this is part of the work of making the path to another world.
Exhibit starts here, and the exhibiting artists each have an individual page of their work:
Ben Blount, Juliette Thimmig, Shaun Slifer, Katherine J. Fries, April Bleakney, ADRIÁN R TIÓ, Dan S. Wang, Sarah Bryant, Gregory Jackson Walters, Celene Aubry, Beth Sheehan, Kyle Holland, Vida Sačić, Chandler O'Leary & Jessica Spring, Miranda Hall & Andy Schwanbeck, Rebecca Gilbert, Nisha K. Sethi
---
Hosted by Zygote Press (Cleveland, Ohio)
Zygote Press is an artist workshop promoting contemporary fine-art printing. Through advocacy, exhibitions, community programs, and affordable, professional workspace, Zygote stimulates collective exchange. Here, artists create new work, audiences explore new ideas, and collaborations strengthen our community.