(photo by P. Nick Curran)
The Strike Was Crushed:
Redacted Historical Marker Rubbings by Justseeds member Shaun Slifer
A series of wax rubbings of historical markers in the manner of erasure poetics.
Keywords: trespass, historical authority, private property, oppressive/dominant narrative, frottage, erasure poetry, redaction, municipal signage, détournement.

Solo Exhibition at 5120 Penn Avenue in Pittsburgh, Pennsylvania.
Opening: Friday, October 4, 2019 = 6-10pm
Discussion with Artist: Thursday, October 17 at 7pm

On Exhibition through Wednesday, October 23, 2019.
Gallery visits by appointment [contact shaun@justseeds.org].
Open every Saturday Noon – 4pm.
Please Note: the exhibition is primarily on the second and third floors of this building, which are not wheelchair accessible. The building is under renovation and also does not currently have plumbing for toilets, etc (thanks PWSA).
---
Within our shared landscape, historical markers with dismissive and/or oppressive language have the same psychological effect as towering bronze statues of men who we're not sure we want to revere. Memorial statues and historical markers are not, in and of themselves, our history. Rather, they are a conversation about our history, and that conversation should be evolving, challenging, changing. This is my starting point.
These works are part of a continuing project for understanding and critiquing the language of state-sanctioned history. I'm focused especially on plaques that feature language which could divert our understandings of colonialism, genocide, state oppression, and military violence and which create truncated or misleading accounts that marginalize popular revolts and disregard whole communities.
Using a method of intentional erasure/omission which mirrors that of many "official" histories, I only include words from the original plaques which reveal their underlying narratives. The completed rubbings interrupt the provisional authority of the historical marker by disrupting static, languid interpretations of the plaque's original narrative.
Each finished piece is a wax relief rubbing that I've created on-site. My process is deliberately visible, public, and accessible: I carry a roll of durable Tyvek paper, handmade crayons, a short ladder, and a high-vis fluorescent vest. As a public performance, I create these rubbings during daylight hours, wearing a simple costume that gives the suggestion of a municipal worker.
#redactedrubbings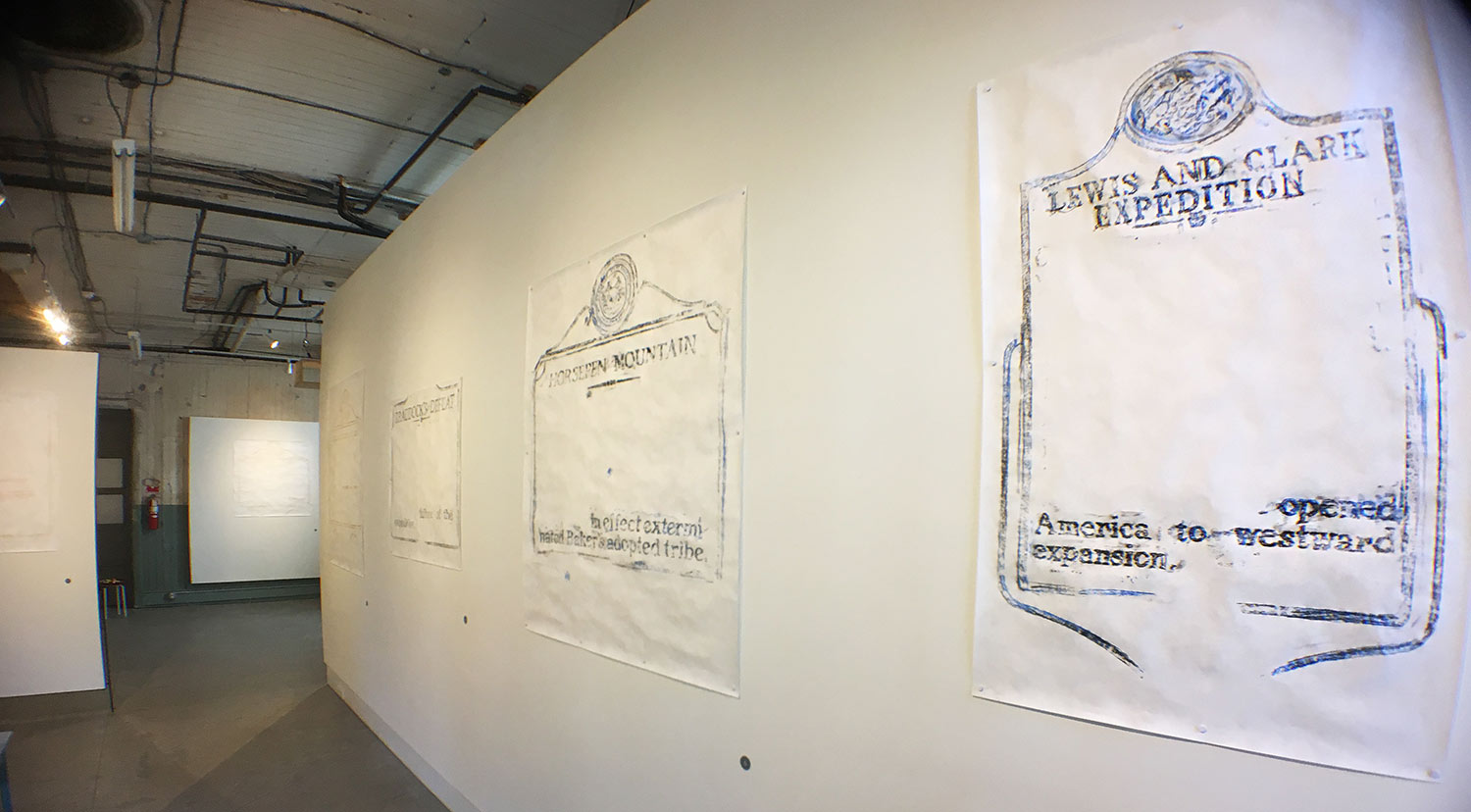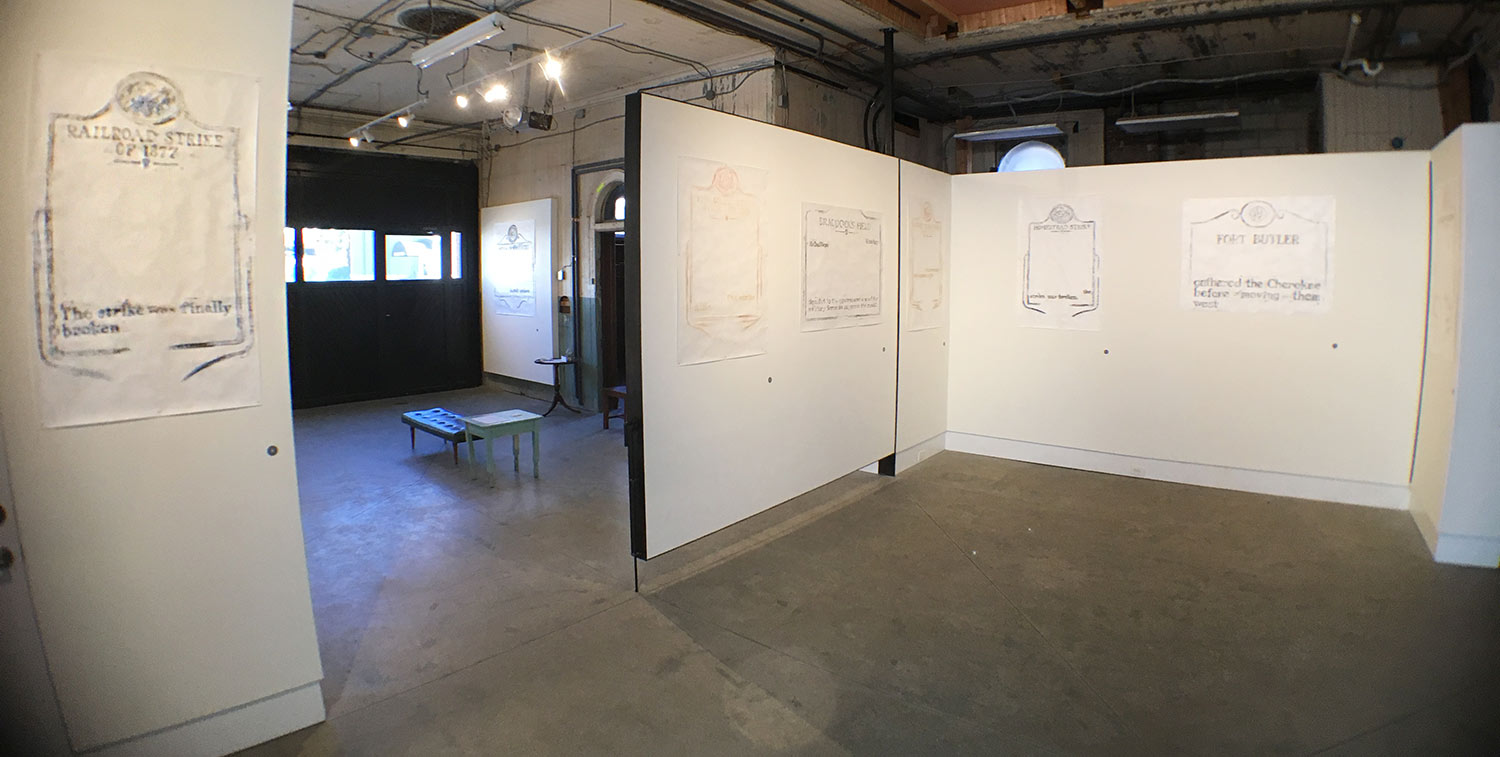 installation shots from The Strike Was Broken at 159 Sutton, Providence, RI
---
Shaun Slifer (b.1979) is an artist, non-fiction author, and museum professional based in Pittsburgh, Pennsylvania. He regularly works in collaboration with other artists, non-artists, and in collectively structured groups including the now-disbanded Howling Mob Society, and currently with Justseeds Artists' Cooperative (of which he is a founding member) and the West Virginia Mine Wars Museum (where he is the Creative Director).
He's excited when he's digging up untold histories, illuminating the stories held within objects, exploring tiny upstart museums, printing on his refurbished antique platen press, celebrating urban-adaptive flora and fauna, and documenting (and sometimes making) DIY municipal signage.
Shaun has exhibited internationally in a variety of museums, galleries, and nonprofit spaces, as well as non-authorized public settings. He has presented on history, creative practice, and grassroots media at numerous universities and conferences in the United States and Europe.
He currently lives in Pittsburgh, PA, with roots in Nebraska and Tennessee.