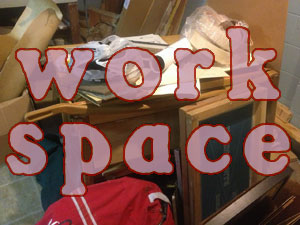 Here is another studio visit, in which I ask Justseeds members to describe their current studio and to talk about their ideal workspace. This time with
Dylan Miner
from Michigan:
I work in and from many different places. Because most of my recent work is either textual or socially-engaged, my personal studio has become the storage space for completed and nearly-completed projects. For over a year, my office (which is in addition to my studio) had eight bicycles and various boxes and crates waiting to be shipped.

Earlier this fall, I finally began to clean my studio and moved four large wooden crates into a storage facility, alongside various other works from previous installations. These crates are five feet square and need a lift to move. As such, my studio is finally nearing a point where I can once again work in it. It feels good to make the space usable once again.
I am one of those people who makes messes and never cleans them, hoping that things will magically clean themselves. So, I have spent this entire fall trying to slowly dig out the huge mess in both my studio and my office. I am finally begining able to see the fruits of this labor.
That said, my studio is really just my basement, strategically positioned between a space daughters' playroom and a laundry room. For me, working from home is crucial, as it maps onto the social role that I envision my art performing in society. Art is part of the larger matrix of just being a human being. It is part of my everyday or quotidian practices. My youngest daughter, Mexica Tiahui (age 11), will frequently work alongside me in my studio. So this can be a fun and enjoyable way to work.
Honestly, though, much of my practice exists outside of the studio. I mainly use the studio to work on relief prints, as I have access to a small letterpress studio and screenprinting burn-unit at the university where I teach. So screenprinting happens elsewhere. This space where I screenprint isn't really a print studio, but rather a large open space with two letterpresses, some various type, a sink, and a few tables with hinges for screens. When I am working on projects I am very non-social (mostly because I am embarrassed to work in front of people), so I try to use this community space when no one else is there working. Although I see art as a social process, I also understand that I need to be alone sometimes.
For my socially-engaged projects and gallery-based installations, I usually take my sketchbook with me everywhere I go. The sketchbook becomes, in many ways, my 'mobile studio'. As a descendent of Métis fur-traders and someone who is married into a Chicana/o farmworker family, the ability to be mobile and take my work with me is fundamental. I think this is part of the reason I have less of a connection with my personal studio, than I do with the way I need to structure my day. In that way, my courier bag or backpack becomes a form of a studio. I can take it with me wherever I go. Moreover, as an artist who writes, my laptop is also an extension of my sketchbook and therefore another mobile studio. I do not travel anywhere, not even to the store, without having my bag at my side (which is full of books, my sketchbook, my laptop, various magazines, and drafts of various articles-in-process).
On most days, I wake up between 6:00 and 7:00 to get my kids ready for school. My eldest daughter, Reina (age 15) is a sophomore in high school, and needs to be at school by 6:50 three days a week. This is brutal, both for her and for me and my partner Estrella. After my daughters are off to school, I generally walk to a café with a friend and have a coffee (actually an Americano or espresso, but who cares). This generally takes me to about 9:00. If I teach that day, I walk up to campus and prepare for the day, usually running late in the process. If I am not teaching, I will respond to emails (often reading, but forgetting to actually write back) and try to get some writing done. I love essay-length writing, but bemoan the two book projects that are forever past deadline. So my mornings are often spent in front of a computer screen convincing my mind to write something intelligent.
If I can get away for an hour-and-a-half, I like to go for a run in the woods. This time is well spent and connects me with the manidoo, or spirits of the territory, where I call home. If needed, I will then get into the studio and work on some images. Since I just finished an intense month of traveling, as well as working on two projects (Tikibiing Booskikamigaag–Spring Grove and Anishinaabensag Biimskowebshigewag–Native Kids Ride Bikes), I have been catching up on writing and thinking about three upcoming projects. One project looks at Indigenous herbal medicines, another at Native labor on both sides of the US-Canada border, and the third is called 'The Silence of Sovereignty.' These are exciting, but also a bit intangible at the moment. So I have been researching and preparing these, as well.
On most days I actually work from a coffee shop using the free internet. For me, my studio isn't the actual space I work from, but rather the way I organize and structure my day. As someone who struggles with being bipolar, breaking up my normal routine can throw me for a loop (usually into the depression side of things). So if I interrupt my daily routine too much (what I consider my mobile studio), I will spend weeks trying to recover and get productive. Since my practice involves heavily working with community collaborators, especially Indigenous and Latino youth, I have to be ready for randomness. Trying to cope with disruptions in routine is something I am still working on, as an artist, but also as a human.
Ideally, I would have better access to materials and equipment, especially when I travel. The ideal studio, if it can exist, would give me a space where I can hide from social interactions when I need to (while allowing these interactions when needed). Maybe the ideal studio is a utopia, that non-existent place from the beyond that we can envision, which can never really exist. I do wish my space were a bit bigger and that I could get larger works in and out. That said, I'll work wherever I can as long as my mind is in the right place.
Thanks for stopping by my studio.