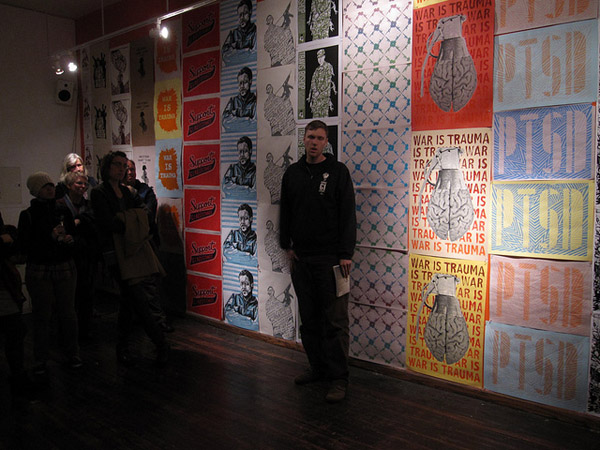 People might have already heard that Mess Hall —the great experimental cultural space that has existed for 10 years in the Rogers Park in Chicago—is shutting down at the end of March. Mess Hall was important to Justseeds and the networks that we seek to support. Our prints hung on the walls of Mess Hall countless times. It was the location for Justseeds fourth retreat, and the space was the center for two key collaborations involving Justseeds members – the mud stencil action with TAMMS Year Ten, in conjunction with the Critical Resistance portfolio, and a IVAW street art action in conjunction with the War is Trauma portfolio. Mess Hall will be missed. May other spaces rise from its memory. Below are details on the final series of events at Mess Hall courtesy of their website.

MESS HALL WILL CLOSE MARCH 31
"Don't Mourn. Organize." / Joe Hill
Mess Hall was founded in 2003 through the efforts of a wide community of artists who were given the free use of a storefront space at 6932 N. Glenwood Ave in Rogers Park. "Surfing on surplus," we sought to develop a generosity economy in the cultural life of the neighborhood and city. We wanted cultural spaces run by the people who use them, and to explode the myth of scarcity by redistributing surplus at every level of production and consumption. Ten years later, private property, following the inevitable trajectories of its calculus, reasserts itself. As of March 31st, Mess Hall will no longer exist.
Over the last decade, Mess Hall has hosted thousands of exhibits, lectures, workshops, free stores and other events that don't fit easily into the norms of culture prescribed by neoliberal capitalist society. The space has seen several generations of "key holders" and has evolved to meet the needs of the neighborhood and the challenges of organizing freedom during the Great Recession.
Now, in our final months in this incarnation, we invite you to participate in a series of public events that address our beloved experimental center in the past and future tenses. What was this? What might it become? Some events are directed to the past, in order to consolidate the knowledge the space has helped to create and mourn its passing. Others turn away from closure, in order to extend the spirit of Mess Hall into the future. Now more than ever we need to create practices, spaces and counter-institutions that resist the reification of our daily lives, relations and aspirations.
Mark your calendars, and check our website (www.messhall.org) and e-mail announcements in the coming months for these and many other events. In the meantime, we invite you to send us letters to/for/about Mess Hall—we are seeking memories, rants, photographs—anything you can offer us as we say farewell to this haphazard, beloved institution. Please send any memories or materials you may have to info@messhall.org with the subject line "Mess Hall Memories."
It has been a pleasure & honor to sustain this on-going experiment with all of you. We will miss seeing you in this space, and hope to rediscover each other in the context of new experiments with generosity-driven culture. Our thanks to Al Goldberg, who has given us use of the space these ten years, and who intends to re-open 6932 N. Glenwood Ave. as a center for spiritual practices.
During this period we will continue to feature the "regularly-scheduled" programming. Please see our website for upcoming events.