Overcast skies could not damper the enthusiasm of a spirited march on May Day from Voces de la Frontera to the Milwaukee County Courthouse to stand up for workers rights and immigrant rights. The focus of the march was to protest the breaking up of families and the courthouse raids by Immigration & Customs Enforcement (ICE) agents. This egregious practices happens when individuals who are at the courthouse for routine matters unrelated to their immigration status are then profiled, questioned, detained, and in some cases deported, resulting in families being ripped apart.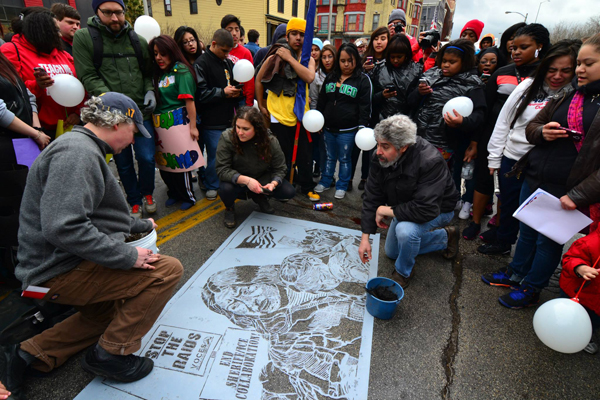 Our role in the march that was organized by Voces de la Frontera – speaking generally of the now large group of activist artists in Milwaukee who dedicate their art practice to collaborating in social justice movements – was to create banners, mud stencils, and other creative actions to spread the message, disseminate the images via the media, and empower those working in the movement through positive images. One action was to cut a large stencil of Raoul Deal's iconic image and create a series of mud stencils at the start of the march. The message was such: we are in solidarity with the struggle and mud as a medium is metaphoric: State and Federal policies treat immigrants – particularly those from Mexico and Central America like dirt – and we need to oppose the policies that harm are fellow community members. Raoul's image was also cut as a banner by Paul Kjelland – who also made two other large banners – one protesting the policies of the Obama Administration and the other the actions of Sheriff Clark in Milwaukee who has collaborated with ICE.
The march itself was incredibly visual – and this matters. Cameras focused their lens on the creative actions and then disseminate the message far-and-wide. The Guardian newspaper featured the Milwaukee march as a featured story not simply because the issue is important but because the image of a large crowd on the steps of the courthouse with banners everywhere resonates. I strongly belief that artists need movements and movements need artists and yesterdays work and the weeks leading up to it was further proof of how vital this collaboration is. The collaborations revolved around Paul Kjelland and his work with Voces. It also involved Raoul Deal, myself, students from Voces youth group – Yes (Youth Empowered in the Struggle) and students – from Raoul's community arts class, including Basha, Erin, Nicole, Cara, and Corey who helped cut the stencil seemingly for days. Other collaborators included Joe, Kate, Josiah, Erica, Ellie, Corey, and Chelsea. Finally – and of equal importance – are the photographers who documenting the march. The images on this post are taken by Gregg Smith, Joe Brusky, and a single image by myself.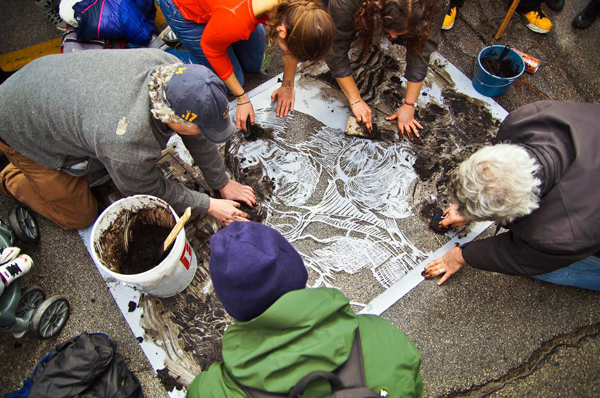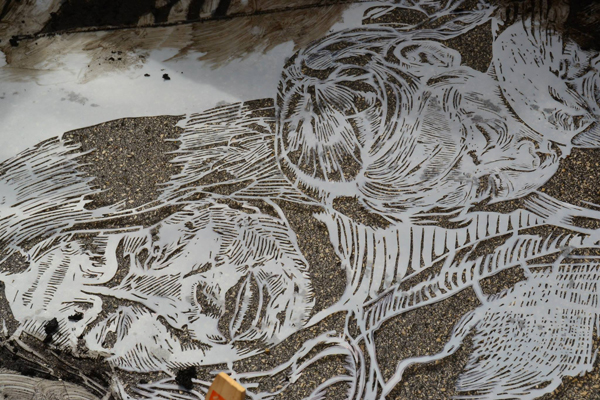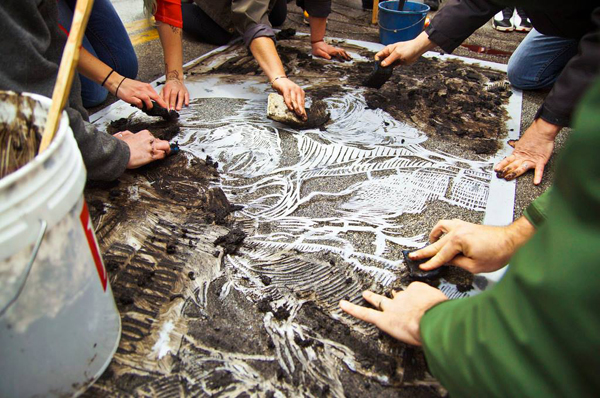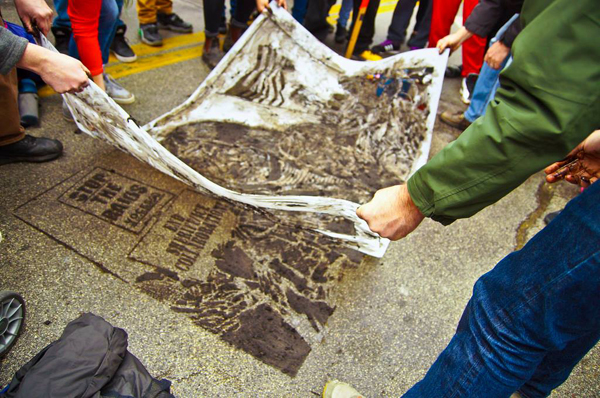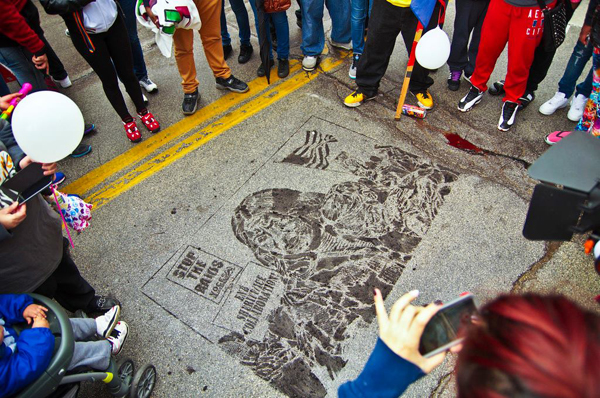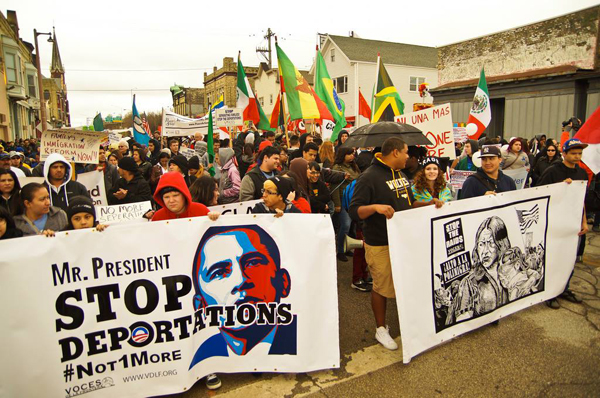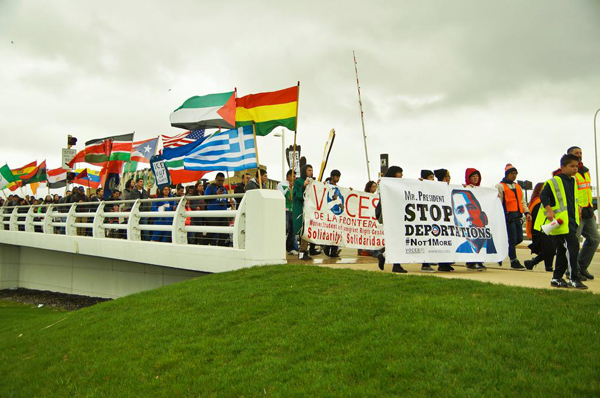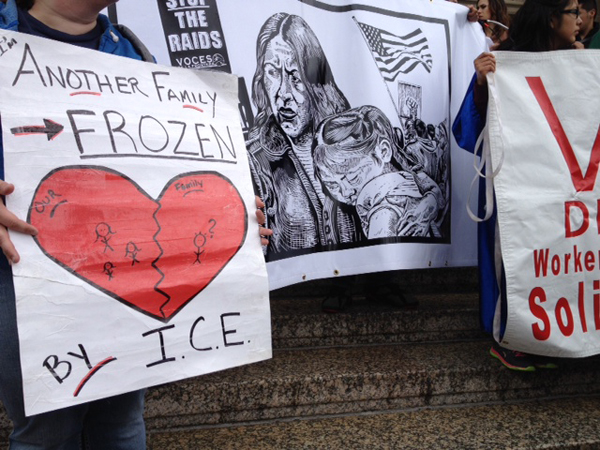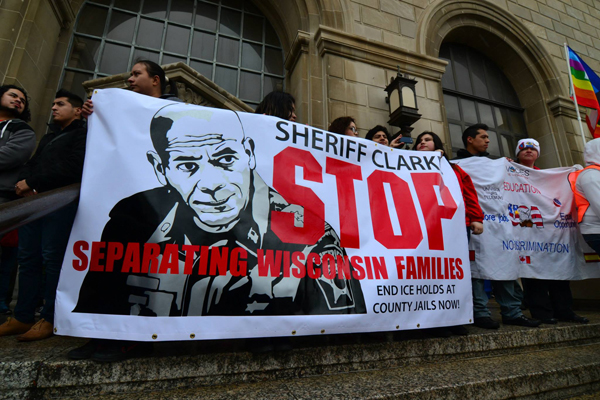 photo credits:
Gregg Smith (top image, 3rd image, last image) Joe Brusky (2nd image, 4th, 5th, 6th, 7th, 8th) myself (8th image)