I was very fortunate to be one of the five artists chosen for this year's Tipping Points project at the Tamarind Institute, sponsored by the City of Albuquerque's Public Art initiative. Each of us artists were matched with an apprenticing Tamarind printer to create a new lithograph for the city's collection. Below is a short statement about my cousin Jose Perea, who I chose to honor in my print. Hopefully through this image Jose and his legacy will continue to live for generations to come. Thanks to printer, Austin Armstrong for his hard work in collaborating in this lithograph.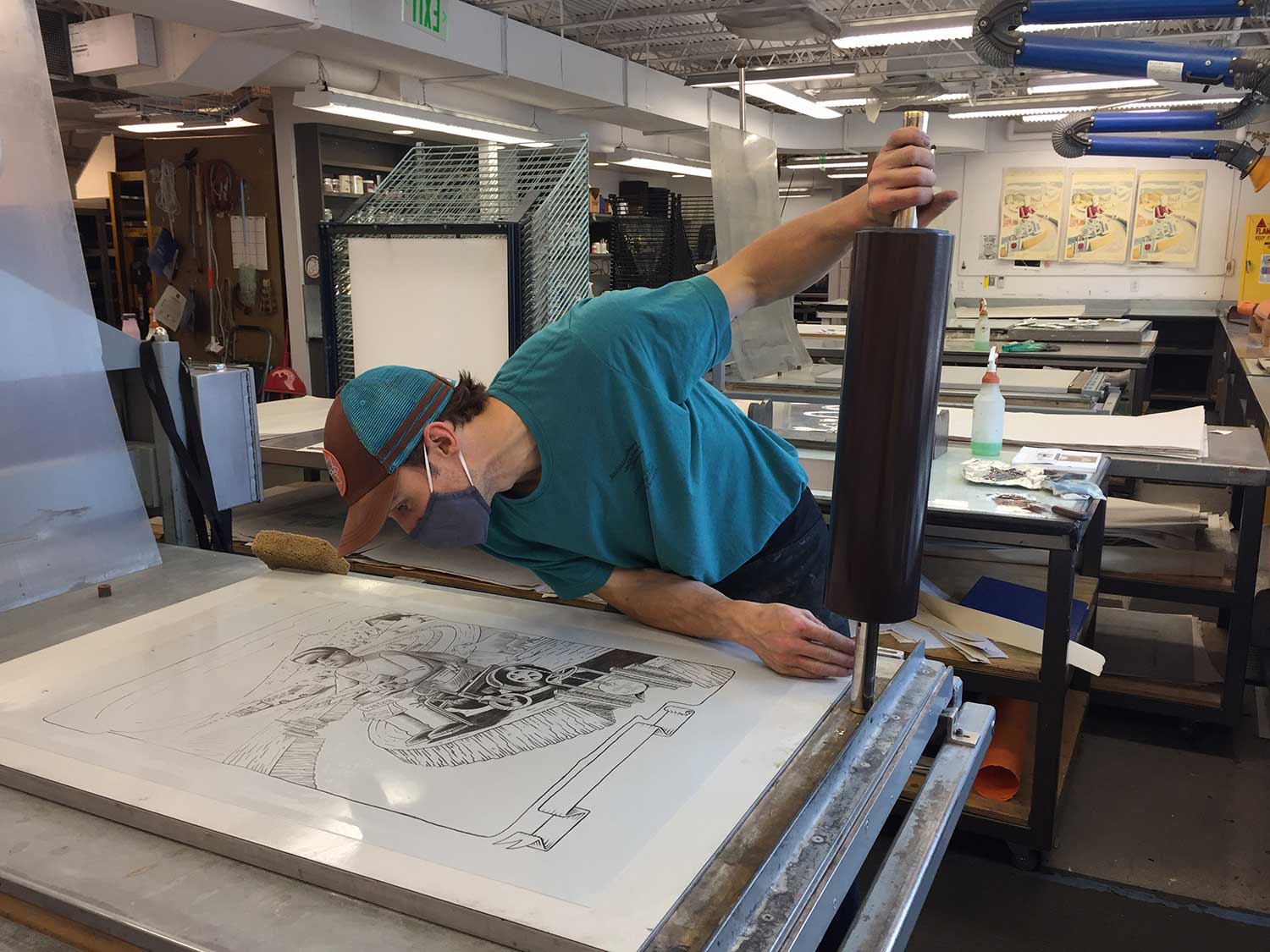 José Maria Perea was a poet, historian/folklorist, land grant activist, and an Hermano Penitente of the local morada of Atrisco. He was a native son of New Mexico growing up in Alburquerque's South Valley. José's paternal ancestors come from Torreón, New Mexico, a small village in the Manzano mountains.
Jose had a love for his Nuevo Mexicano people and culture that was nurtured by his Grandfather José Maria Perea – a man of strong Catholic faith who nurtured the Spanish language and culture amongst his grandchildren. As a young child, José listened to the cuentos told by his grandfather and his father acquiring an appreciation for the richness of the Spanish language and the traditional farming/ranching culture of the villages of New Mexico.
José was an anomaly. He was a person of traditional values who also fearlessly confronted the threats of the distorted morals of the fast-paced world of today. José was self-educated in the traditions and lifestyle of his ancestors, but he also earned a Bachelors and two Master degrees in English and in Spanish. He then continued to study land and water law at the University of New Mexico School of Law. José was a local living vessel of Nuevo Mexicano culture, language, and history. He carried in his heart the communal ethic of his mestizo ancestors and the basic sentiments of familia, religion y tierra.
José lived most of his life in a wheelchair after being paralyzed during a car accident when he was only fourteen years old, but his paralysis never stopped him. Jose drove around the state hauling firewood and cattle in his trailer, he advocated on behalf of land grant/water issues, and led prayer and support to his beloved community. His friends and family know that not even death itself will stop José's influence. His legacy of maintaining cultural traditions and history will continue to be remembered and will inspire future generations to come.
This print is an allegorical representation of José's life through his personal accomplishments as a celebration of the Nuevo Mexicano past and present.
Professor Eloy J. Garcia, PhD
History Dept. at Texas Southmost College