Our Bodies Our Resistance
Price
$150.00
Institutional Price
$500.00
Coming April 12, 2023!
This portfolio is numbered in an edition of 150 on the screenprinted band that holds the set together. It is available for purchase here on our site to individuals and grassroots organizations.
For institutional collectors, please contact us directly at store@justseeds.org
EDITION: 150
PRINTING INFO: Thirteen 11 x 17″ risograph prints, plus cover sheet and colophon, printed at Cowboy Press in Richmond, VA. 22 x 22″ cotton bandana screenprinted by hand at Lavender Estero in Pittsburgh, PA
ORGANIZERS: Molly Fair and Mary Tremonte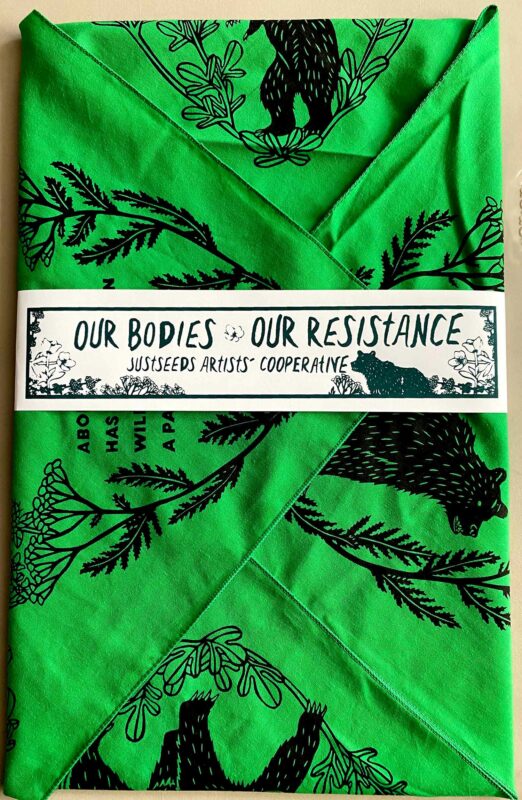 This print portfolio uplifts the ongoing resistance for bodily autonomy and reproductive justice on all fronts. The artists have drawn inspiration from many points of reference: the resistance and traditional medicinal knowledge of Black and Indigenous herbalists, midwives, and birth workers who have long empowered people to self manage their reproductive care; the underground abortion networks that paved the way for today's independent clinics and grassroots abortion funds; the revolutionary organizing of SisterSong which established the framework of reproductive justice; today's Green Wave movement to decriminalize abortion across Latin America; trans liberation, and struggles to end gender-based violence world-wide.
The seed for this project was planted leading up to Roe v. Wade's repeal in the US in 2022, but we situate this moment within the continuity of a centuries-long struggle against patriarchal, colonial, and white-supremacist forces, and efforts to control women, youth, trans, and queer lives through oppressive systems and laws. Our work continues, and we hope you use this art as part of your organizing efforts!
The portfolio includes 13 vibrant risograph prints and a beautiful hanky you can wear in the streets! Featuring art by Devon Cohen, Alec Dunn, Molly Fair, Sarah Farahat, Christeen Francis, Sanya Hyland, Kill Joy, Josh MacPhee, Fernando Martí, Andrea Narno, Saiyare Refaei, Jessica Sabogal, Meredith Stern, and Mary Tremonte. Curated by Molly Fair and printed by Cowboy Press and Lavender Estero. *Please note risograph prints may have slight variations and imperfections and due to the nature of the printing technology, which we embrace! Many of the images are also available in our digital downloads page here to use in your organizing work.
60% of the proceeds of this portfolio will be donated to the National Network of Abortion Funds' Collective Power Fund. This fund redistributes "direct abortion funding to 28 member abortion funds across more than 20 states. Funding is concentrated in the South and Midwest, where it's often hardest to get an abortion.The Collective Power Fund supports the cost of an abortion, transportation to a clinic, childcare. lodging, and abortion doula support."
We offer exhibition copies of all of our portfolios for loan to grassroots groups, schools, galleries, libraries, community spaces, and other institutions and organizations that want to temporarily exhibit our work! Check out this page for more details!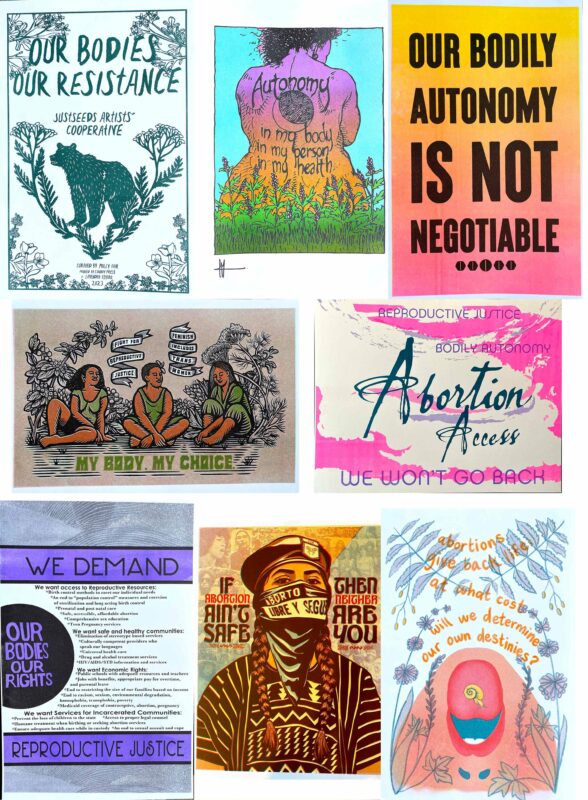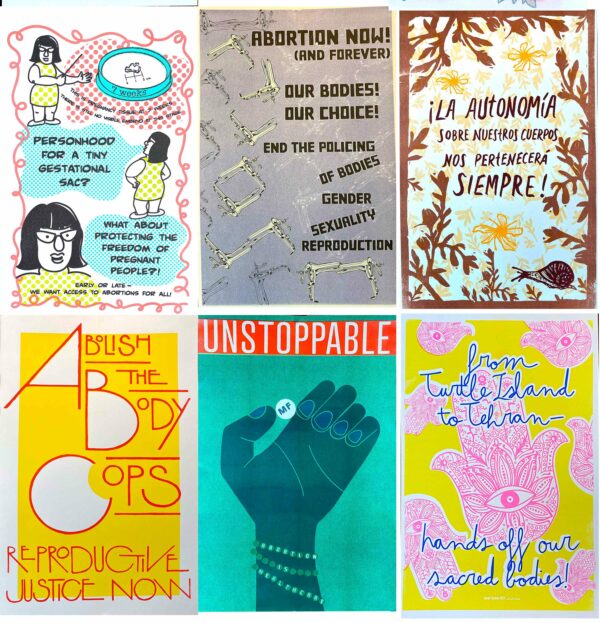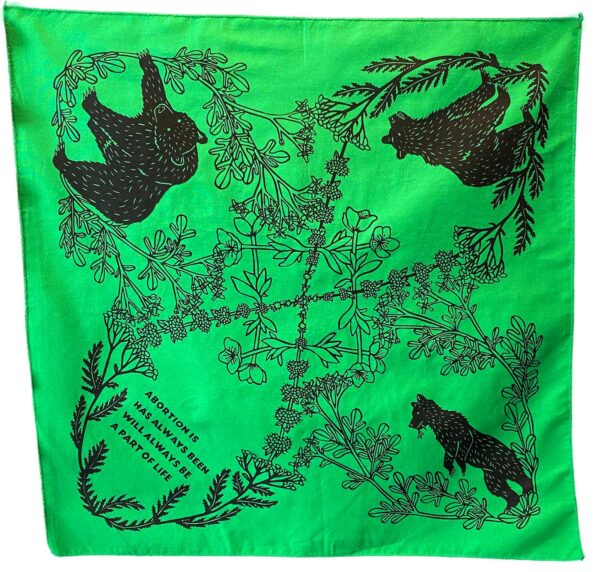 Associated Artists
Alec Dunn
,
Andrea Narno
,
Christeen Francis
,
Fernando Martí
, Friends of Justseeds,
Jessica Sabogal
,
Josh MacPhee
,
Kill Joy
,
Mary Tremonte
,
Meredith Stern
,
Molly Fair
,
Saiyare Refaei
,
Sanya Hyland
, &
Sarah Farahat
Other Artists
Devon Cohen