This is the full size version of the print I completed for the Justseeds CR10 portfolio project. When presented with the prospect of designing an image that spoke to the topic of the prison industrial complex I was at a loss as to how to approach it without falling back on the traditional images that come to mind (bars, shackles etc). As with most of my work I try and make images that are not going to hit the viewer over the head with dogmatic opinion but that leave the viewer some room to make the connections on their own. Obviously this image can have numerous meanings, but in the context of the portfolio it was designed for, and the other images it was packaged with, it may require a moment to decipher why this image is part of the whole. The idea came as I was sitting through one of the many courses I have been taking in a graduate program in education. Repeatedly I was bombarded by statistics of how in the U.S. literacy rate directly correlates to the U.S. prison rates. Now this information leads to many other questions, but for me, sitting in grad education classes, this directly leads to the issue of funding education vs. funding the prison industrial complex.
Overall this is about the enjoyment of reading, the education we can get on our own from reading, and how the right books can impact our lives and open up new worlds, inspirations, ideas and possibilities.
This is a screen print from the original linoleum block print.
This design is included in a Justseeds Collaborative portfolio about education, Liberating Learning.
This is the 4th edition; signed/numbered edition of 100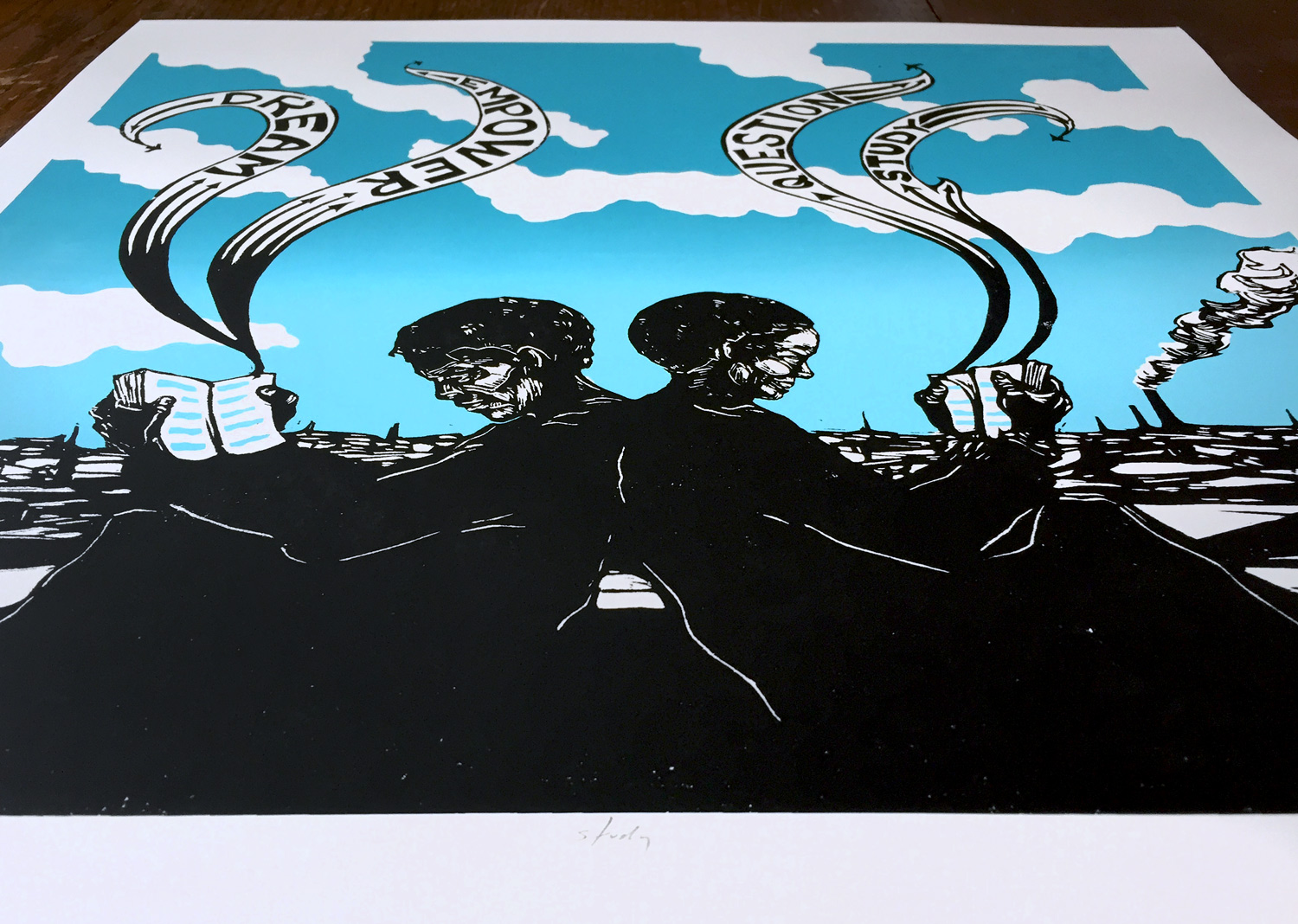 The blue sky on this edition is a split-fountain gradation which makes each print of this edition unique.  There is  some variation in each gradient. Each is hand printed by the artist.