ART IN THESE TIMES
Art Opening with Warrior Writers Readings
Thursday, December 9, 2010 – 6 to 9 p.m. (Event is Free)
In These Times, 2040 N Milwaukee – Chicago
Help inaugurate Art In These Times, a new community gallery space in Logan Square area. The space opens with two projects – "Operation Exposure-War is Trauma" and the RESOURCED portfolio.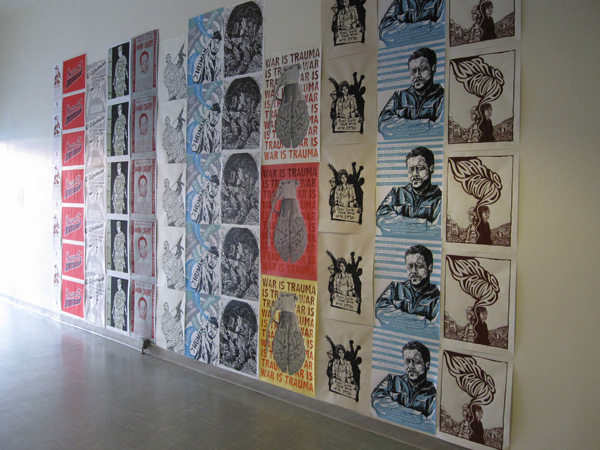 Daniel Tucker and Lauren Cumbia have started a great new exhibition space in Chicago at the In These Times building. The space is appropriately named "Art In These Times" and the debut show opens this Thursday night. Featured are two Justseeds projects. The RESOURCED portfolio (a project examining the state of resource extraction and struggles for environmental justice) will be exhibited in the upstairs gallery space and the downstairs lobby features a print mural from the Justseeds-IVAW collaboration "Operation Exposure-War is Trauma", plus stencils by Chris Stain and text about the campaign. The installation is a direct response to the veteran suicide epidemic, the continued deployment of traumatized troops, and violation of GI's Right to Heal.The opening will feature talks and readings by IVAW Chicago members. Join us!